< Back
| Showing articles from "12-2018"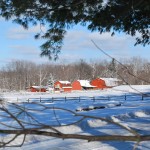 Monday Dec 17th, 2018
What is Christmas all about? If getting gifts is what it is all about, or even if family or fun or food is what you focus on, perhaps we're missing the point. In fact, Christmas would be pointless. . . . If all that matters at Christmas is the food, the fun, the gifts – what we get – then Christmas will be unfulfilling and we'll get past Christmas only to feel that there is always something more that we could have gotten. . . . Christmas is pointless – unless we change our focus.