Rebuilding will require a lot of work and financial investment. Those that are interested in helping financially may follow this link. (Please designate your gift as "Fire Recovery Fund")
If you are giving a donation by check, send to...
WLD Ranch
7351 Woolsey Rd.
Girard, PA 16417
Thank you for all of your endless love and support.
Slow but Steady - 04/05/2018
"Because of the Lord's great love we are not consumed, for his compassions never fail. They are new every morning; great is your faithfulness." (Lamentations 3:22-23)
At times, I feel like lamenting because of how slow and complicated the process for re-building a bunkhouse can be! But then I am daily reminded of God's faithfulness. The pieces continue to fall into place (even if they are not at the pace that we would like!). Donations continue to come in and amaze us with the generosity of so many friends and camp supporters. And the Lord demonstrates His love and compassion for us in many ways. While I would have preferred to have already started pouring the foundation and putting up the building, we trust the Lord to continue being faithful and it will be built in His timing.
With that said, we are making progress! We continue to meet with the design team and we're getting close to having things prepared for building code approval. Our Board will be making some final decisions in the next week or so and then we can start to build!
In the meantime, we have been working on site prep because if you have ever known any of us here at the Ranch you know that we cannot sit idly by while work can be done. Even though we are unable to begin the building process, due to the plans still needing to be finalized and approved, we are able to work on getting the site ready for rebuilding. This has included, most recently, taking down multiple trees and plotting out the future location of a drainage ditch. While this may not sound like the most exciting kind of work, it is exciting to us as it is a very visual demonstration of our moving forward. We will be doing as much site prep as possible in the coming days, so that when we can finally start to officially break ground, it will be as "soft" and "pliable" as can be.
Due to the nature of the work and the small area to operate with, we have recruited only a small number of volunteers. If you would be interested in volunteering your time, please let us know, as there will very likely be a time where we could use some extra hands around the Ranch.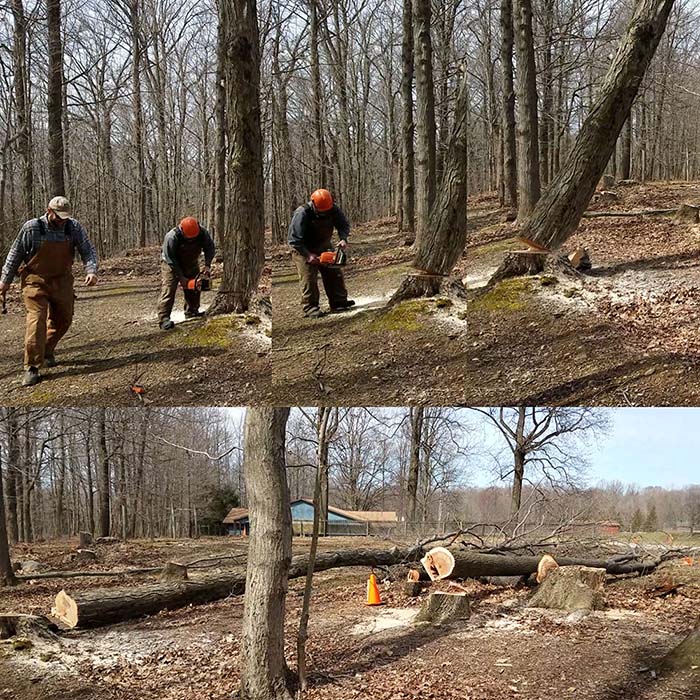 Following the Fundraiser - 03/19/2018
With the old building torn down and hauled away, we are working on the design and plans for the new Buckskin Bunkhouse. Our Board and staff have come up with an initial estimate of the cost for the new building. Once we finalize the drawings and meet with contractors, we'll be able to provide a more definite cost, but for now the estimate is $350,000 to rebuild the bunkhouse from the ground up as well as to outfit the bunkhouse with new beds and furnishings.
This progress chart will help you see where we are in the fundraising process to be able to rebuild. (We will add another chart at the top of this page that will be updated weekly, so visit this page occasionally to watch our progress reach the top.) What we have received so far includes insurance money and donations. We were blessed with approximately $239,000 in insurance money. So far, we've received approximately $17,000 in donations, representing over 100 donors! With the anticipated cost of $350,000 we still need about $94,000, which is 27% of the overall cost.
We anticipate groundbreaking and starting to rebuild before all the money that we need is received, but our hope is to have all of the money raised by the time the building opens for use in June. Our goal is to have the Buckskin ready for use by June 17th, which is less than 13 weeks away! Be praying that everything with this rebuilding process will go smoothly so that we can open the Buckskin in time for summer camp!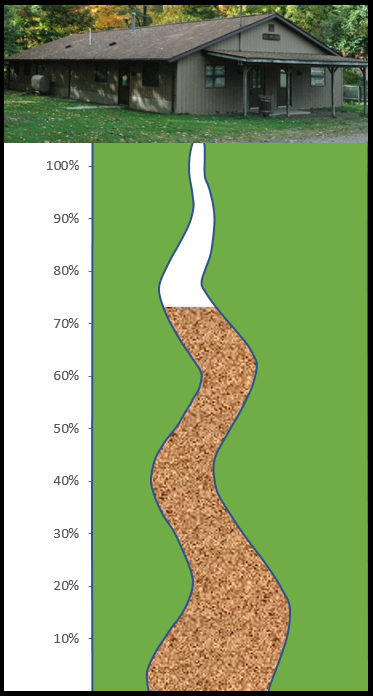 The amount of money we still need to raise sounds like a lot of money, but we trust that the Lord will provide. If you desire to partner with us in rebuilding the Buckskin Bunkhouse so that it will be ready for our summer ministry, please consider sending a donation (see above). Keep in mind, if 940 families decided to donate $100 each, we would have the $94,000. Or, if everyone following us on Facebook and Instagram gave $31, we would have more than $94,000. Or, if everyone on our mailing list gave $23, we would have the money we need. (Once we have plans in place, we'll share an updated estimate of the overall cost.)
We know that not everyone can give, so those who choose to give more are appreciated as well! But realize that even a small donation, multiplied by many who give, can make a difference. Thank you!
Bittersweet Progress - 03/14/2018
It has been a bittersweet couple of days here at WLD Ranch. Monday, we began demolition on the Buckskin Bunkhouse and yesterday and today, we have been hauling it all away. It is bitter because a piece of us is being taken apart and away, but sweet because it means that we are that much closer to having a new addition.
Bitter because no more memories can be made in that bunkhouse, sweet because we know that the bunkhouse isn't the one making the memories; it's all the campers who get to come here, and with a new bunkhouse we will have the opportunity to continue making them again.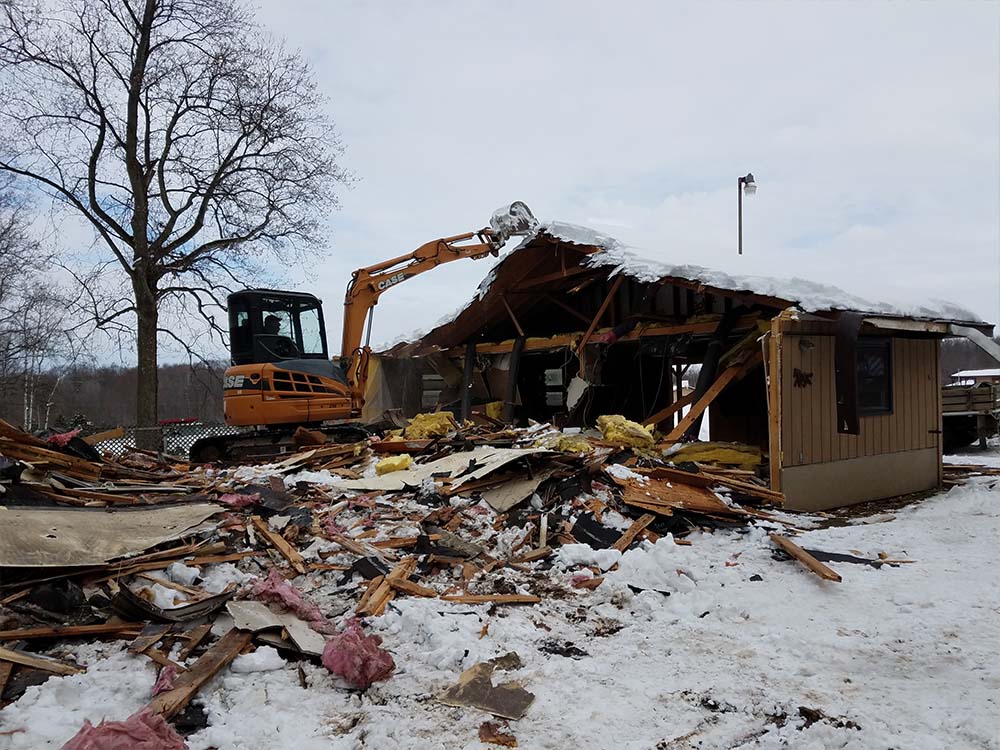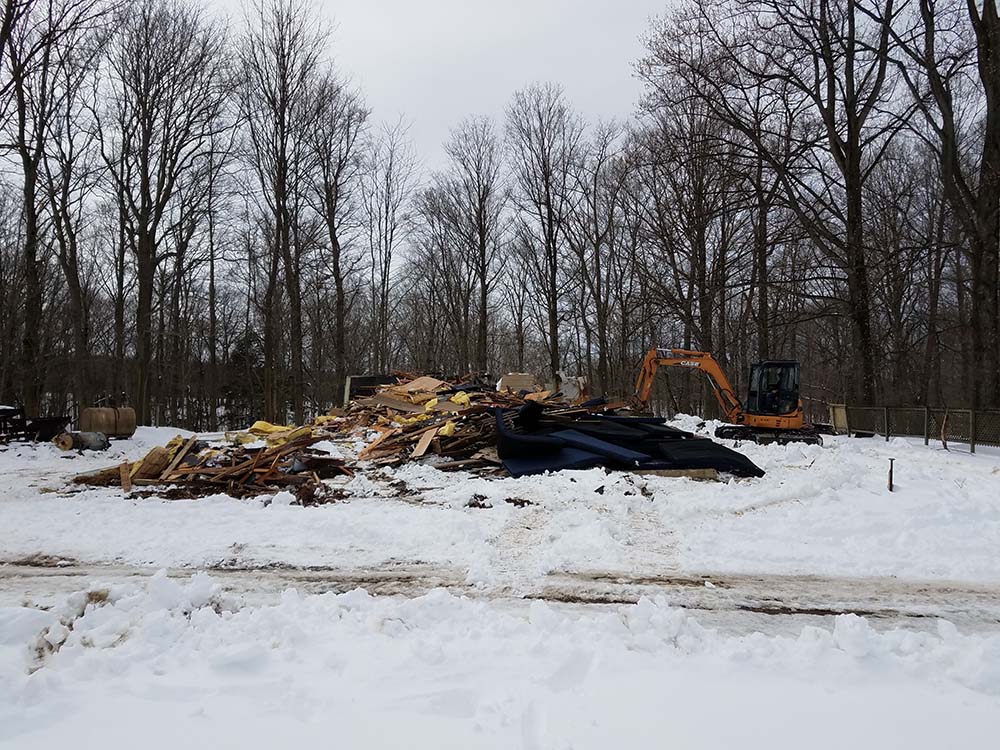 Bitter because we are reminded again of the trial that we are currently going through (not that we have been able to forget, but that we have been focused on many other things as well), and sweet because we know that even throughout all of this God is still good.
After what has seemed like an eternity of waiting, we are finally making progress. We have received the first installment of insurance payments. We are completing the demolition by the end of the week. We are getting plans drawn up for the new building. We do not yet have a date set for ground-breaking but the Ranch Board and Staff are working persistently to accomplish all steps necessary for that day in order to be ready for Summer Camp.
In the next couple of days, we plan on posting a fundraising progress bar so that you can partner with us in this process of paying for a new bunkhouse.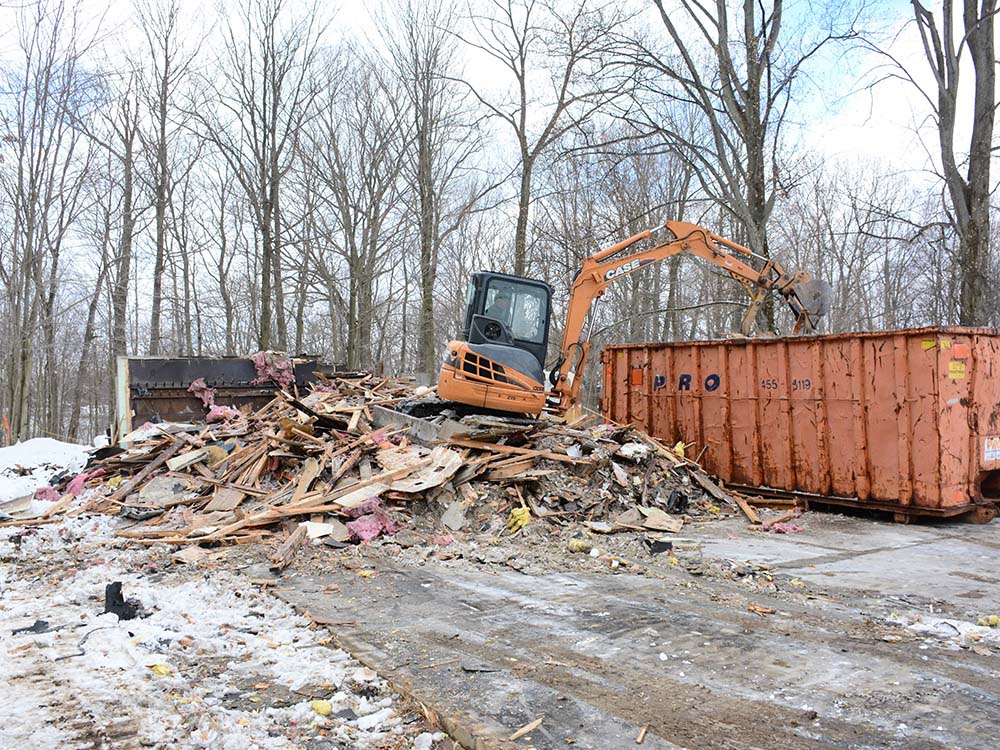 Reflections on the Fire - 02/23/2018
Groundhog Day 2018 will not be remembered for Phil's predictions about spring's arrival. The day itself was very cold and I figure spring weather will get here at some random time as it typically does. But we experienced the cold that particular afternoon as we watched the Buckskin Bunkhouse burn.
Christy and I typically park our van in front of the Longhorn Lodge, but that Friday morning we were bringing some groceries in for the weekend church retreat, so we parked by the kitchen. We spent the morning in the offices. Just before lunch, we were hanging pictures in the conference room after repainting and we decided to stay a little longer to get more done. When we went to the van, parked by the kitchen, we backed out to where we could see the Buckskin. My initial thought was that there was a big gust of snow blowing over the bunkhouse, but it was odd and I quickly realized it was smoke. We drove around the driveway and called 911, then watched as smoke billowed out of every vent in the attic space, glass broke in the back right bunk room, and we waited restlessly for the fire crews to arrive. They arrived quickly and were able to contain the fire quickly, but it was a long afternoon as we waited to learn the extent of the damage.
The damage to the bunkhouse is extensive. The back half of the building is badly burned while the front half sustained extensive heat and smoke damage. Part of the attic is burned as well. We are now in the process with the Ranch Board to determine what the best means of rebuilding will be. Soon we will be able to announce our plans and share with you how you can help us in the recovery process.
While the loss of a building is difficult, we can rebuild a building. We firmly believe that buildings are just tools that God allows us to use so that we can better serve people. The campers and guests who will use the rebuilt facility are our primary focus. We look forward to rebuilding this part of our facilities so that we can effectively continue to build relationships with campers and guests and guide them to Jesus as the Truth in life. As we rebuild, we rejoice that we have an amazing God whom we can trust even in the difficult situations that life brings our way.
- Joseph Preston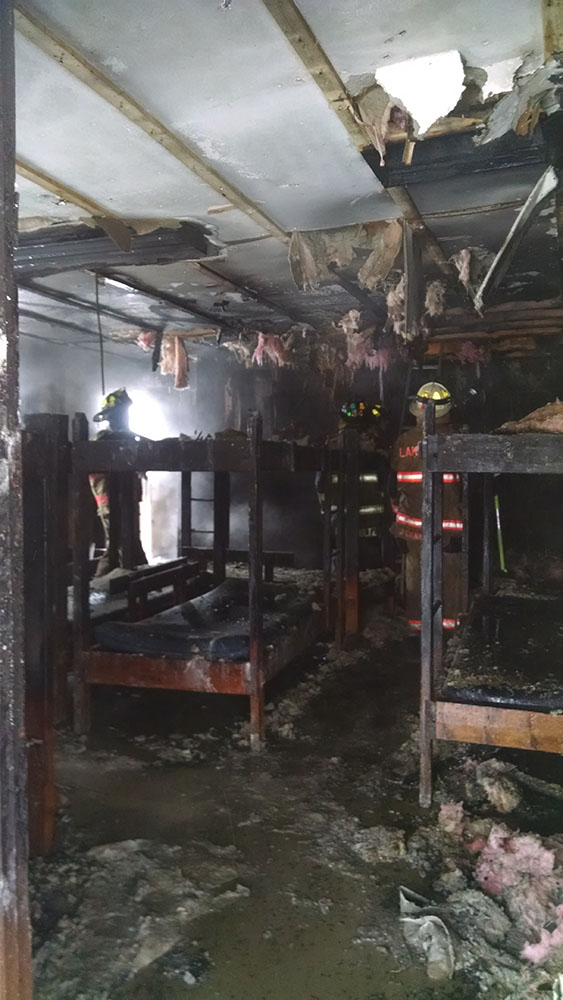 On February 2, my thoughts were definitely along the lines of, "What? This can't be happening!" As we scrambled to make phone calls and turn off the propane and gas lines to that building, I thought, "If the firetrucks get here in time, perhaps the damage won't be that bad." Once I saw flames shooting out of the back windows, I admitted to myself the damage would be significant. Thankfully, most of the time during the fire spent making coffee and hot chocolate for the firefighters and delivering what they needed to stay warm as they worked hard to help us. Those tasks kept my mind busy and gave me something to focus on other than the devastation of the Buckskin.
The time came though when my serving was finished and I had time to stand and watch the happenings, tears streaming down my face. My cries of, "Oh, God - now what? How will You work through this disaster?" soon turned to moments of worship as a worship song flowed through my mind: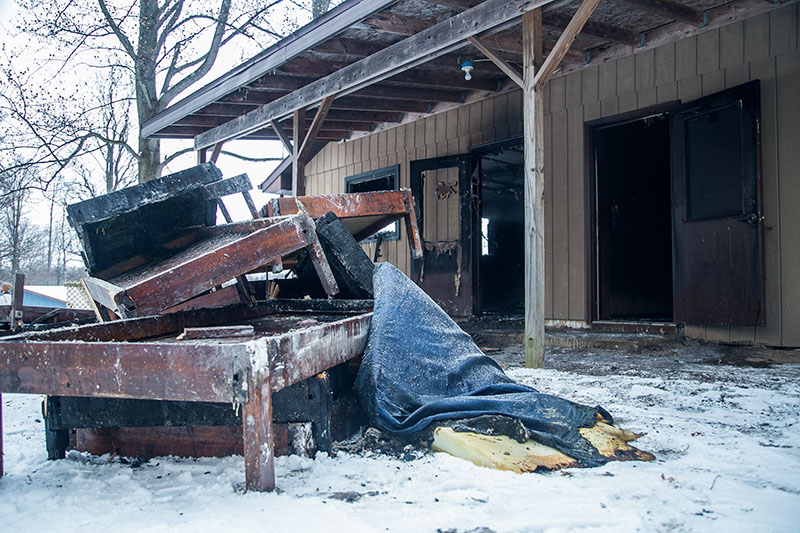 "You are not a God created by human hands.
You are not a God dependent on any mortal man.
You are not a God in need of anything we can give.
By your plan, that's just the way it is.
You are God alone.
From before time began, You were on Your throne.
You are God alone and right now
In the good times and bad,
You are on Your throne.
And you are God alone."

It didn't matter what was occurring before my eyes, God was still on His throne and He wasn't taken by surprise by any of this. He had a plan to work all things for His glory. My response? "Okay, Lord, I'm trusting You and I will praise you in this storm." My heart sang another song:
"I will praise You in this storm
And I will lift my hands
That you are who you are
No matter where I am.
And every tear I've cried,
You hold in your hand.
You never left my side,
And though my heart is torn
I will praise you in this storm."
Where are we now? We're choosing to see the fire at the Buckskin as a blessing from the Lord who will work all things out for His glory. We're clinging to the truth that God is good and that He has a plan. We choose to trust in the sovereignty of our God and find our strength for the days ahead from Him.
My heart again finds comfort in the truths in a song:
"Not one of us will get through life unscarred;
If no wounds upon our body, then our hearts.
Lord you work all things by Your plan
And nothing comes without passing through Your hand.
And You are sovereign over all that's been broken by the fall.
So give us strength, Lord, here and now
In the days between The Cross and Crown."
Yes Lord. Give us strength to continue trusting and wisdom as we rebuild. It's all for Your glory!
- Christy Preston
Upon Further Inspection – 02/08/18
Memories:
The past couple of days have been particularly long, stressful, and hectic - the fire, servicing a youth retreat over the weekend, and seemingly countless phone calls and messages for interviews. In the midst of it all, one of the most enjoyable experiences of the week has been hearing so many memories from so many of you. We have received a fair amount of comments on our various social media platforms sharing general memories of staying at the Ranch or in the Buckskin and how the news of the fire has affected them. Three memories stand out in particular.

The first is of a current teen camper who has only stayed in the back sections of the Buckskin during the Teen Specialty Camp he attends. (Another group uses the Silver Star during that week of the summer.) He shared how sad he was to have heard about our loss. And as you may know, the back half was thoroughly burned whereas the front half suffered heavy heat and smoke damage.
The second memory also comes from a current camper who has camped in the Buckskin for several years. She shared of the friendships she built and the fun she had while at camp, but her most memorable experience was the opportunity she and her friends had to show God's love to a fellow camper whose life experiences made her quiet and withdrawn. By the end of that week, God's love spoke through a group of giggly girls to reach this quiet girl, who joined in with their fun and chose to trust Jesus to save her from her sin.

The third story is from a man who was a camper in the 1980s when the Buckskin was the boys' bunk. He shared that his vivid memory of the Buckskin was devoting his life to Jesus Christ in his cabin after an evening meeting with Mr. E (for those who remember him!). This former camper now sends his own kids to camp.

Over the past couple of days, we have been reminded over and over of the impact of the Ranch, and with this bunkhouse specifically. This assures us that we cannot view the rebuild as simply putting up another building for campers to use, but rather that we are creating a place that will impact campers' relationships with Jesus Christ and will be an area they remember for years to come. One of the Ranch's goals is to help campers create memories that will last a lifetime. This rebuild will allow this goal to remain fulfilled.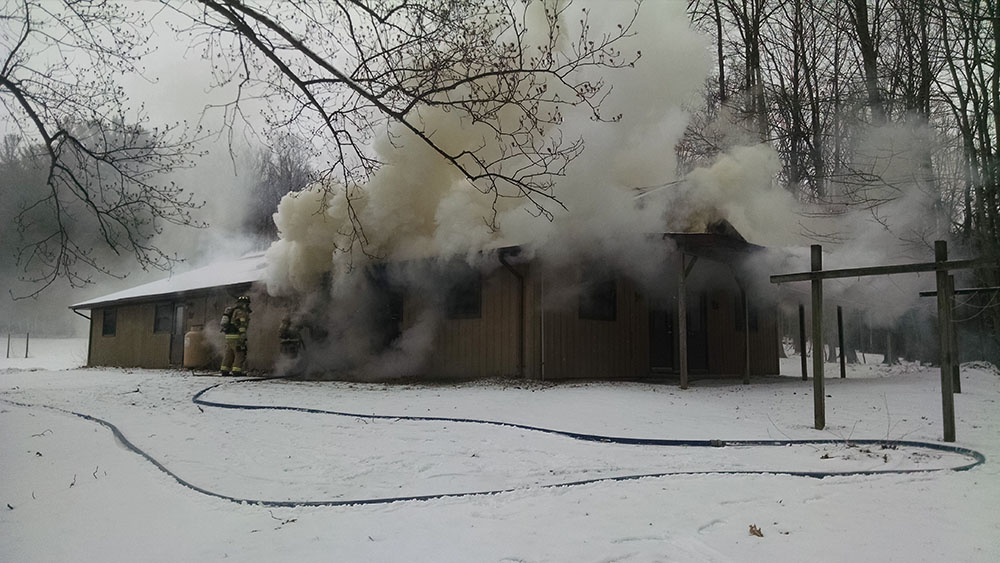 Along with the various stories that we have heard, there have been some rumors about both the cause of the fire and the extent of the damage. Regarding the extent of the damage, it was contained within the one bunkhouse and no one was injured. We are able to continue servicing the groups who are scheduled this winter and spring. Regarding the cause of the fire, inspectors have concluded that the most probable cause was the exhaust system from the furnace igniting the insulation in the attic.
We are continuing the steps necessary to bring us closer to rebuilding. We thank you for your prayers and for your memories as we rebuild the Buckskin, anticipating even more memories to be made and more lives to be impacted.
Our First Impressions - 02/03/18
We praise our great God that the fire at the Buckskin Bunkhouse was contained, that the fire crew and all our staff and families were safe, and that we are able to continue moving forward with serving the Lord here at WLD Ranch. The fire destroyed much of the back half of the bunkhouse, with a lot of smoke damage in the rest of the building. We do have insurance on the building, so we will be working with insurance adjusters in the coming days (we won't know our specific needs for rebuilding until later on). We still have a second bunkhouse, so retreats will still be able to come as they are scheduled in the coming weeks and months. We are so grateful for the excellent response and skill of the 8 fire departments that were represented, as well as the paramedic crews, who worked fervently to resolve the crisis. We are grateful for the many friends and supporters who have offered encouraging words and prayed for us. Continue to pray as we prepare for recovery efforts.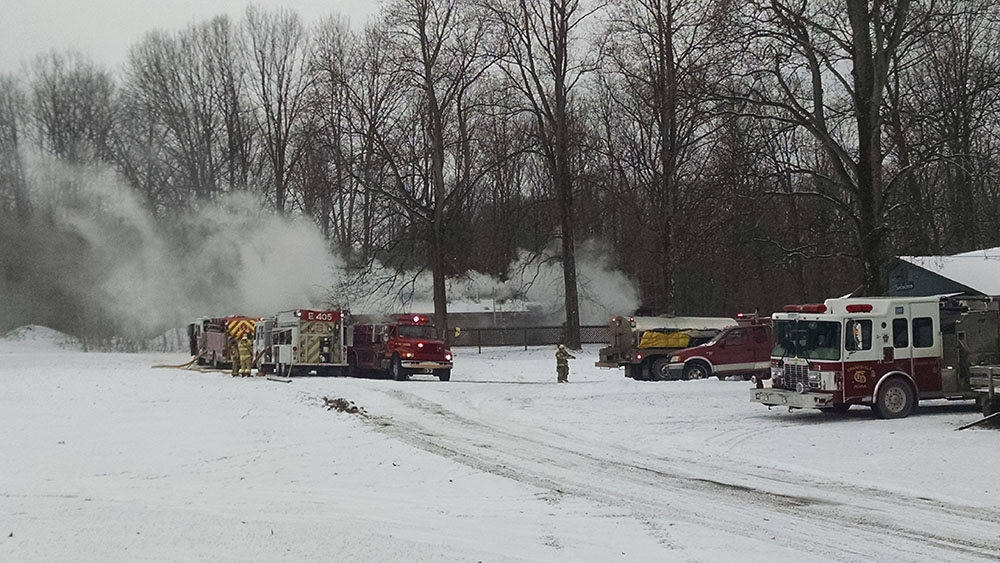 This page will be for updates on how things are progressing here. We will also be posting various updates on our Facebook and Instagram pages as well.
Rebuilding will require a lot of work and financial investment. Those that are interested in helping in any way are welcome to continue to watch our website and Facebook page for updates on needs. Some have already asked about financially assisting and you are welcome to give at http://www.wldranch.com/about/give_to_the_ranch/ or mail a check (designate your gift for the "Fire Recovery Fund").
Christy Preston, Director of Educational Programs, says: "Please continue praying for us. Through it all, we know that God is good and that He has a plan. We trust in Him."
Joseph Preston, Director of the Ranch, says: "We are blessed with an amazing staff who responded to this crisis. We are blessed with an amazing network of family and friends who are such an encouragement to us. We are blessed with an amazing God who we can trust even in the difficult situations that life brings our way."