Fire Recovery Fund
Rebuilding will require a lot of work and financial investment. Those that are interested in helping financially may donate here. (This donation button is for the Bunkhouse Rebuilding Fund. You can choose to donate with a PayPal account or to donate with a debit or credit card.)
If you are giving a donation by check, send to...
WLD Ranch
7351 Woolsey Rd.
Girard, PA 16417
Under Construction - 8/28/19-Present
6/1/20-7/2/20
Throughout the months of the construction process, we as well as some others have been constructing bunk beds. Until June, the weather had not yet been consistently warm enough to stain the bunks. In order to have the bunks stained and dried by Summer Camp, we had a few friends and family members come by and stain the bunks we would need for campers and then had our summer staff transport them outside to be coated with polyurethane before being put into place.
Near the end of the month we were able to have the gutters installed which was the final installment necessary to obtain our temporary occupancy permit. With this permit, we were able to allow campers to spend the night throughout their weeks of summer.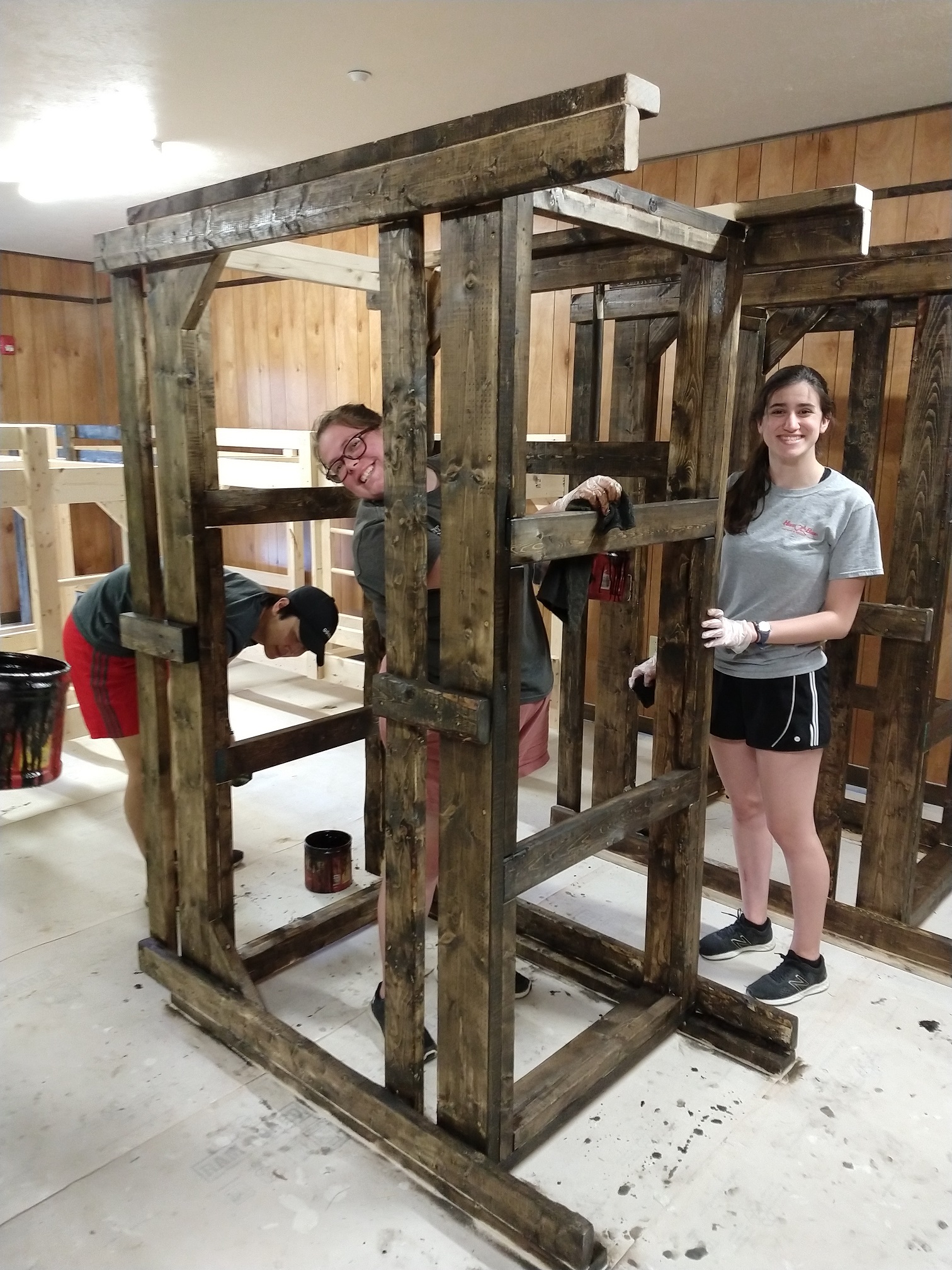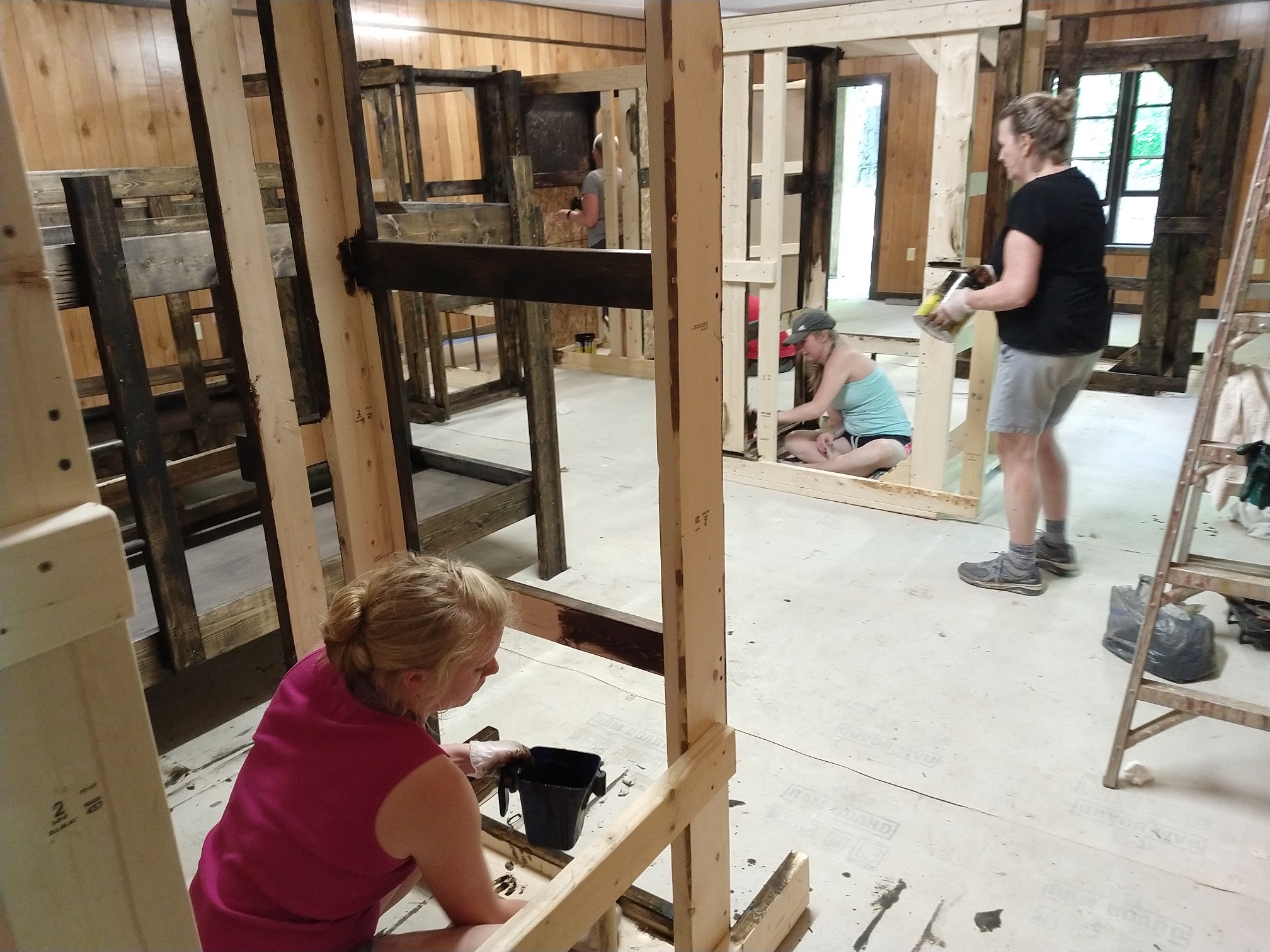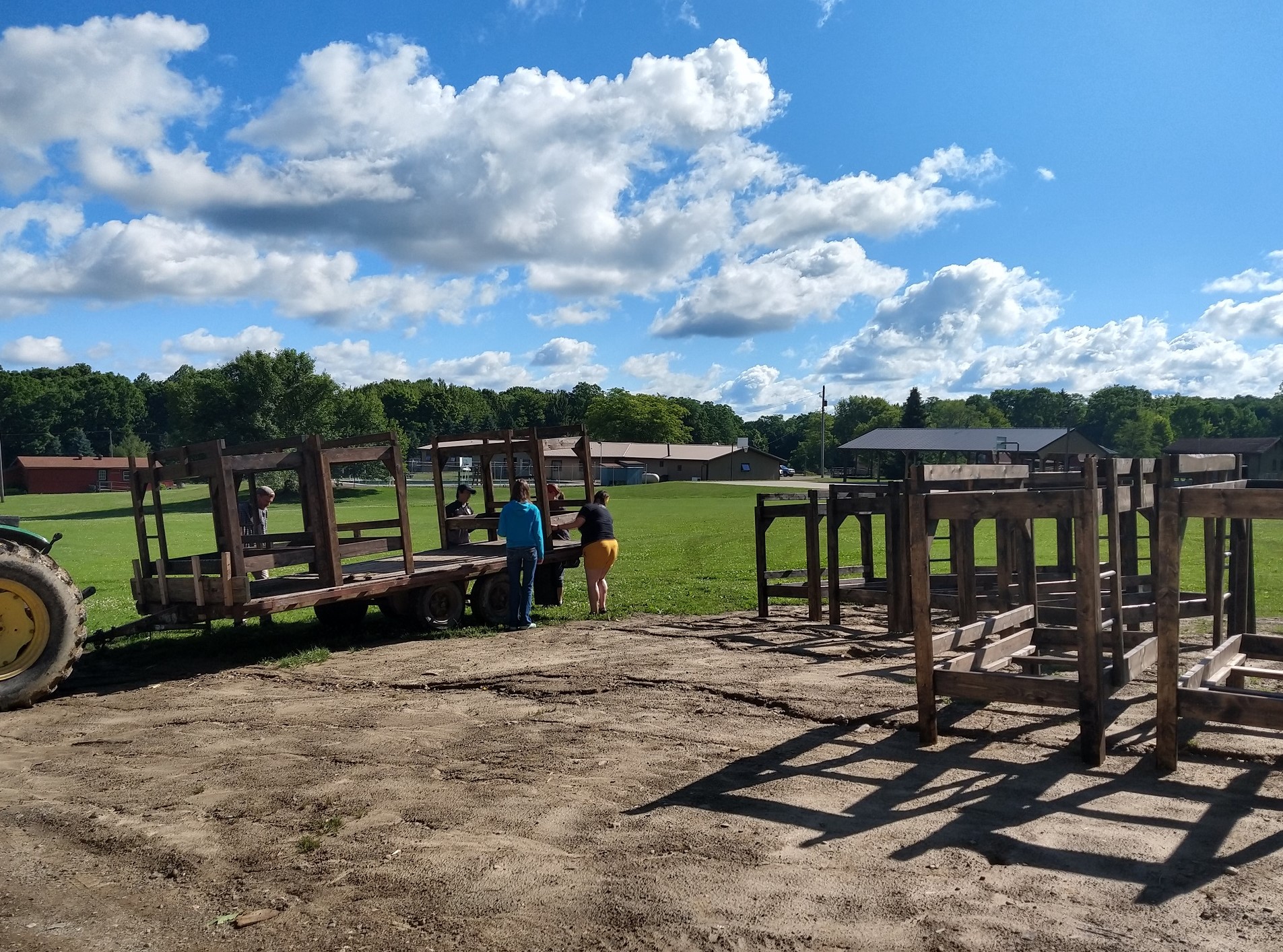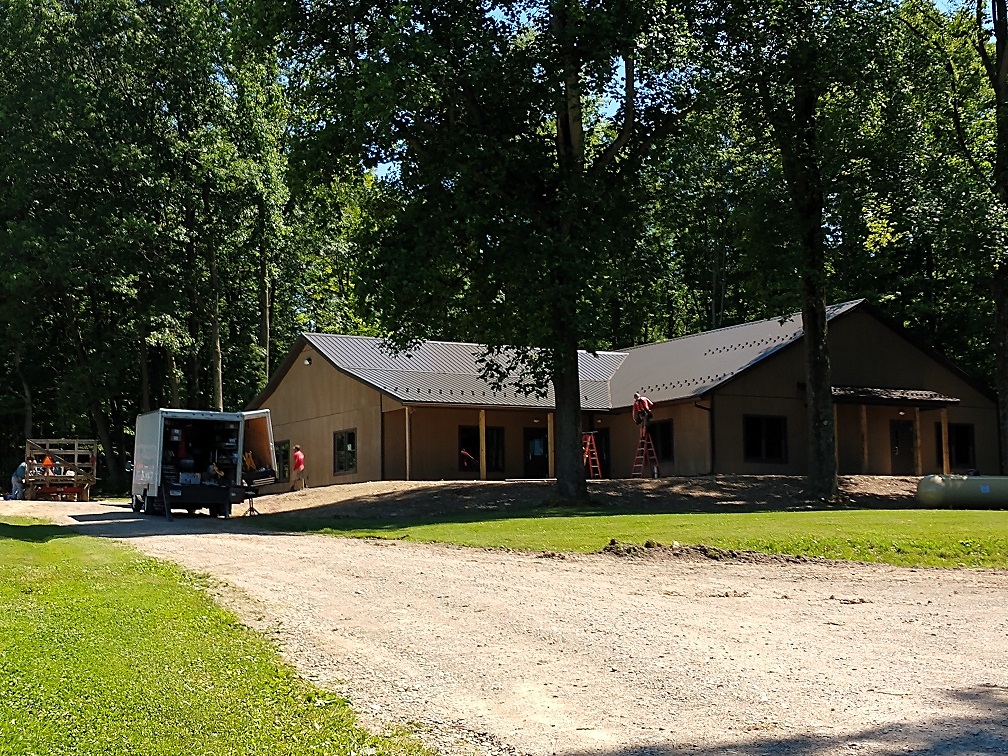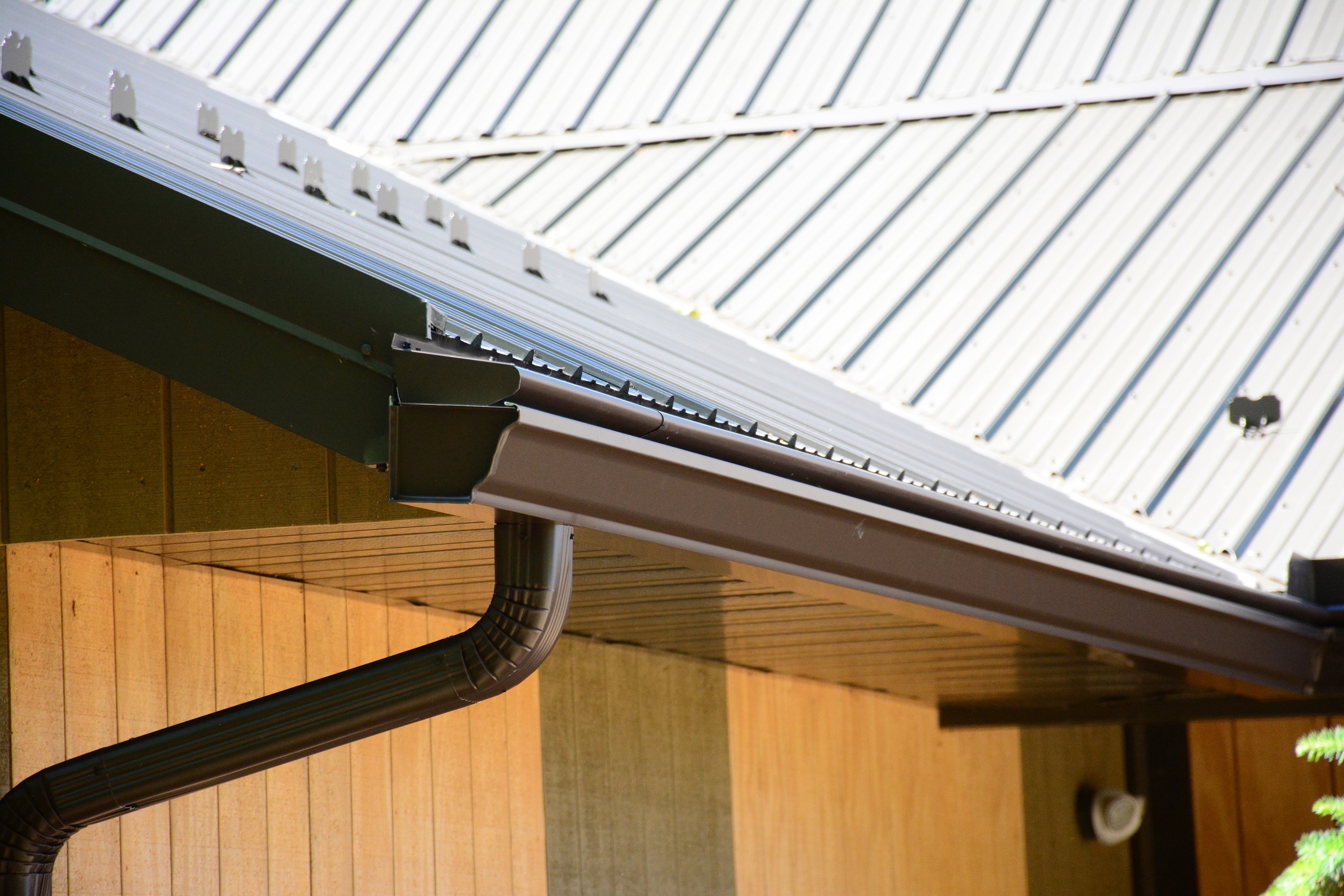 5/1/20-5/31/20
During the month of May, we were able to get one of our final three outdoor projects completed. The porches, parking lot and sidewalks were all filled with concrete. Shortly thereafter, the temporary support beams on each of the porches were replaced with 6x6 beams.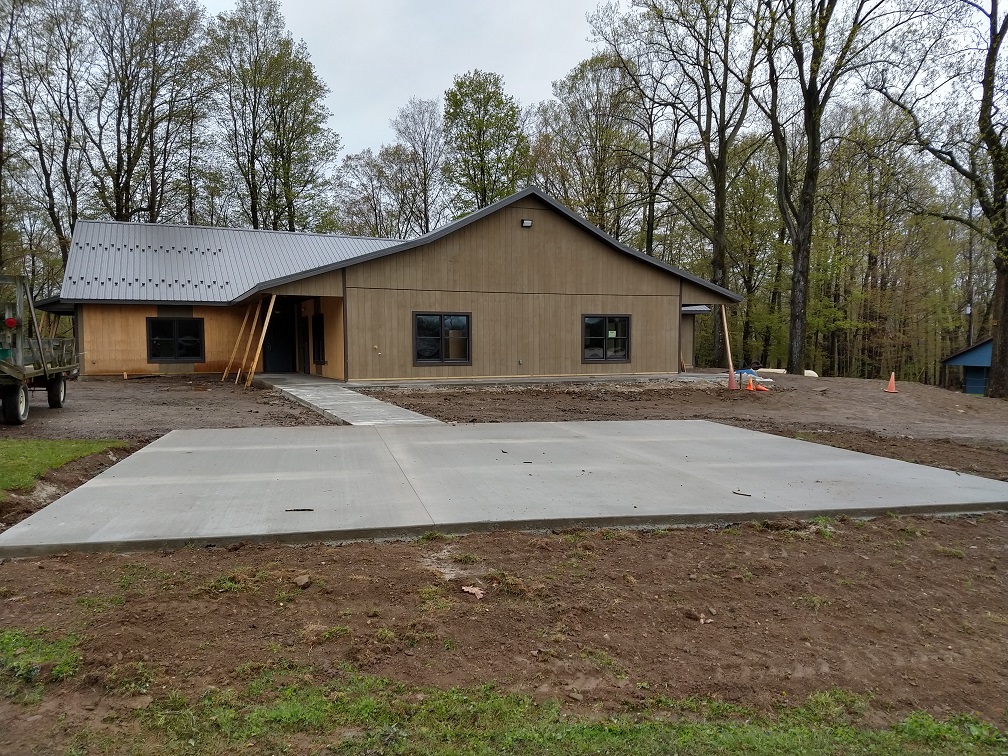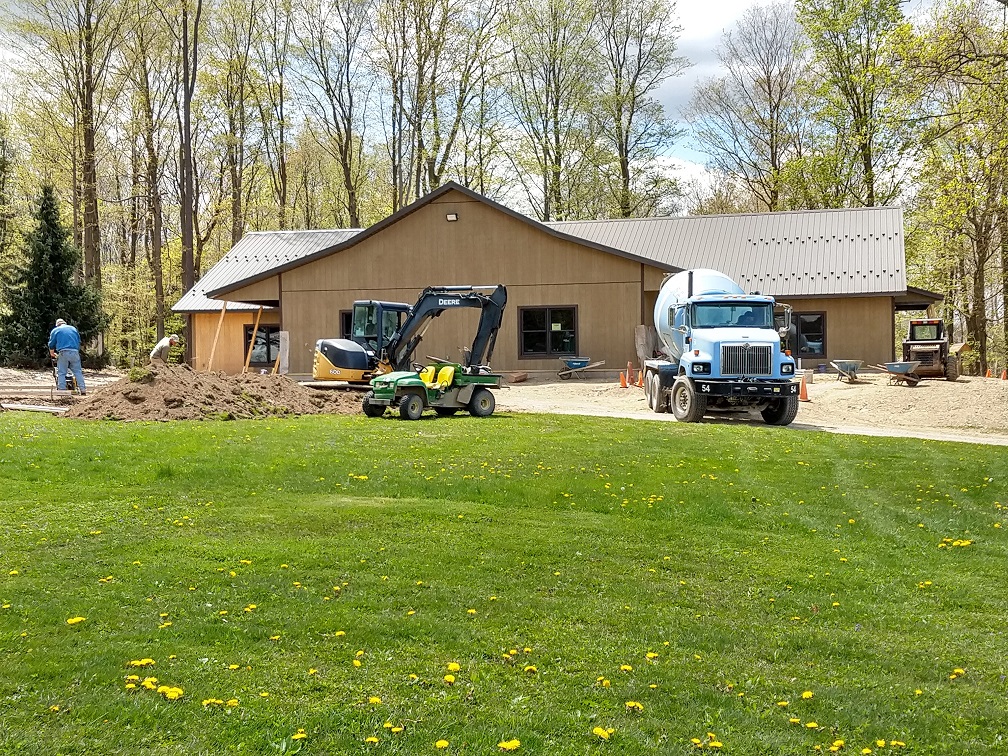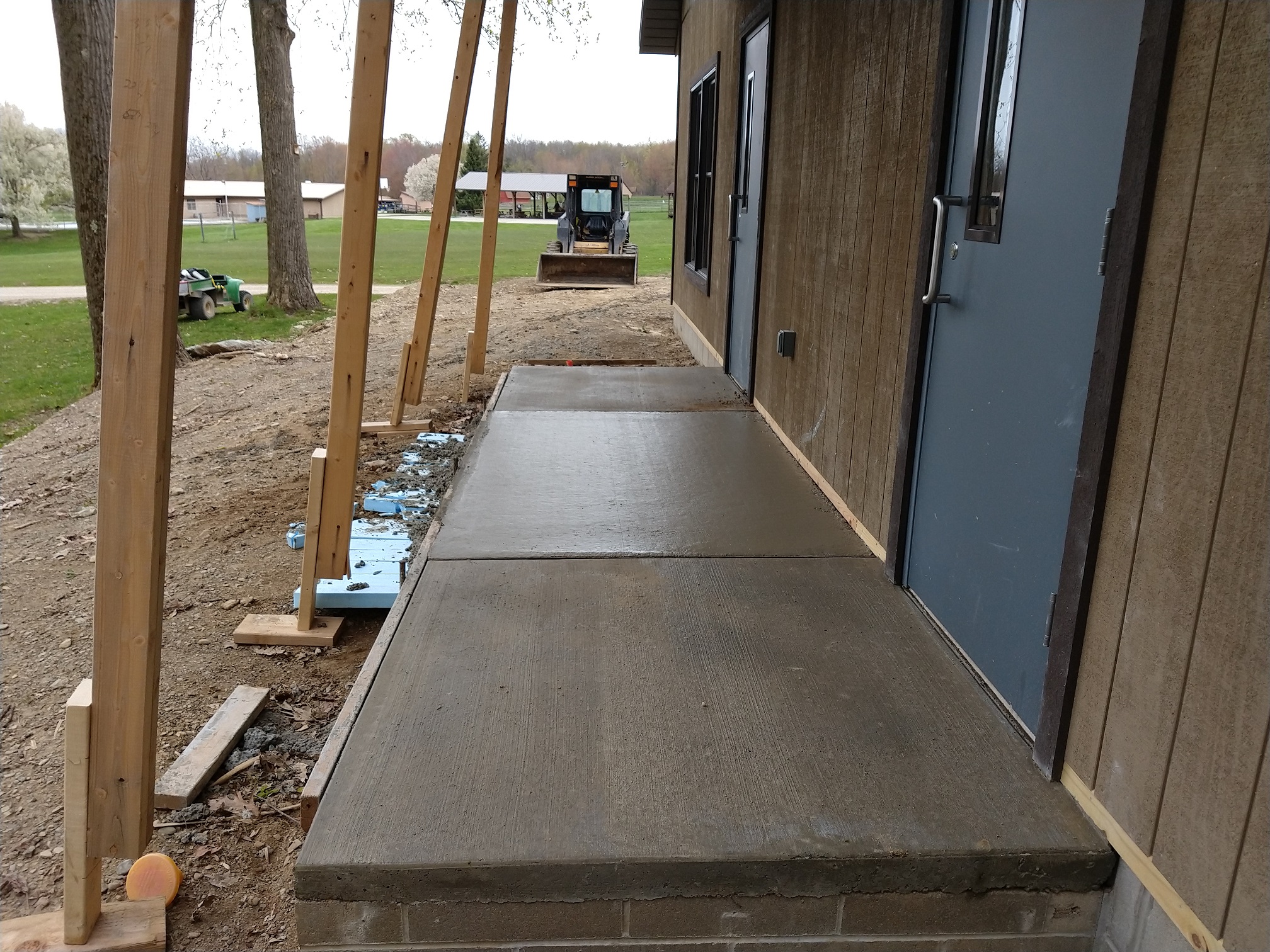 3/16/20-4/30/20
It has been a while since our last update, which was due to the COVID shut down, but rest assured, we have not been sitting idly by while the days slip by. Some of the projects that we could focus on, without the help of outside help, was staining and installing the doors, putting up the trim around the door frames, installing the ceiling fans in the Latigo and putting up the rest of the outlet covers and light switch panels. Putting on some of these finishing touches truly made the bunkhouse seem complete on the inside. Our general contractor made the cabinets, that can be found in the Latigo room, at home and delivered them to be installed as well.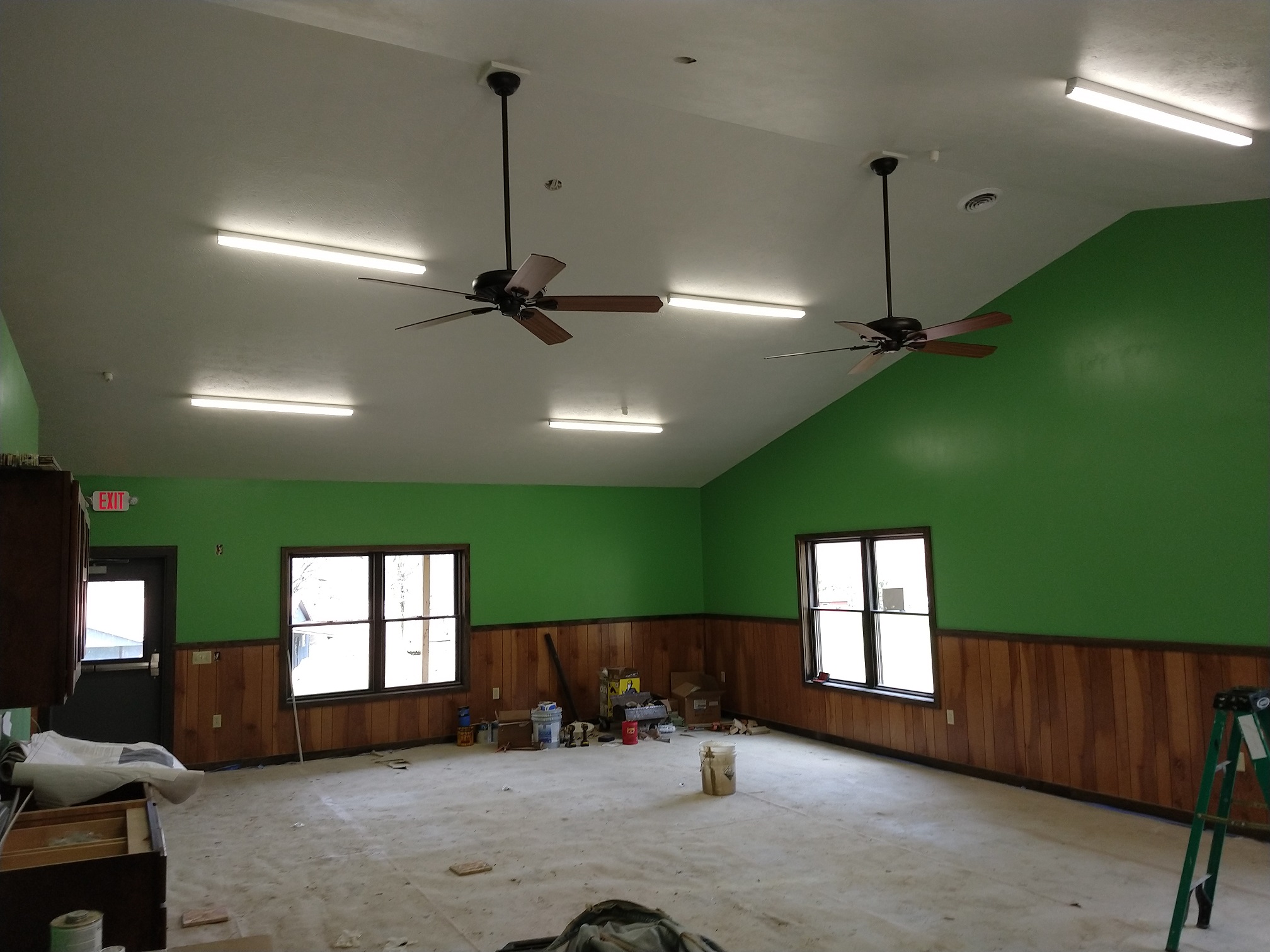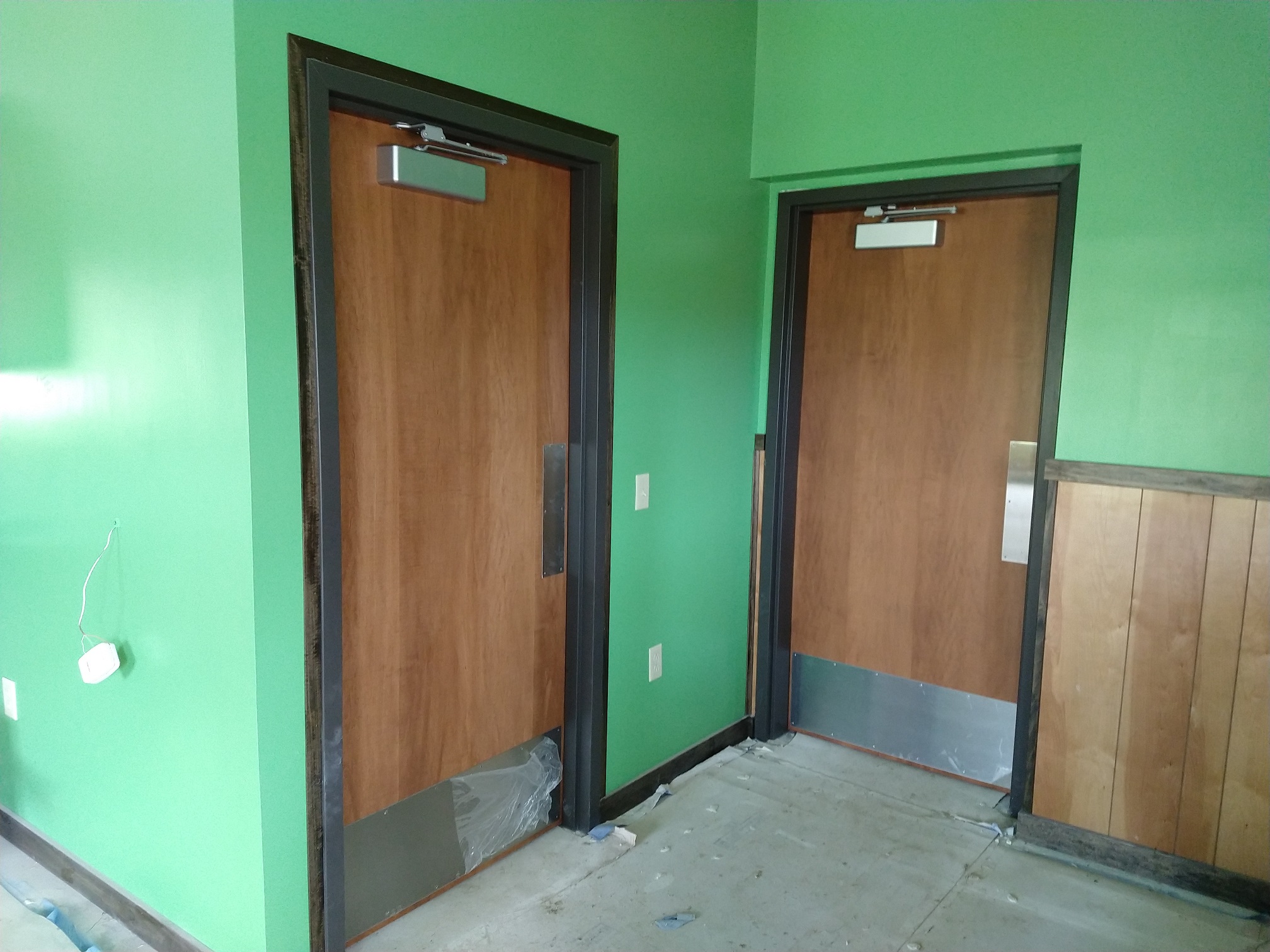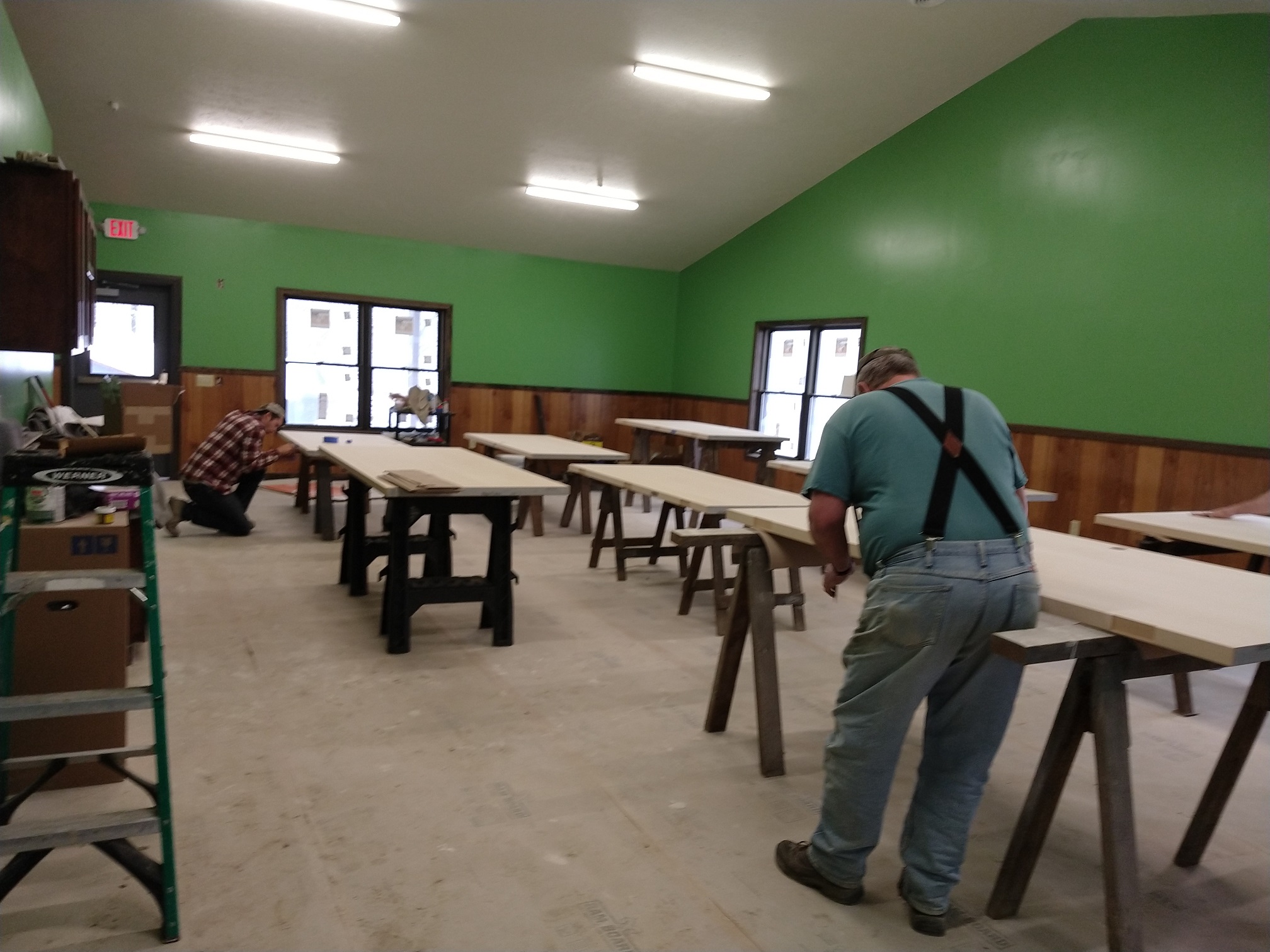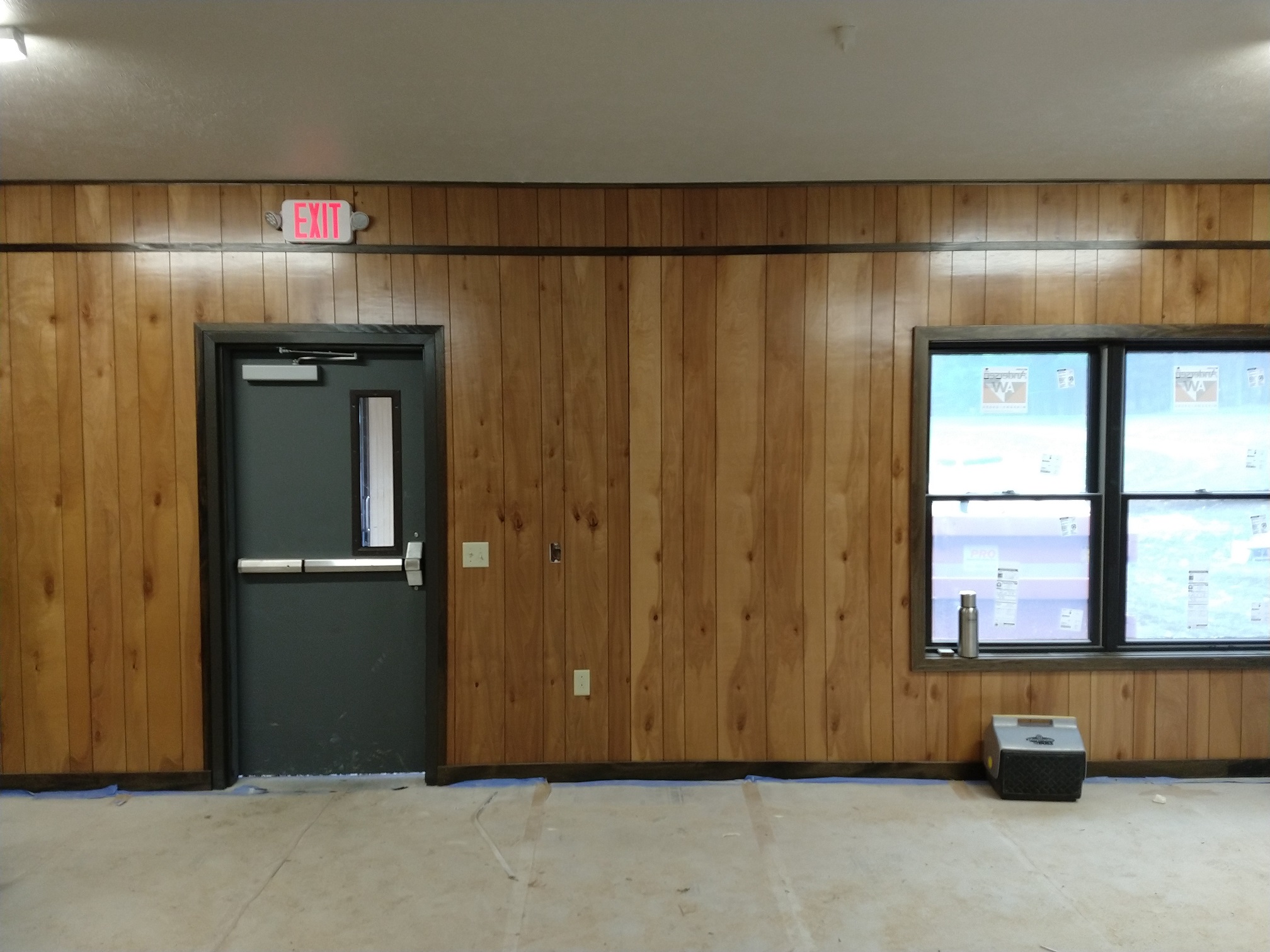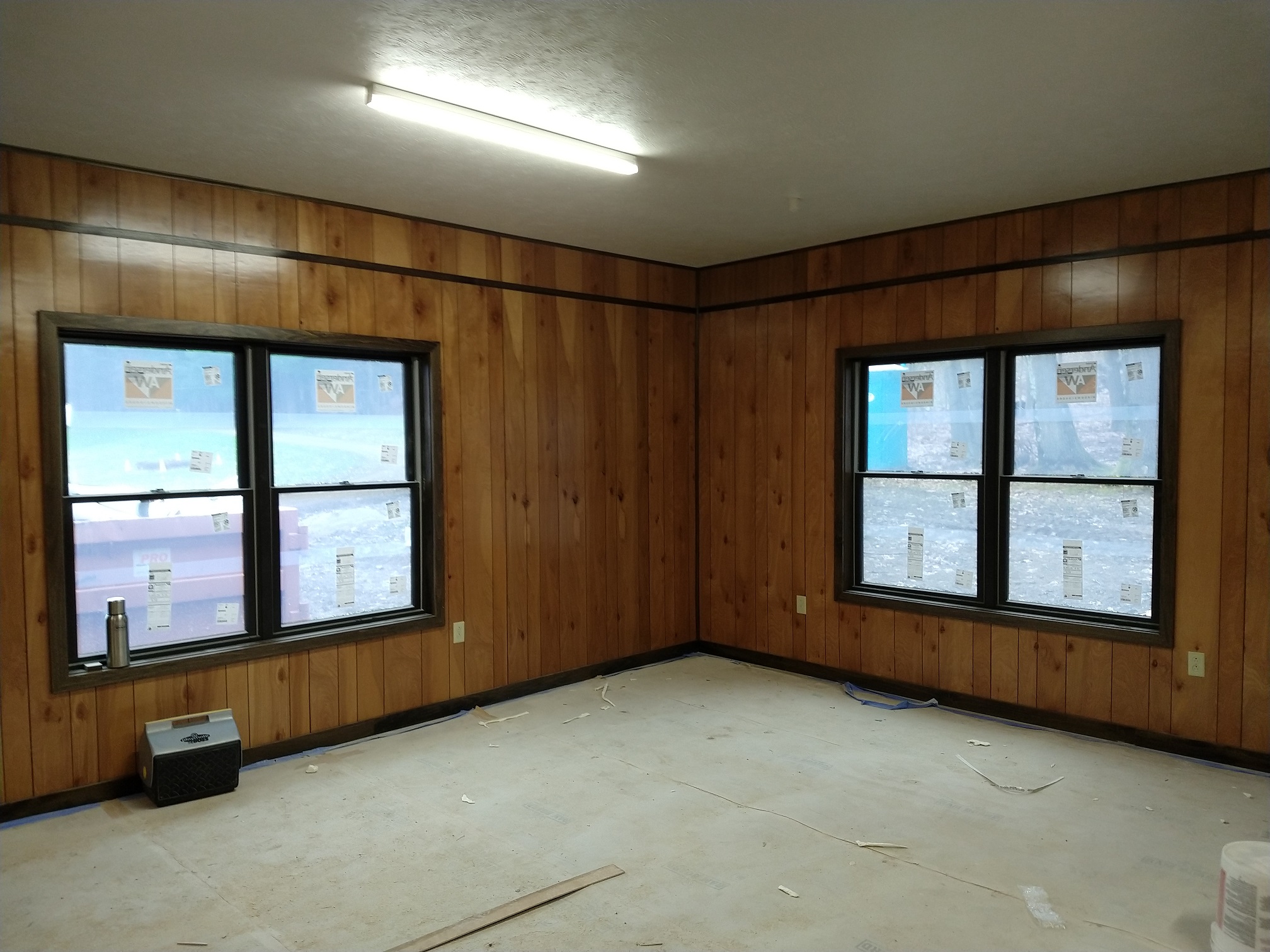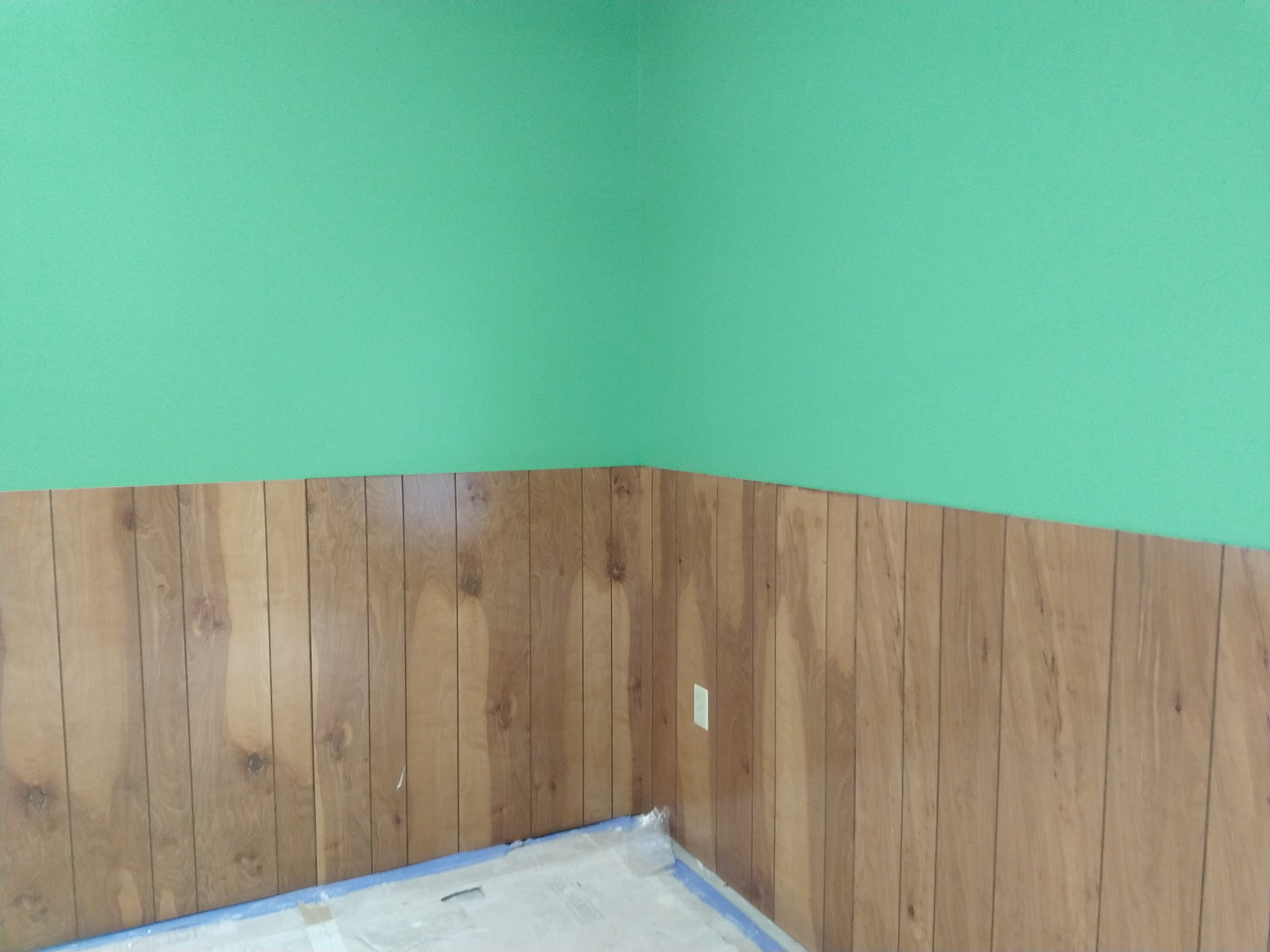 3/1/20-3/15/20
A lot has happened in this seemingly short amount of time. Once the mudding of the drywall was finished, our team went straight to work on installing the ceiling lights in the bunk rooms and the lights and motion sensors in the bathrooms. We finished with getting the heating elements and plumbing so that we could turn on the heat, making for a nice warm working environment.
The FRP walls in the bathrooms are still in the process of being put up as the door frames are painted. The paneling throughout all of the bunk rooms are finished as are the paneling and painting the front room, colloquially known as the "Latigo." As all of this has been happening, we have begun putting up the window and wall trim to finish the look of each of the bunk rooms. Completing this task shouldn't take too much longer.
In the boiler room in the back, the water tanks for the sprinkler system have been delivered, installed and filled to the brim. We are also putting into place the shower fixtures and sinks and the toilets are ready to be installed once the bathroom vinyl base trim is finished drying.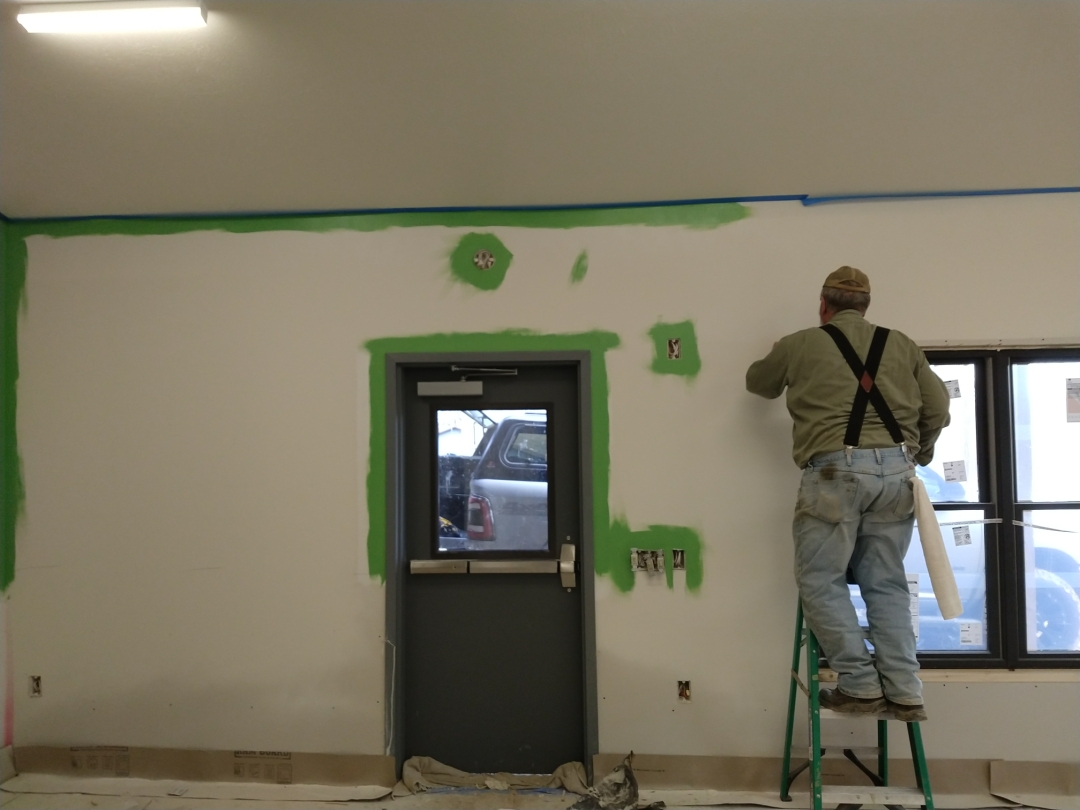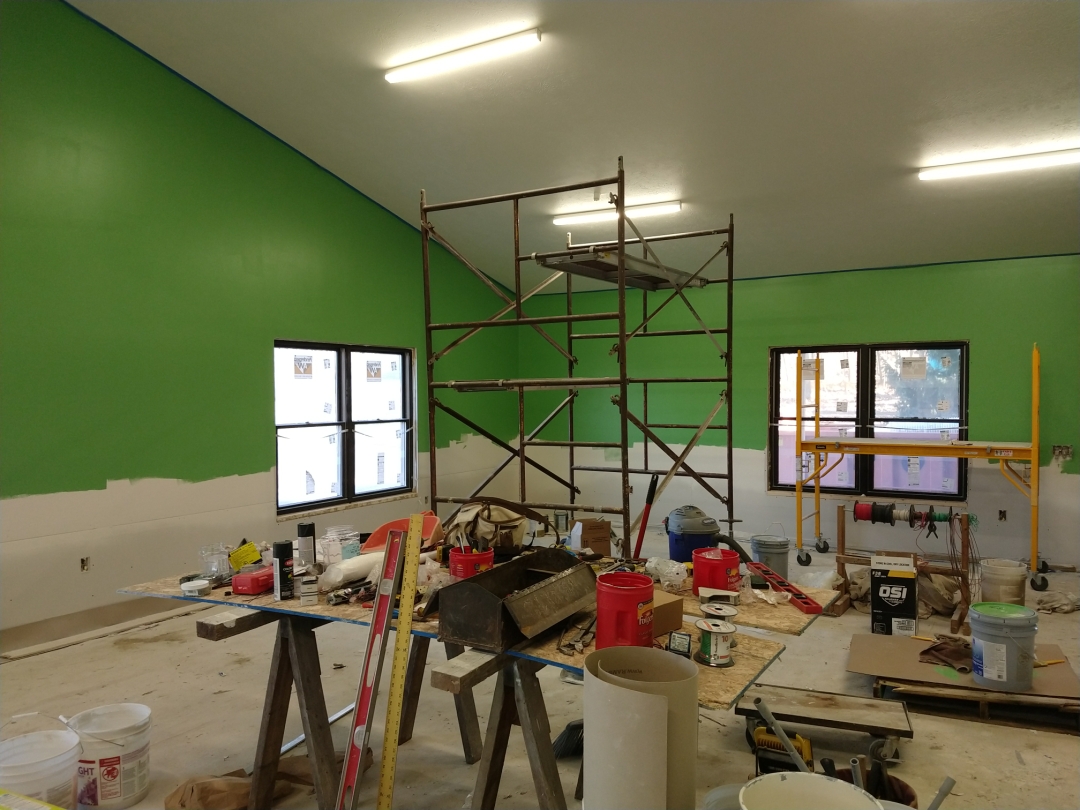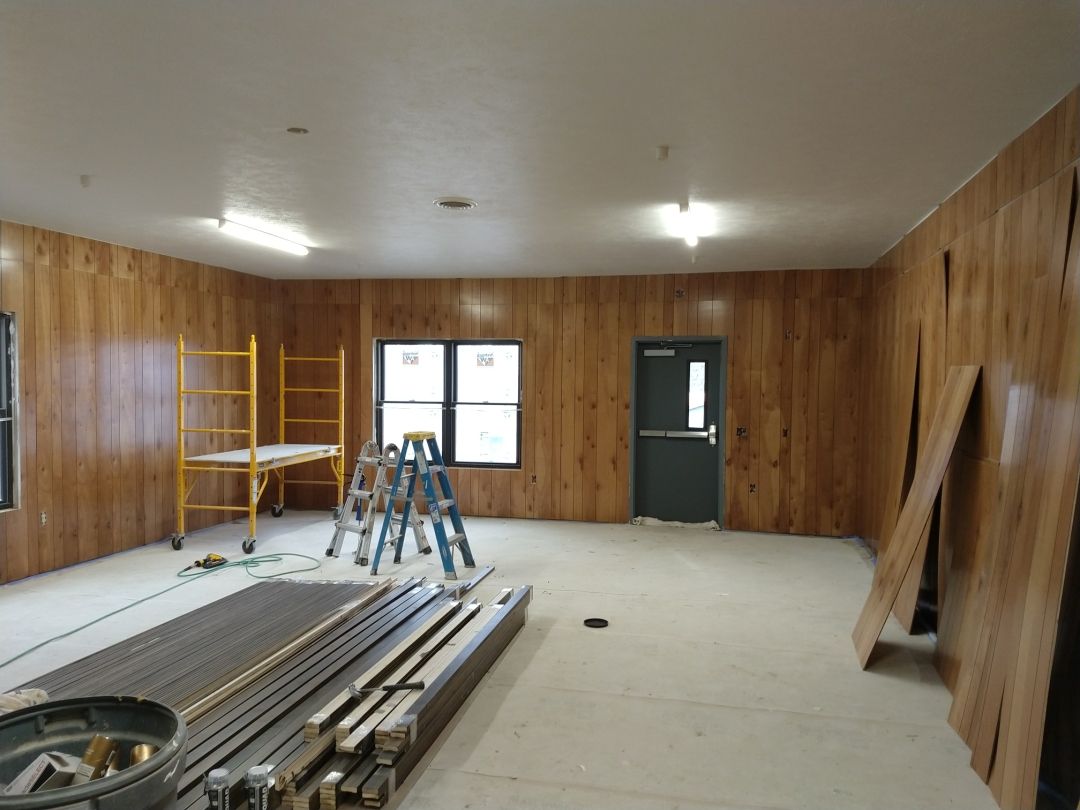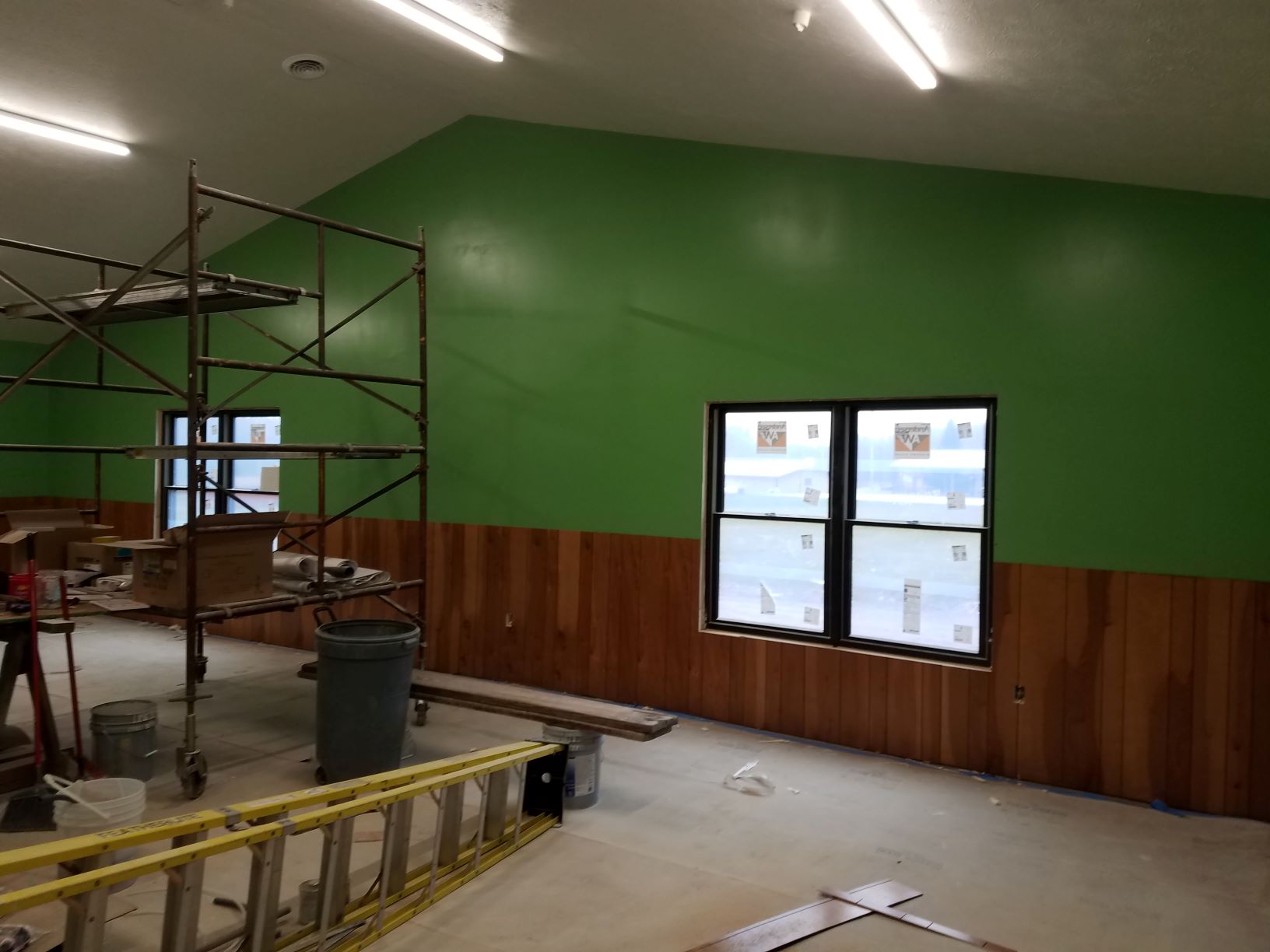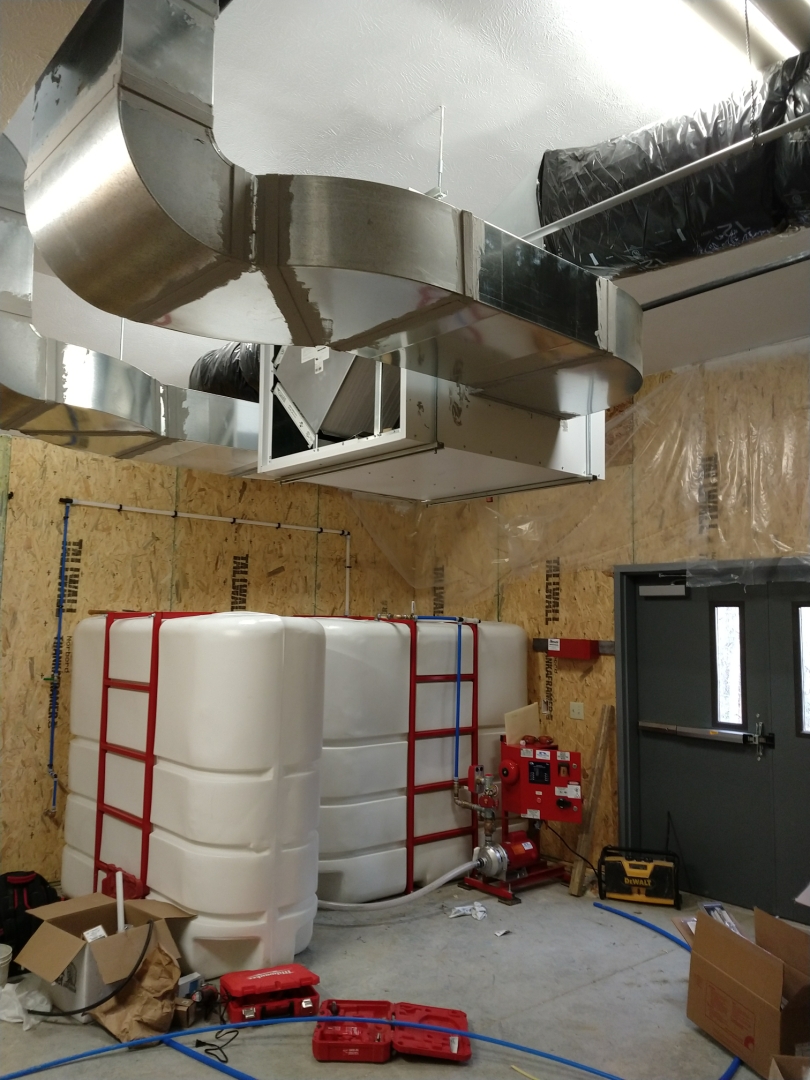 1/29/20 - 2/21/20
We began putting up the RC Channel in anticipation of the drywall delivery. Quick work was made of this as the men got into a groove of how best to put it up. Before and while the RC Channel was being put up, we thought it necessary to put down some Ram Board protection paper so that our nice concrete floors would incur the least amount of dings and scrapes before the campers could get to it. This process took a little longer than we might have hoped for as the combination of having to use painters tape (in accord with not wanting to ruin the finish) and cold floors did not mix well. However, we got it done and the drywall was hung in stride. Later on, throughout February, the drywall was taped and mudded and the ceilings were finished as well.
This was one of the more recent intensive segments that showed a lot of progress as it was happening (as opposed to some of the projects that are not as visible, electricity, plumbing, etc.). There was continued progress being made on the electrical and plumbing projects during this time as well.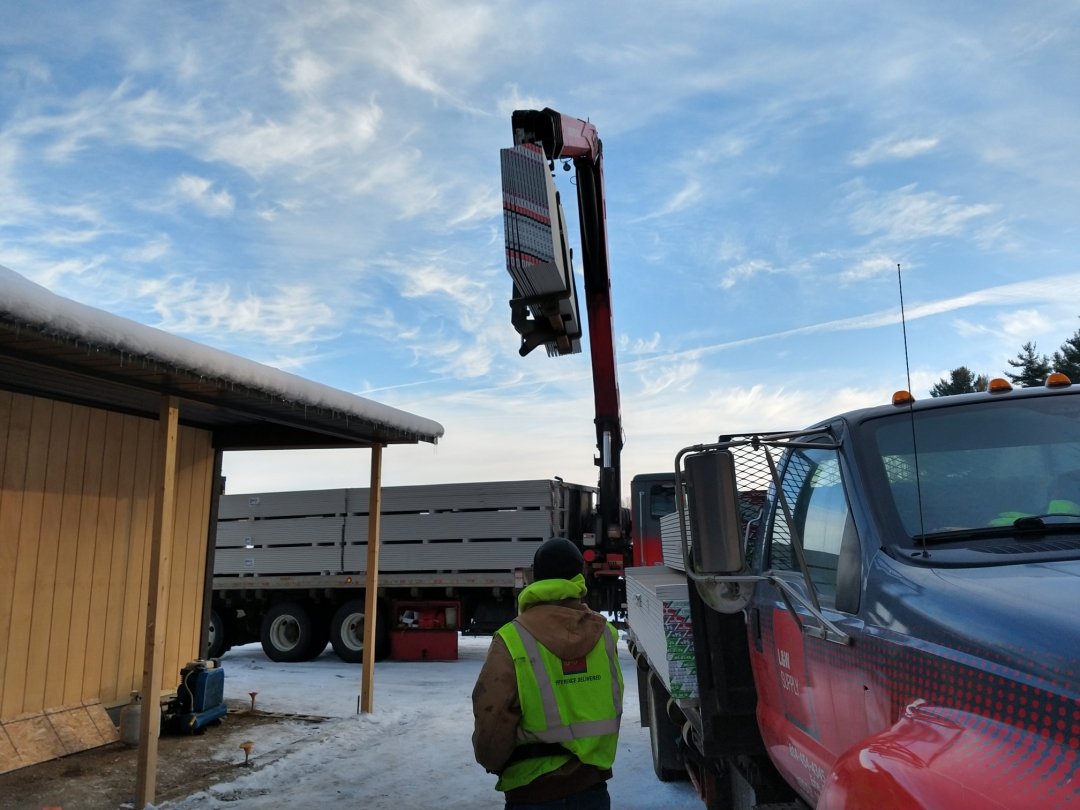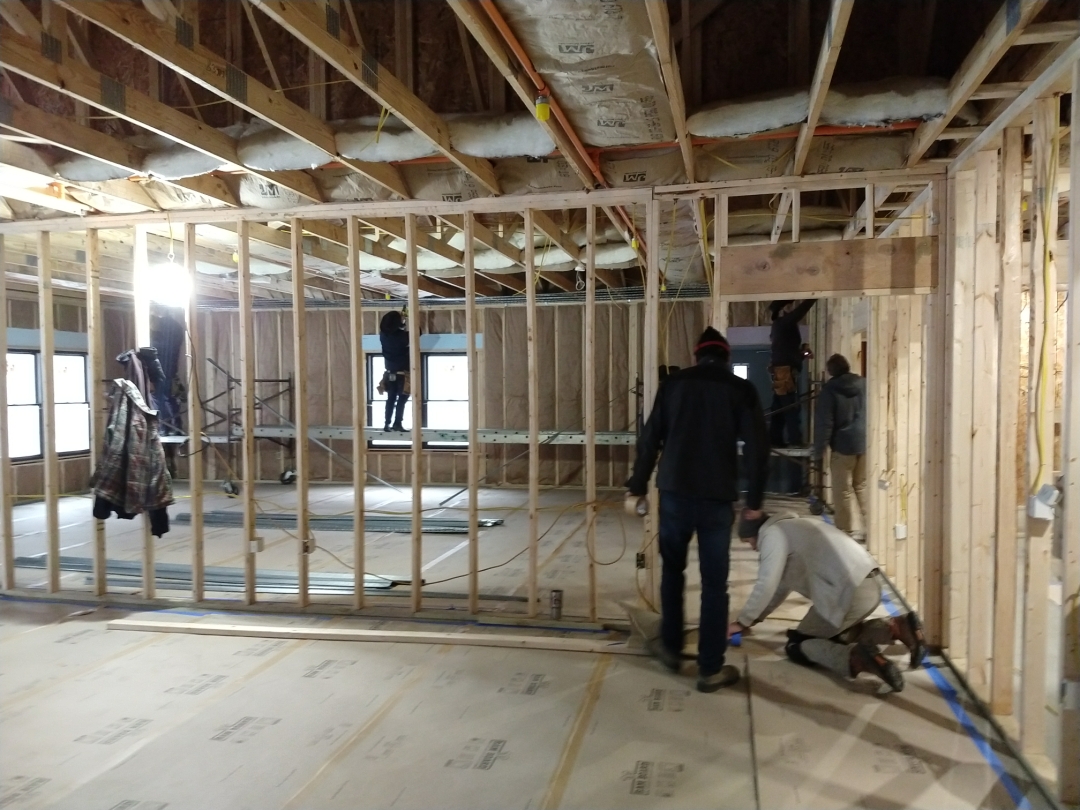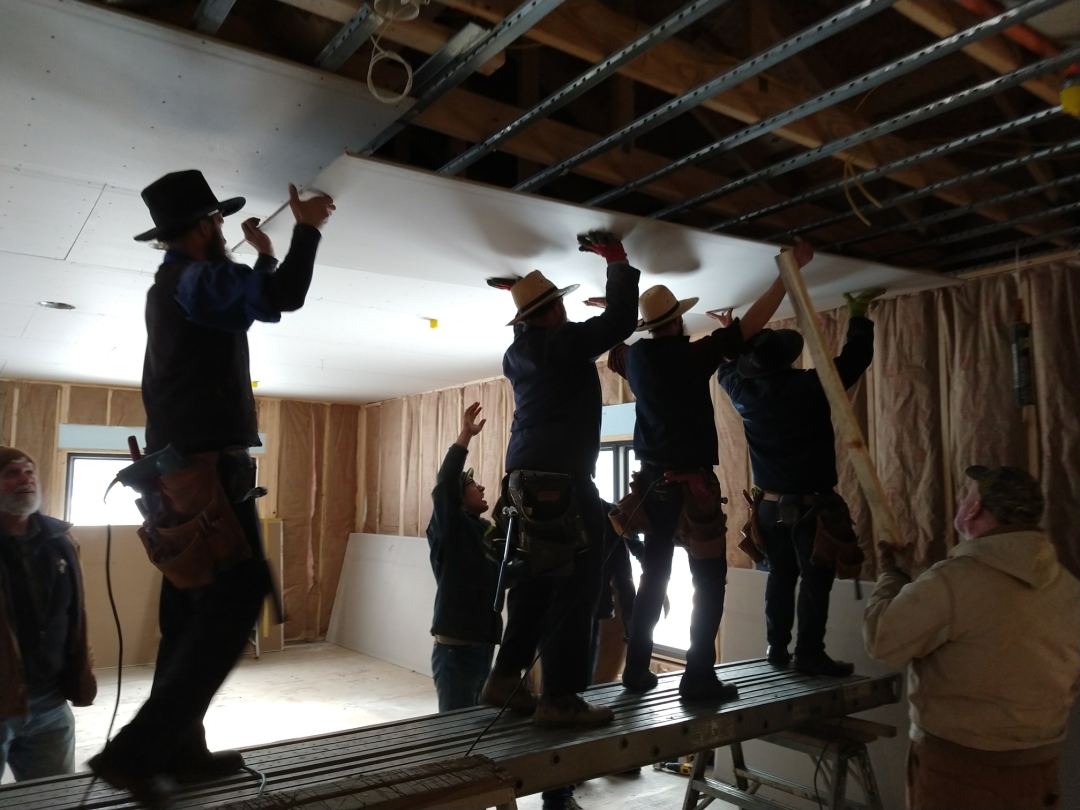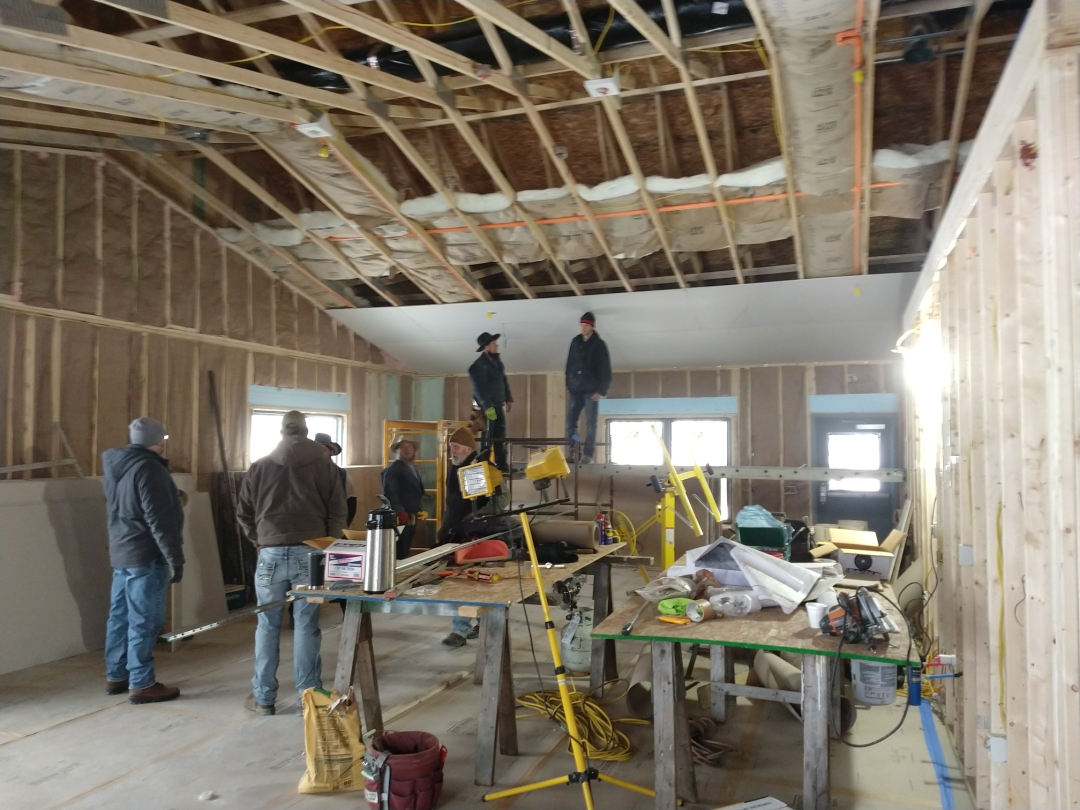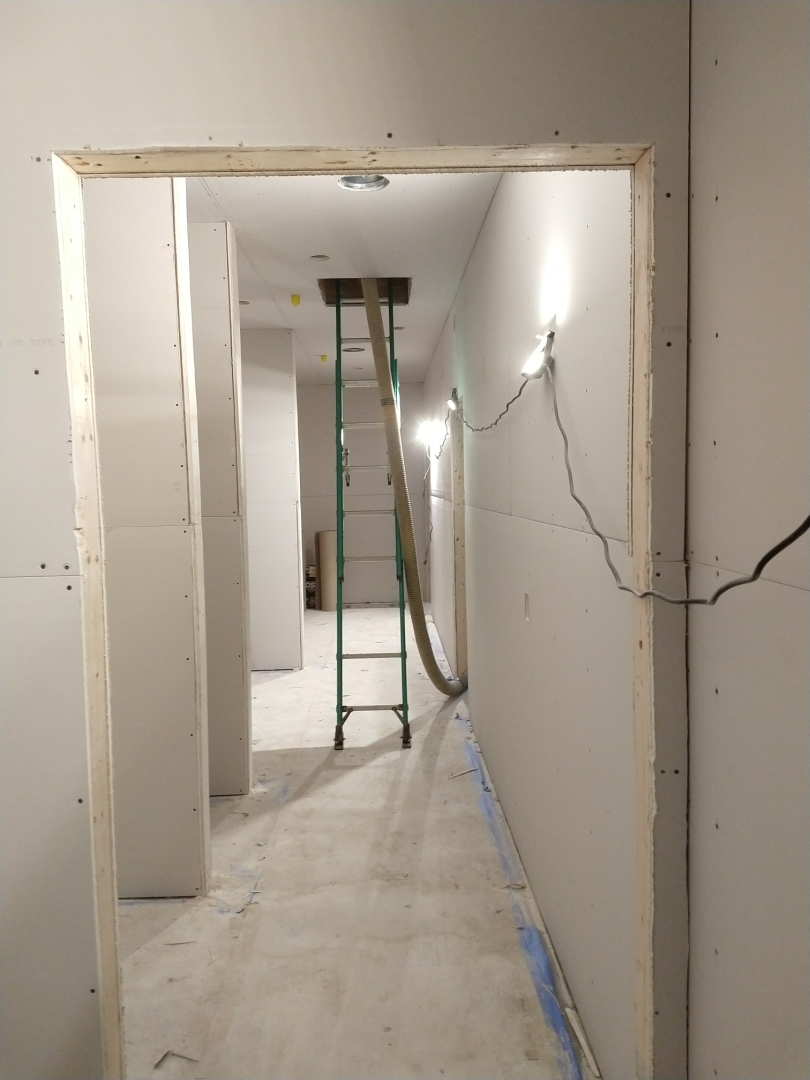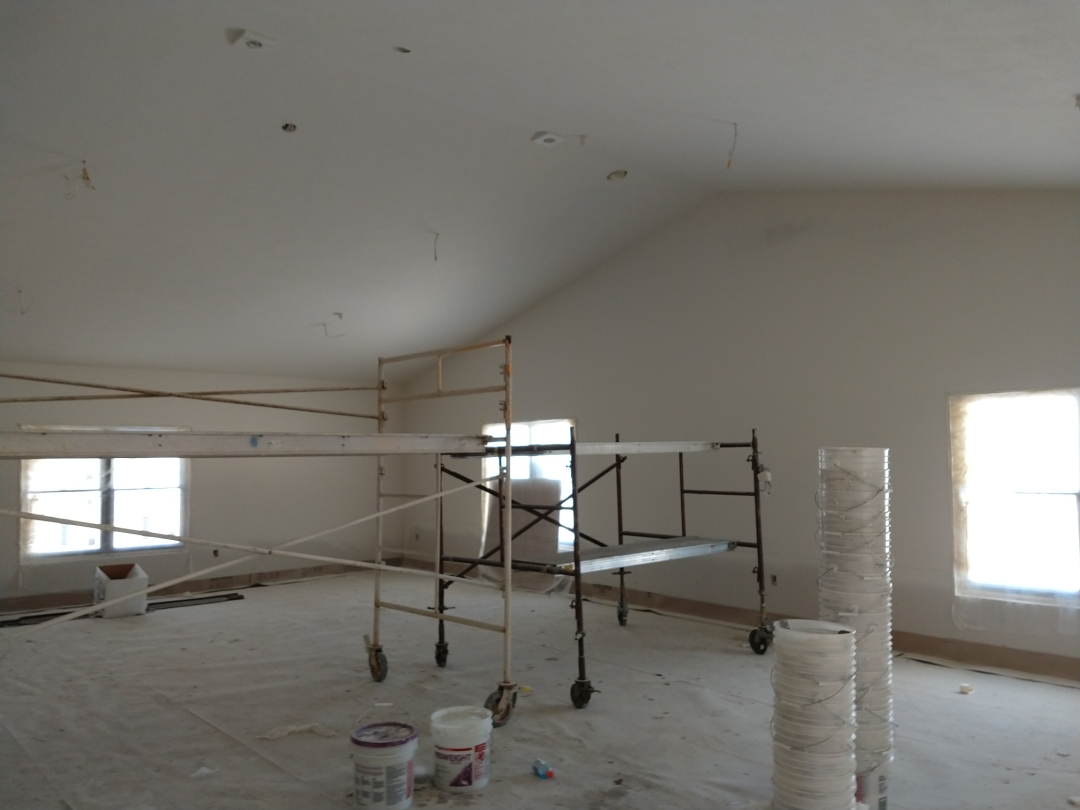 1/20/20-1/24/20
The insulation has been delivered and promptly installed. This step has been one of our favorites as it means that the cold weather outside is held a little more at bay while the rest of construction continues. Other than warmer weather, we look forward to installing the heating into the bunkhouse. During this time, the sprinkler system has also been installed.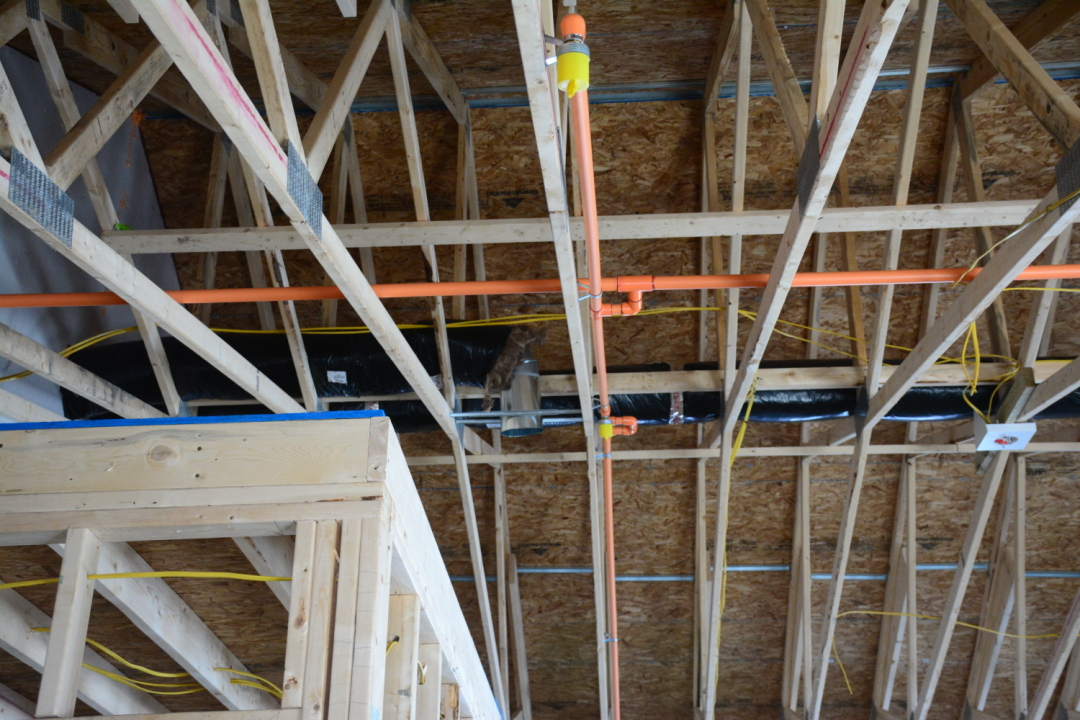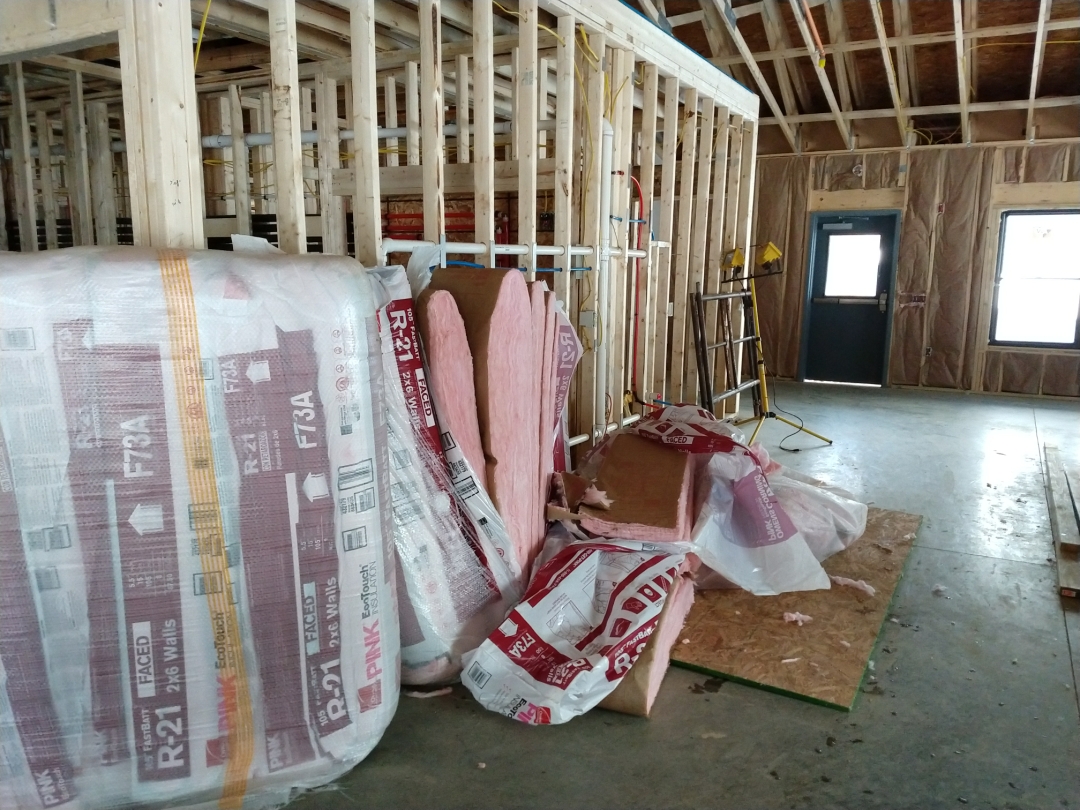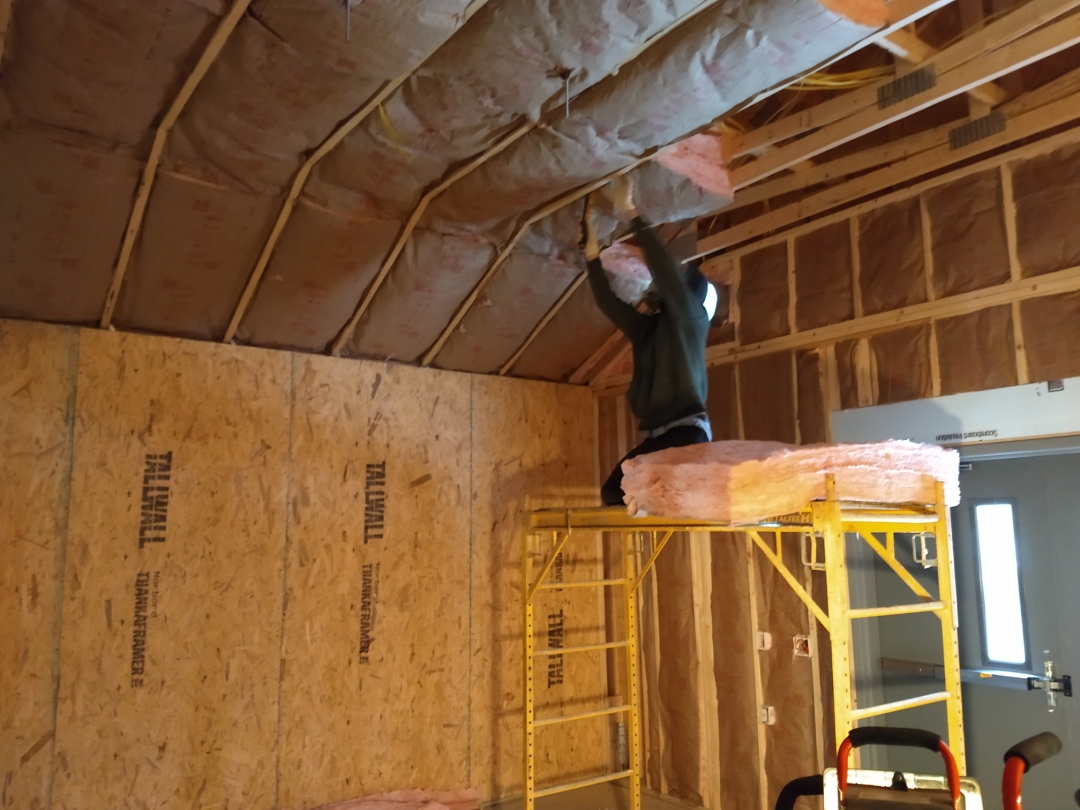 12/18/19-1/4/20
Now that we have finished with the larger, single-focus projects (save one or two) much of the work for this period of time has been wiring, plumbing and installing our air exchange system. Obviously, there isn't much to show during this time, but rest assured, much is getting done.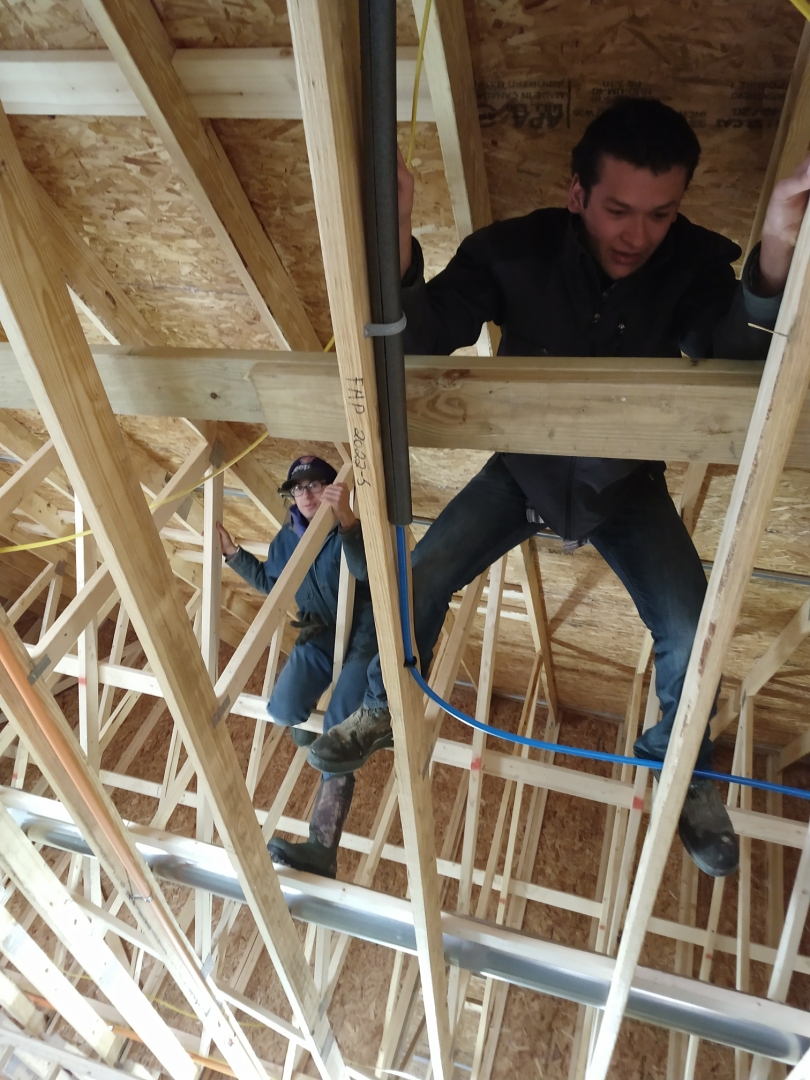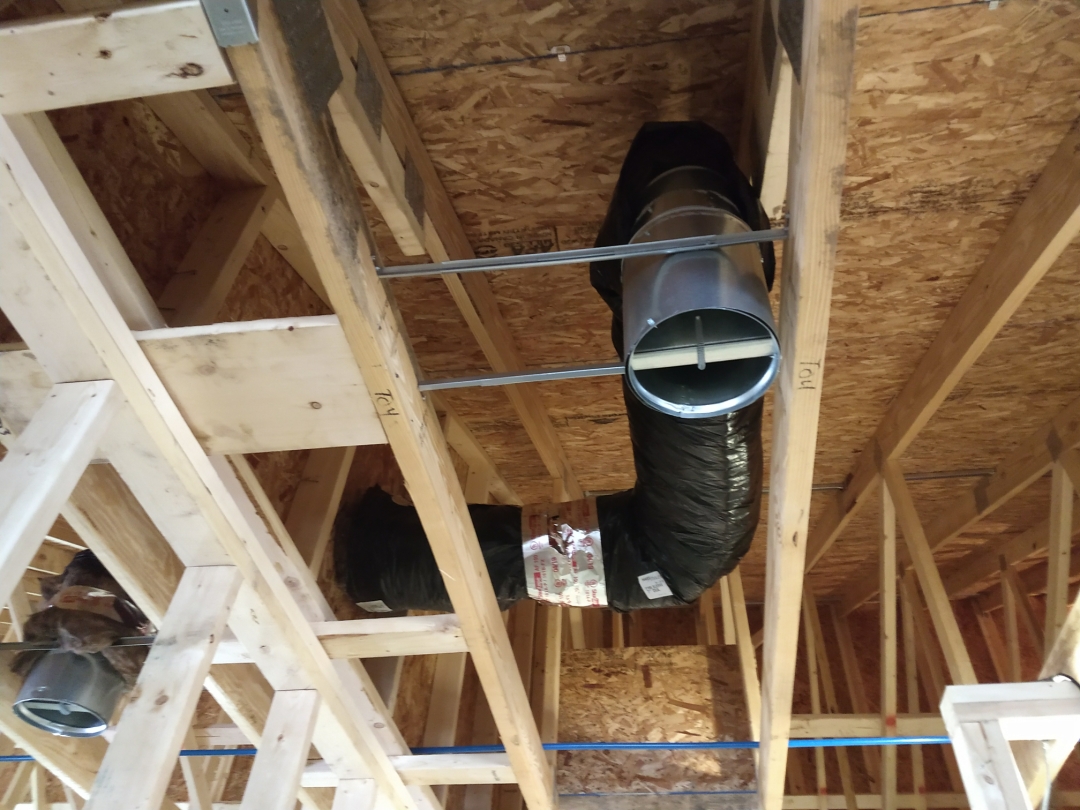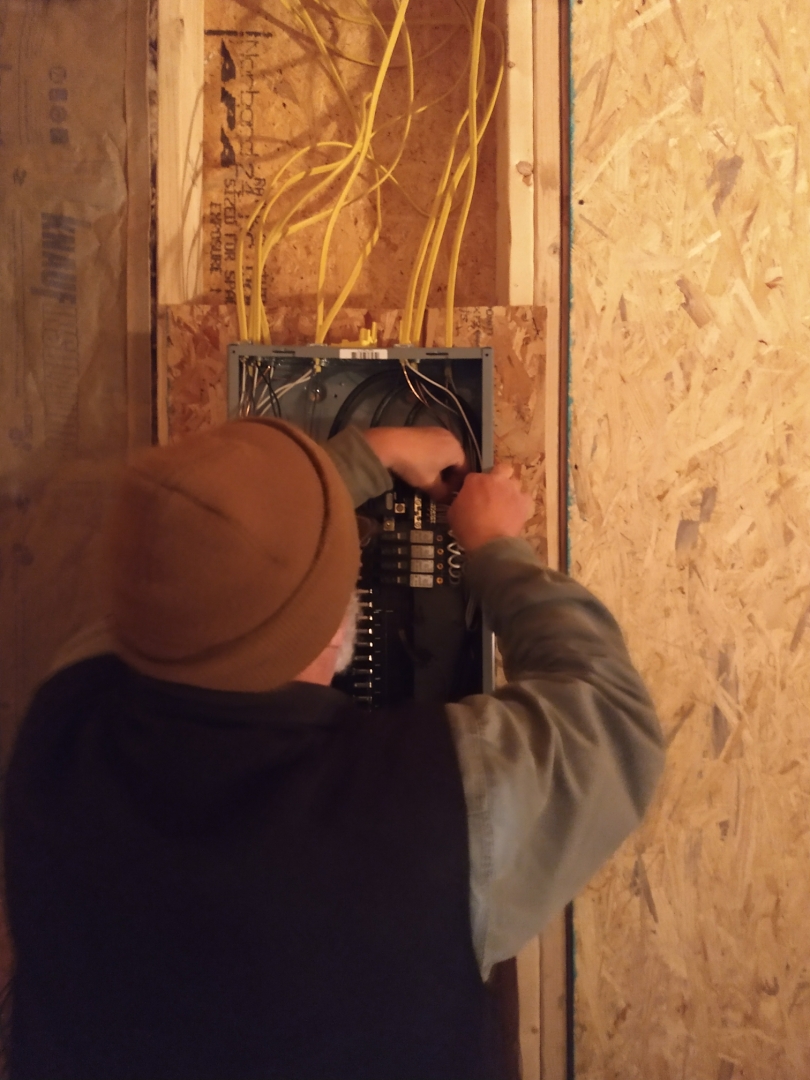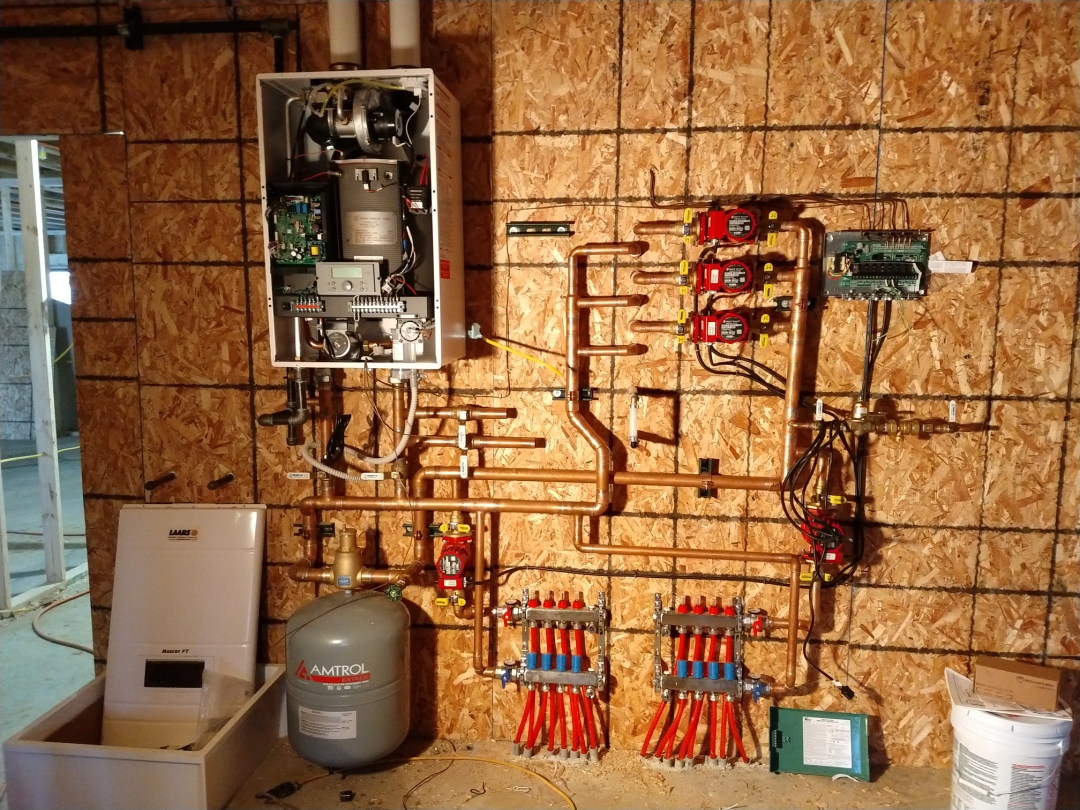 12/9/19 - 12/12/19
Back in October, after we received the siding for the bunkhouse, we were able to set aside a couple sunny days to pre-stain a majority of the panels. Once we got most of it up, we found out that we were only a couple panels short. Once the weather is consistently clearer and drier, we will be able to finish staining the remaining siding to complete the outside look of the building. We have also put up the soffit around the building and as you can see, we have put in recessed lights in various increments along the porch so that even at night-time our campers and guests can be confident in where they are walking.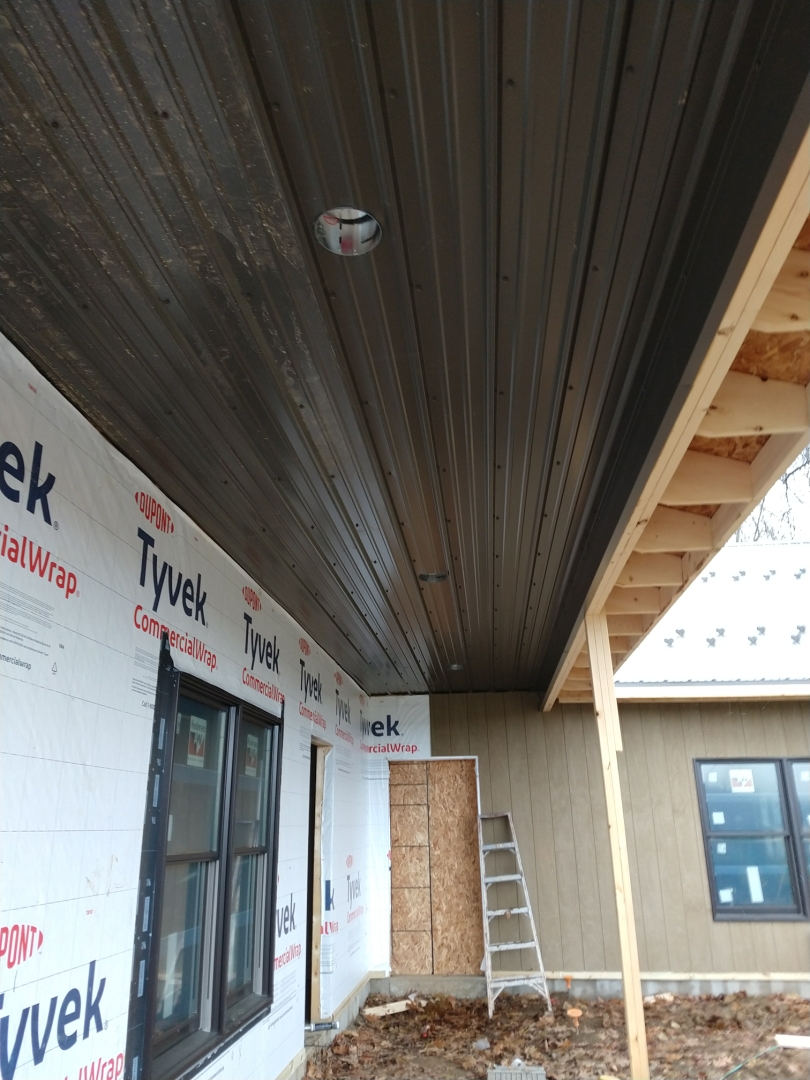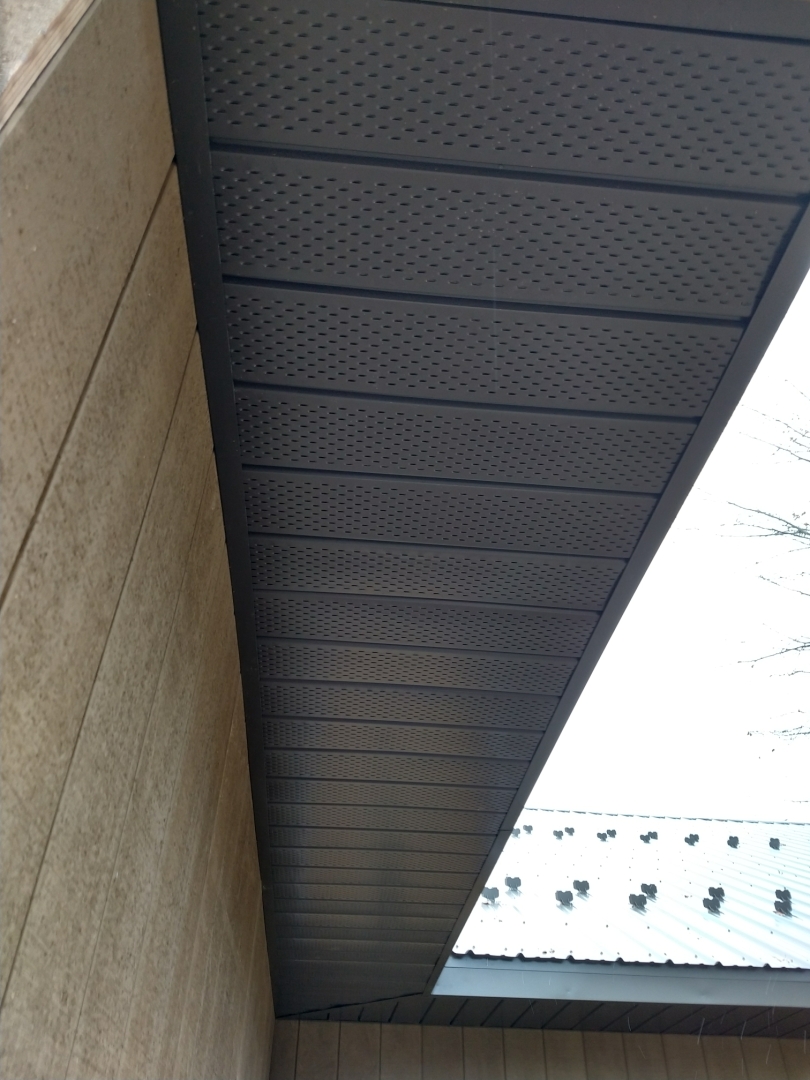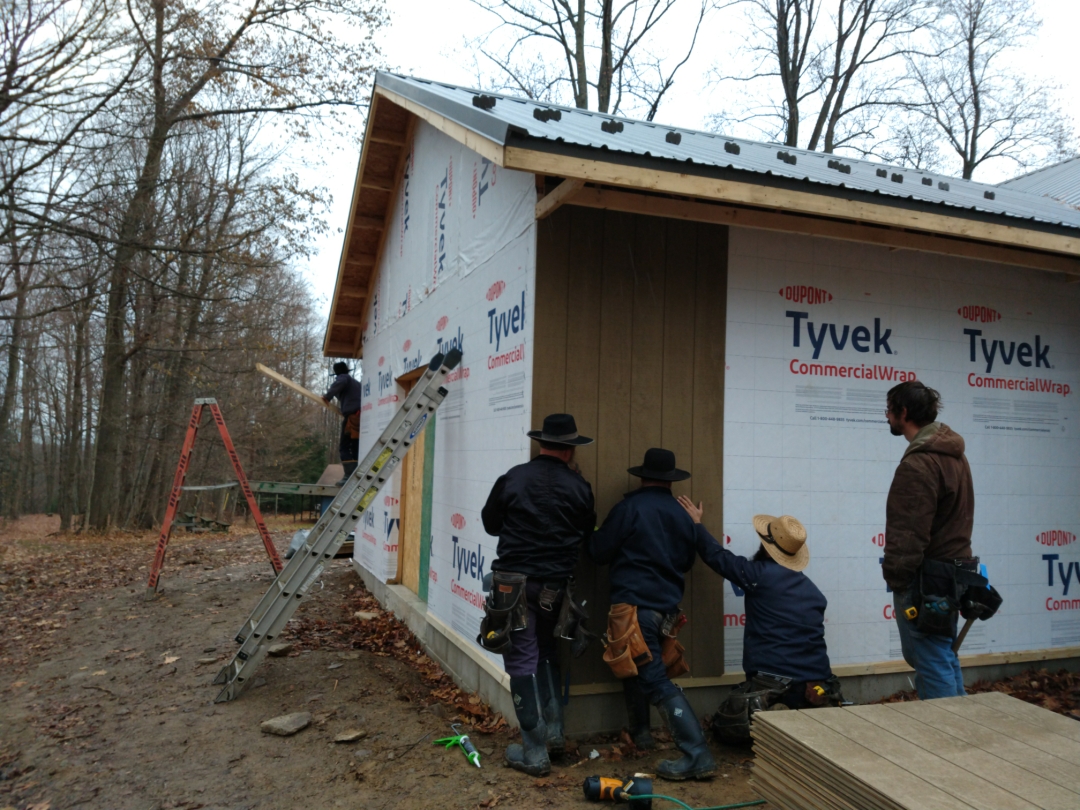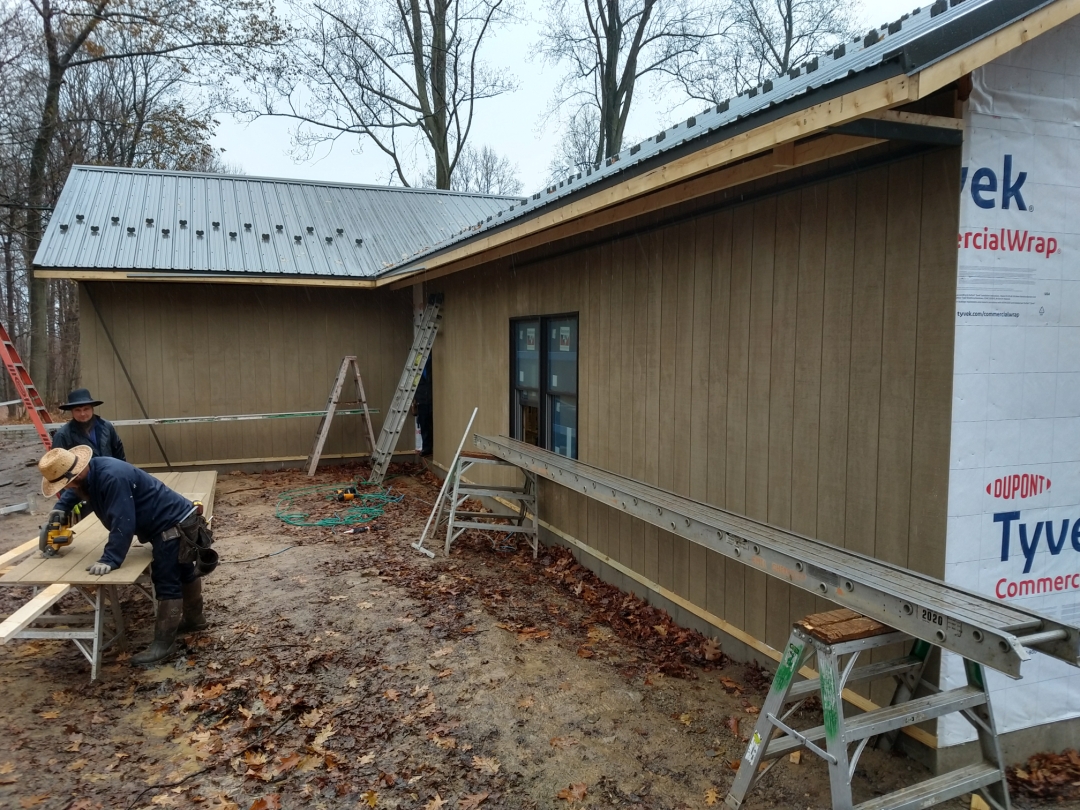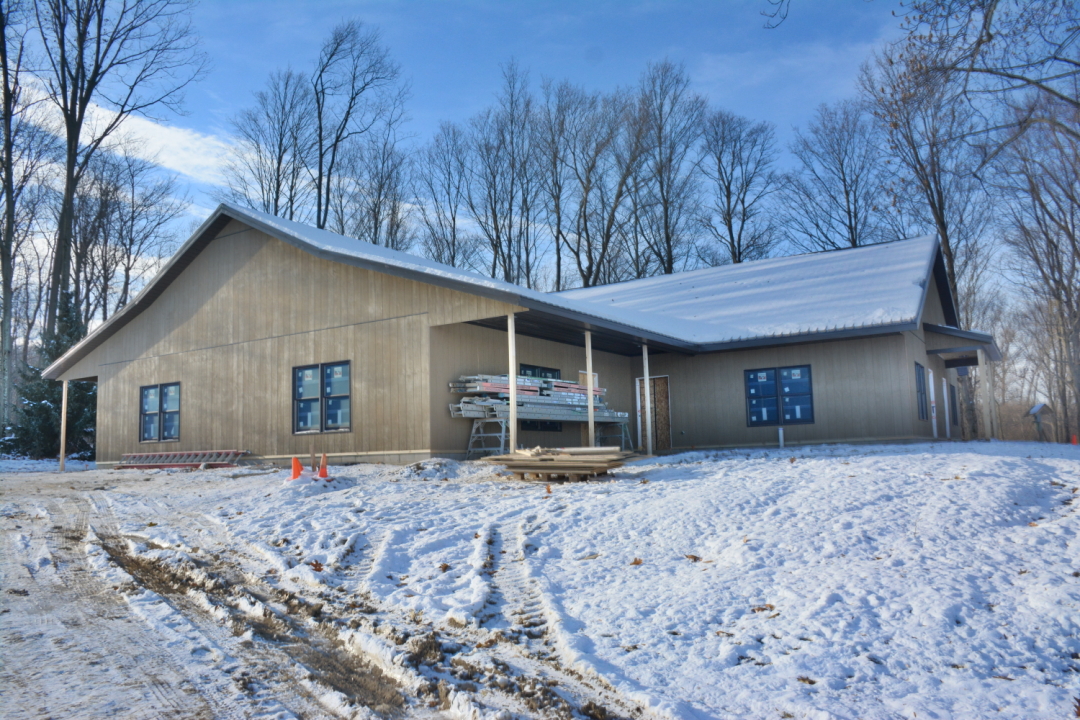 11/22/19-12/8/19
As we continue to work on the electricity for the building, the crew that had installed the radiant heating began working on the indoor plumbing. They began fitting pipes to drains and the showers to their stalls.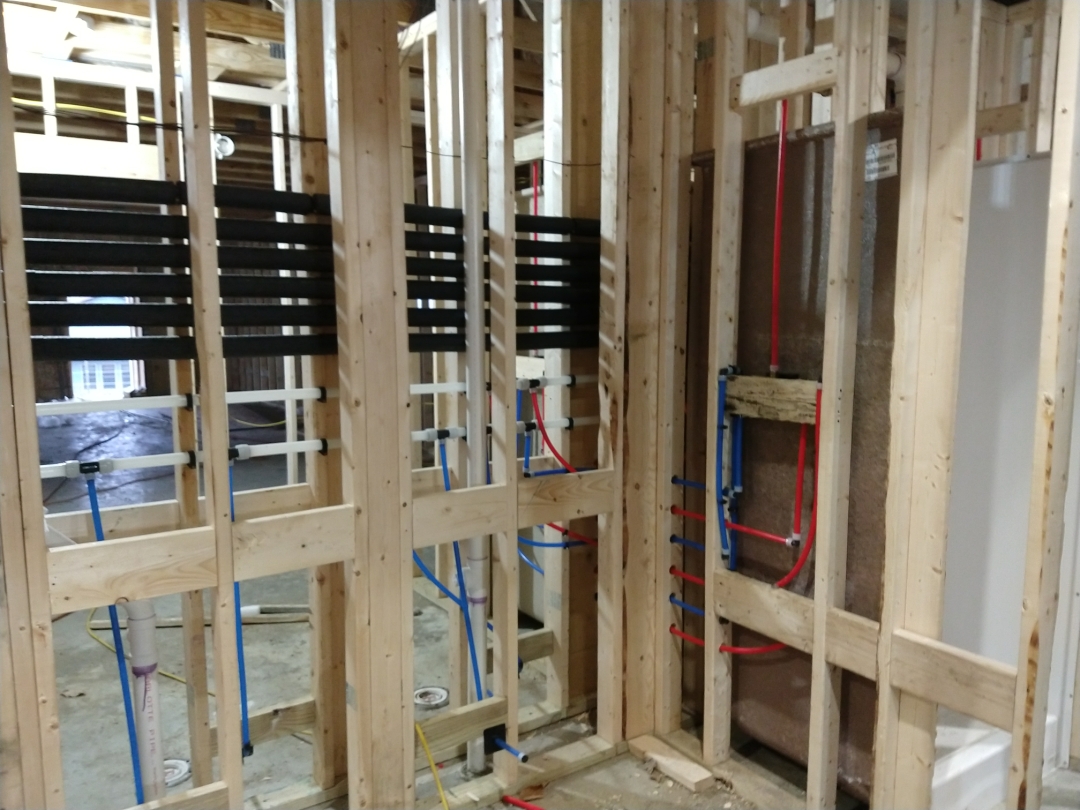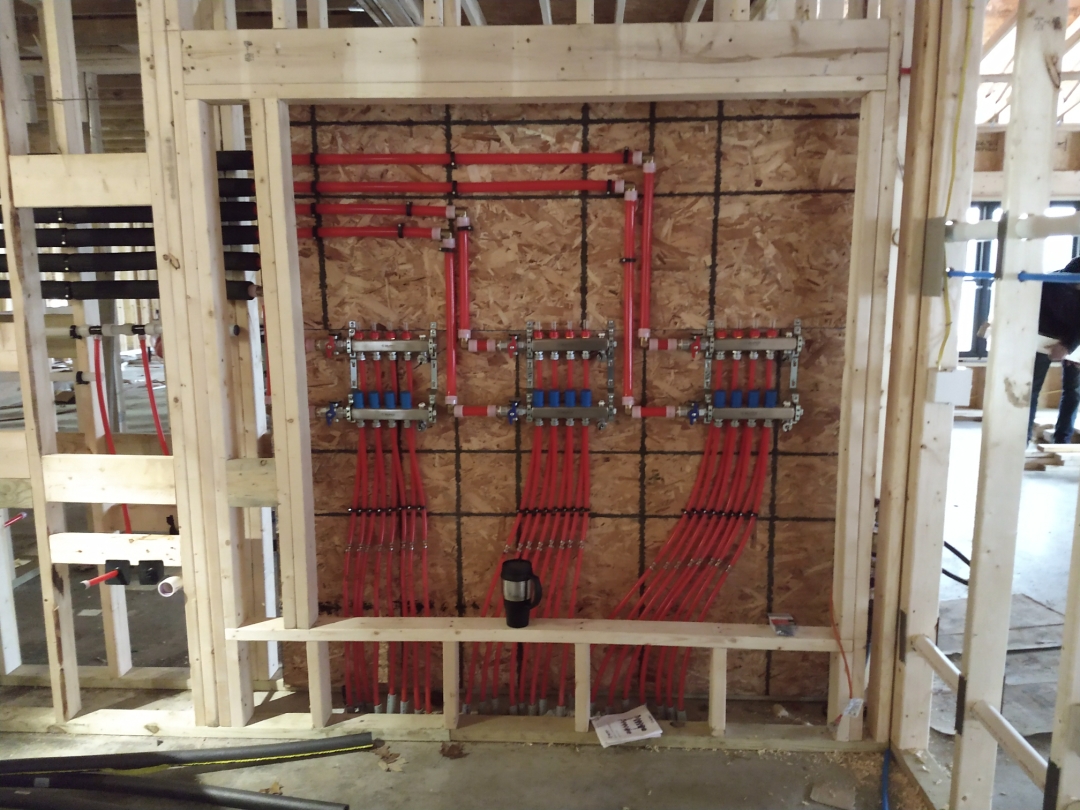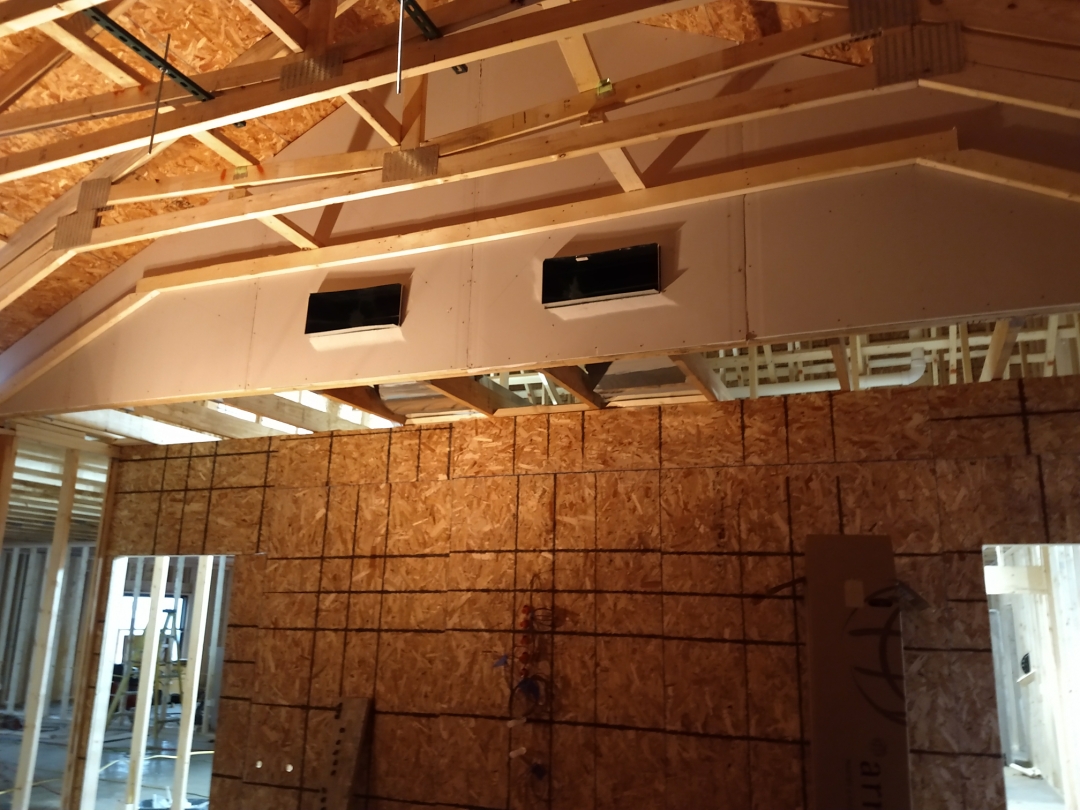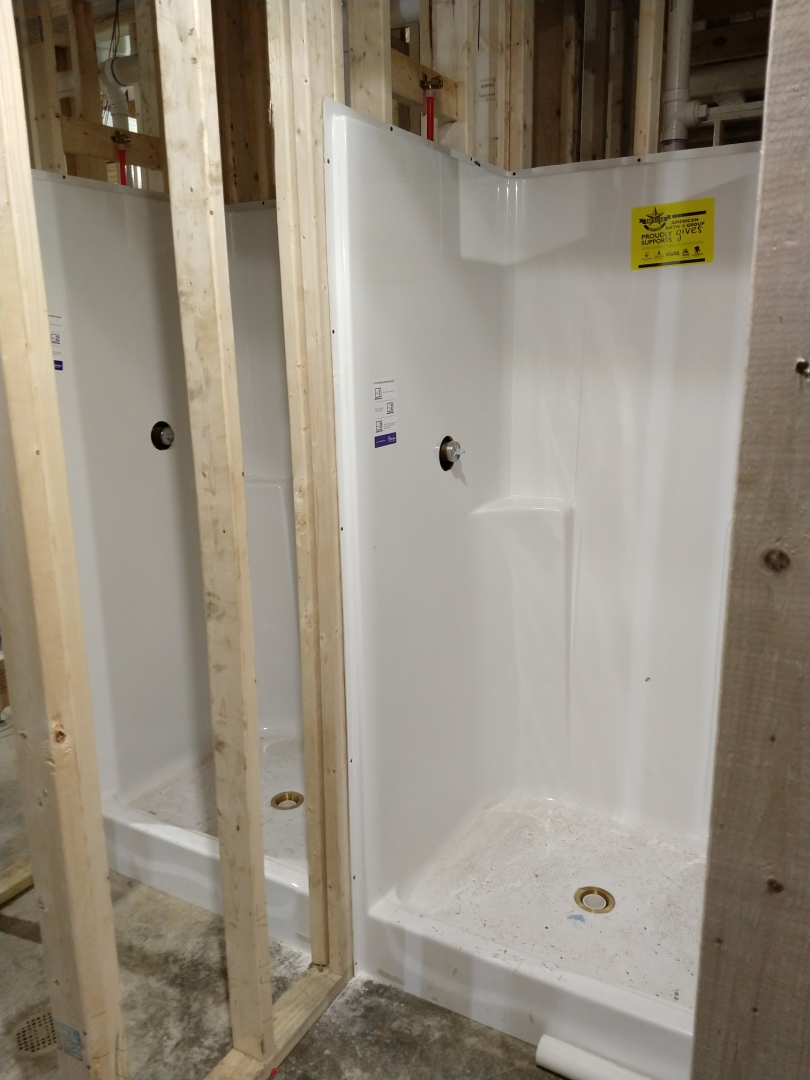 11/8/19-11/21/19
Interior walls are laid out, separating the bunks, bathrooms and boiler room. Now that the interior walls are in, we have begun working on the electric for the building. Also, the progress on the roof has been resumed and finished.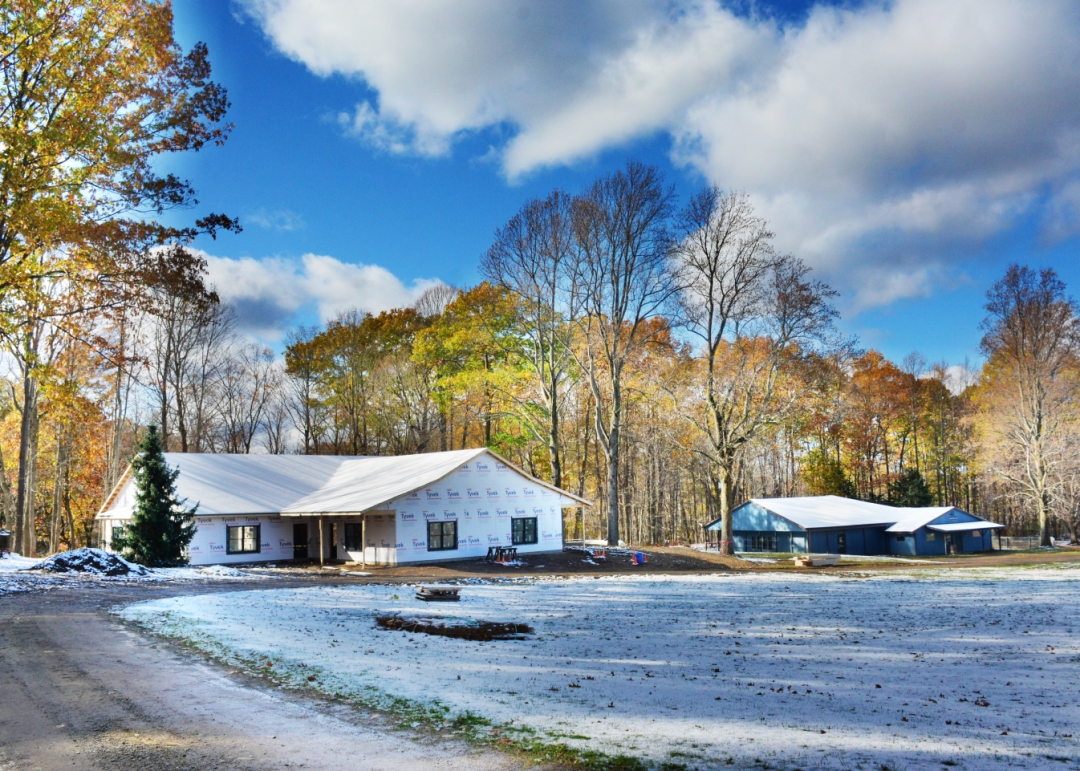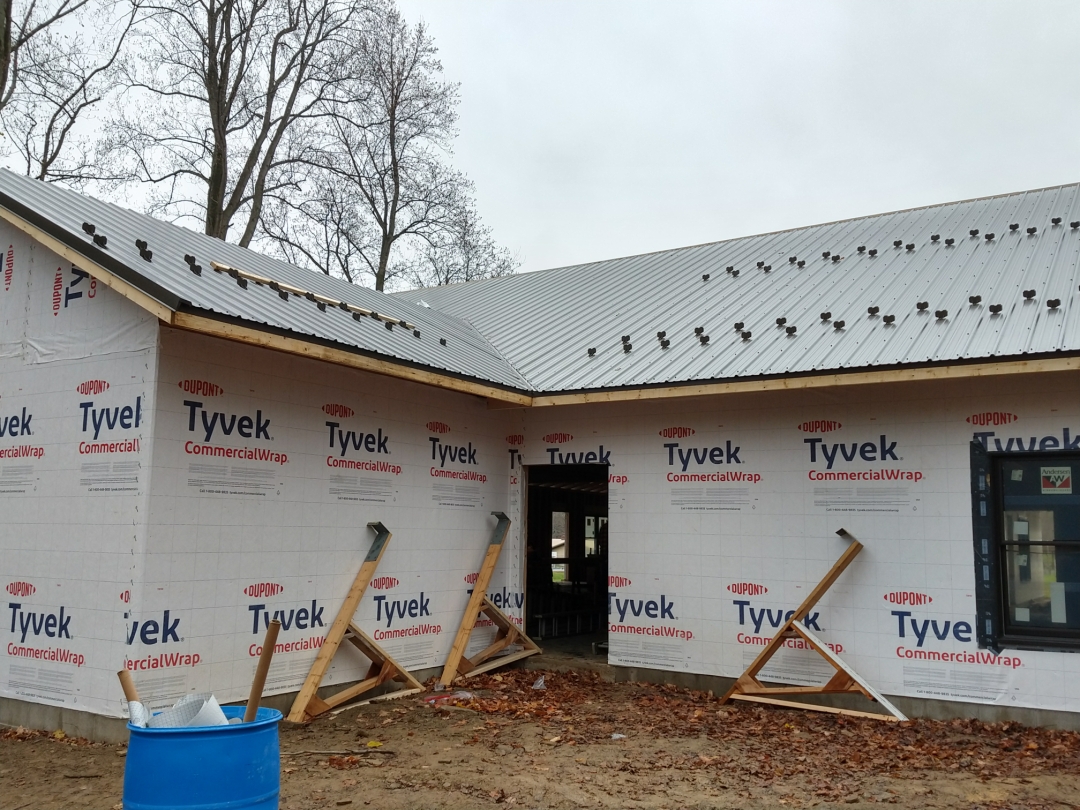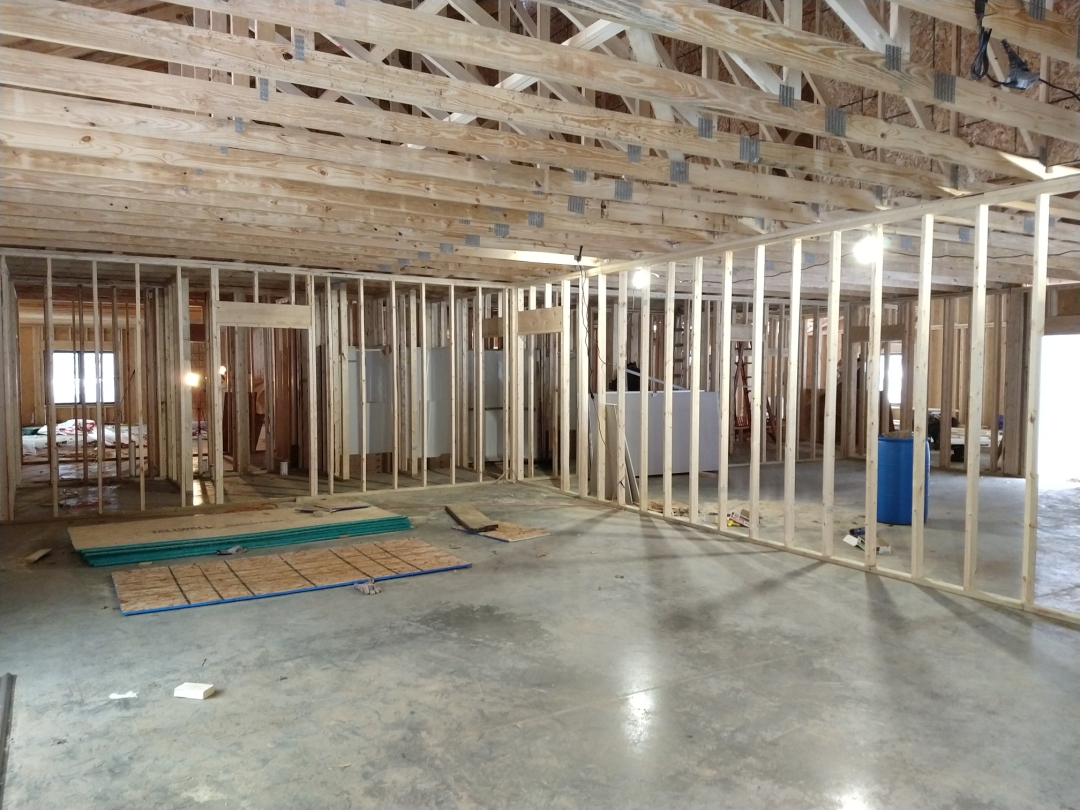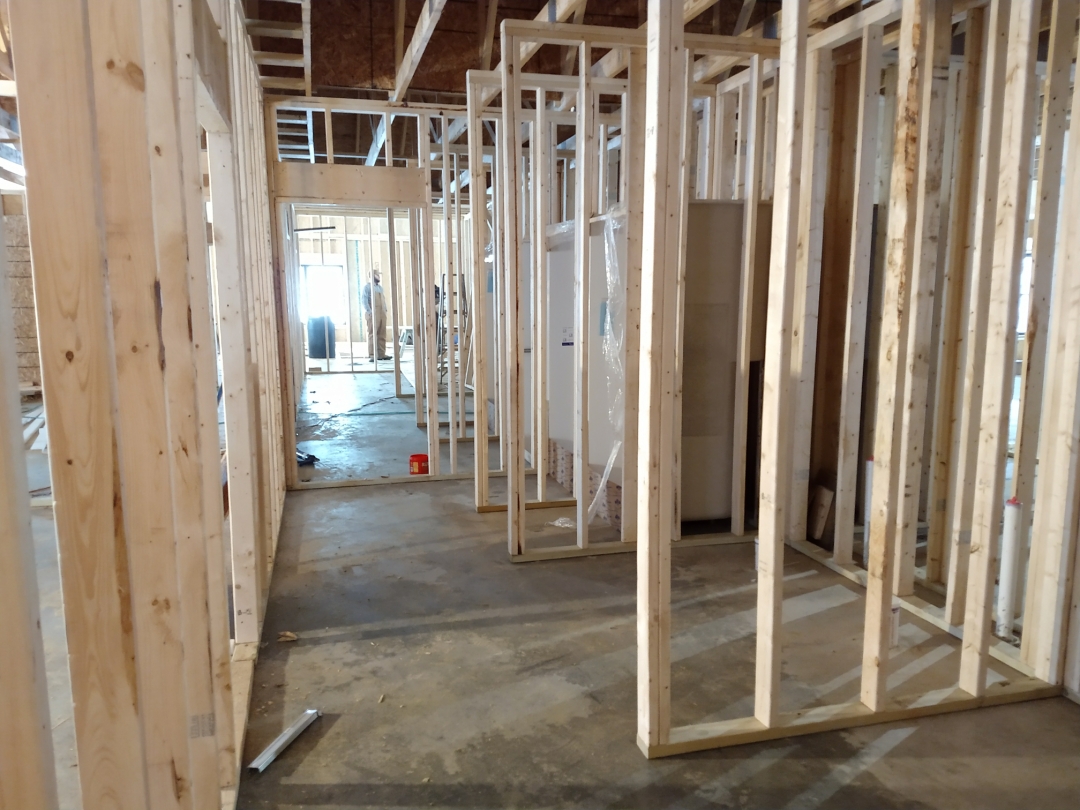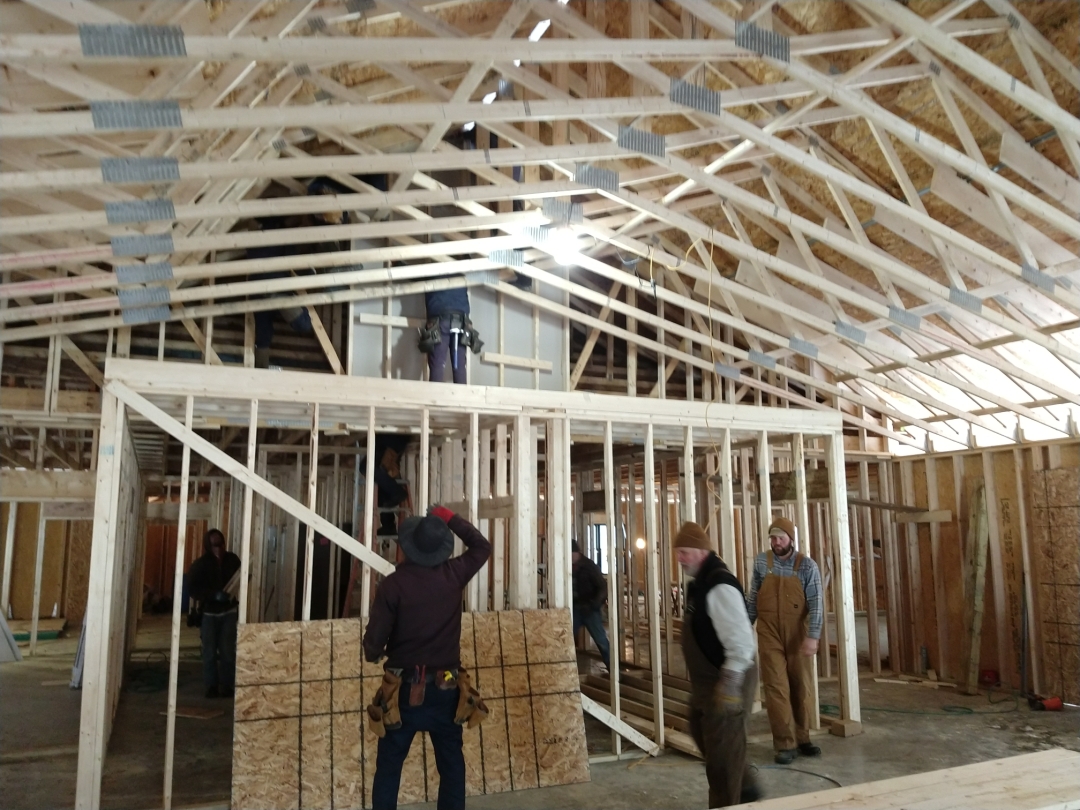 10/25/19-11/7/19
The exterior walls went up faster than we could imagine and only a week and a half later we had the trusses on and covered. The crew that we have had with us has been an immense help in getting this project done quickly and efficiently. We also began to put the metal roof up, but then had to put things on hold due to the reality of living in Pennsylvania where it begins to snow at a moments notice.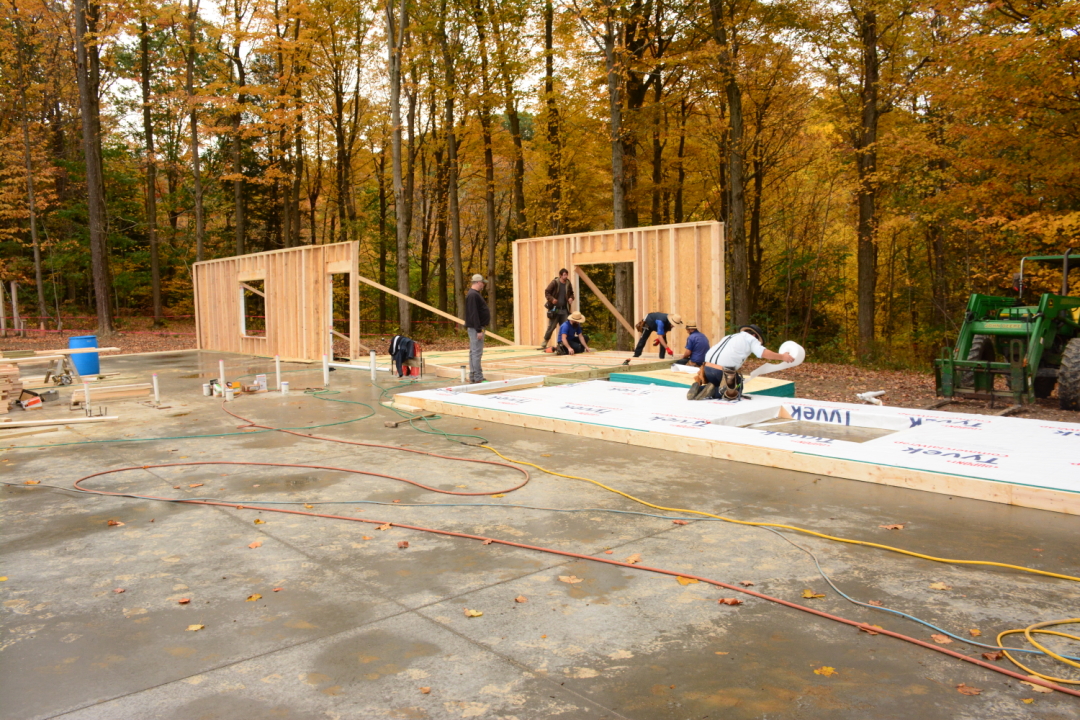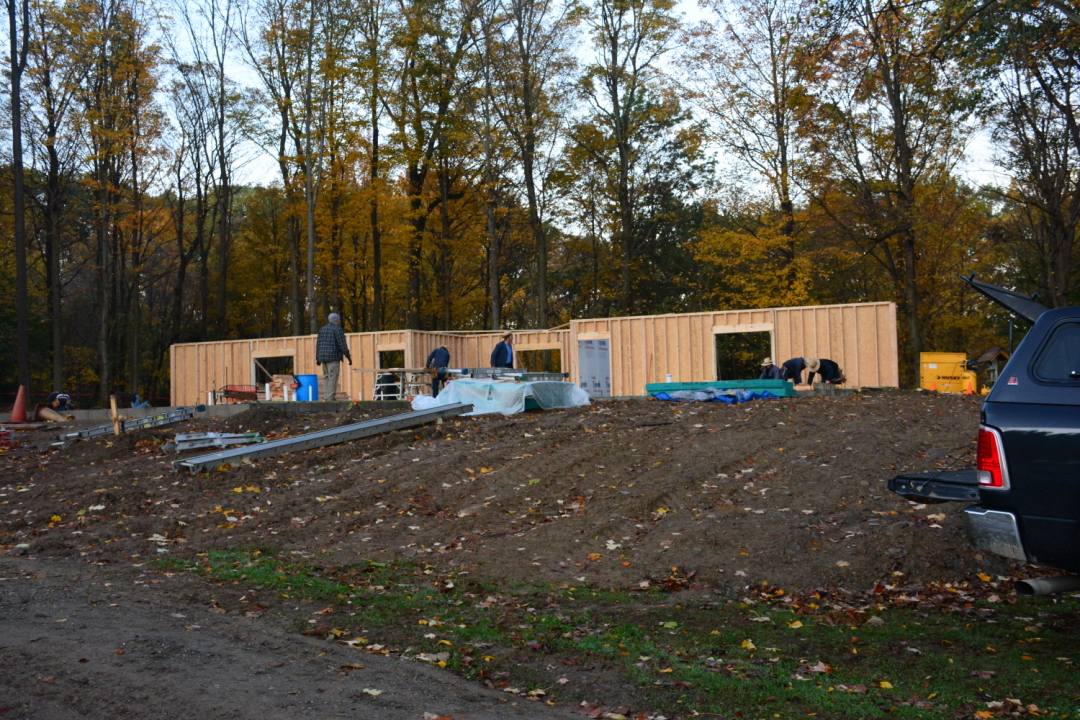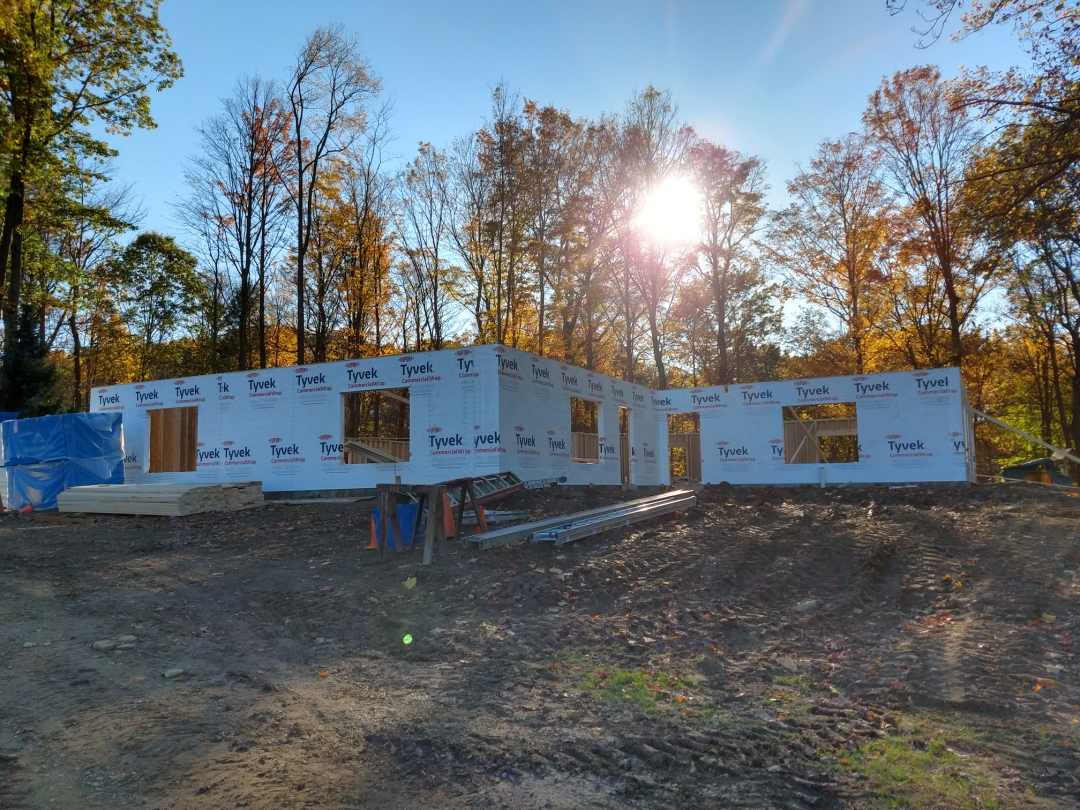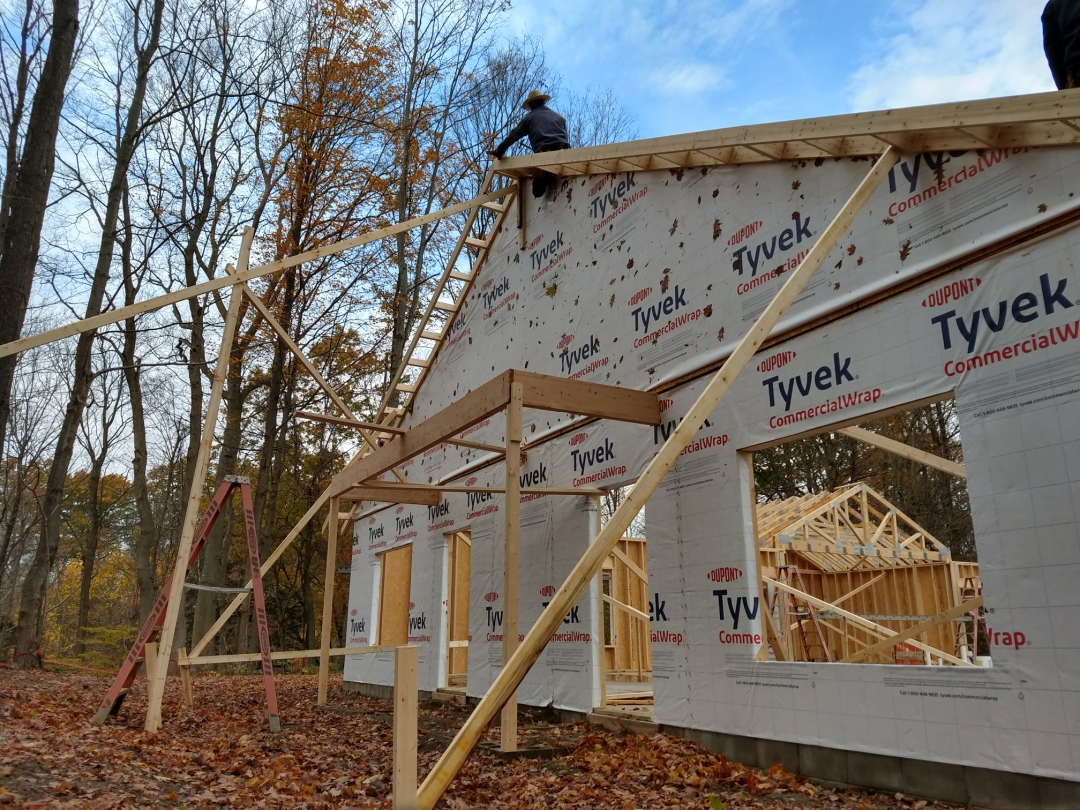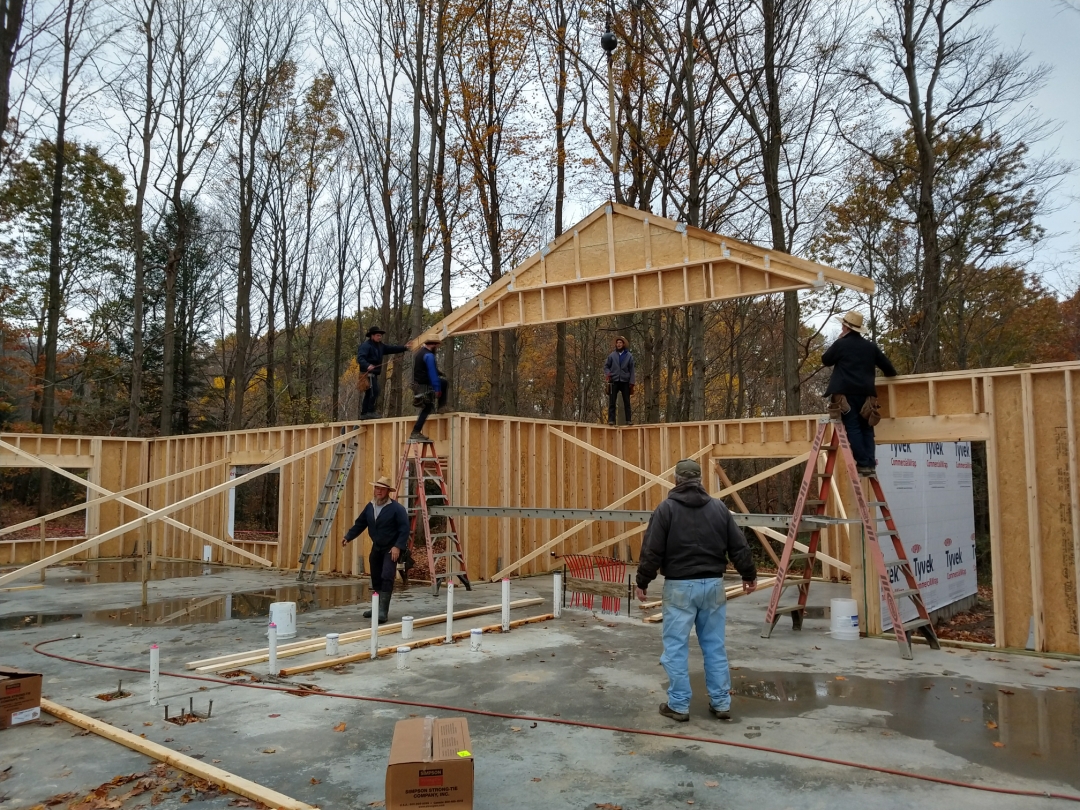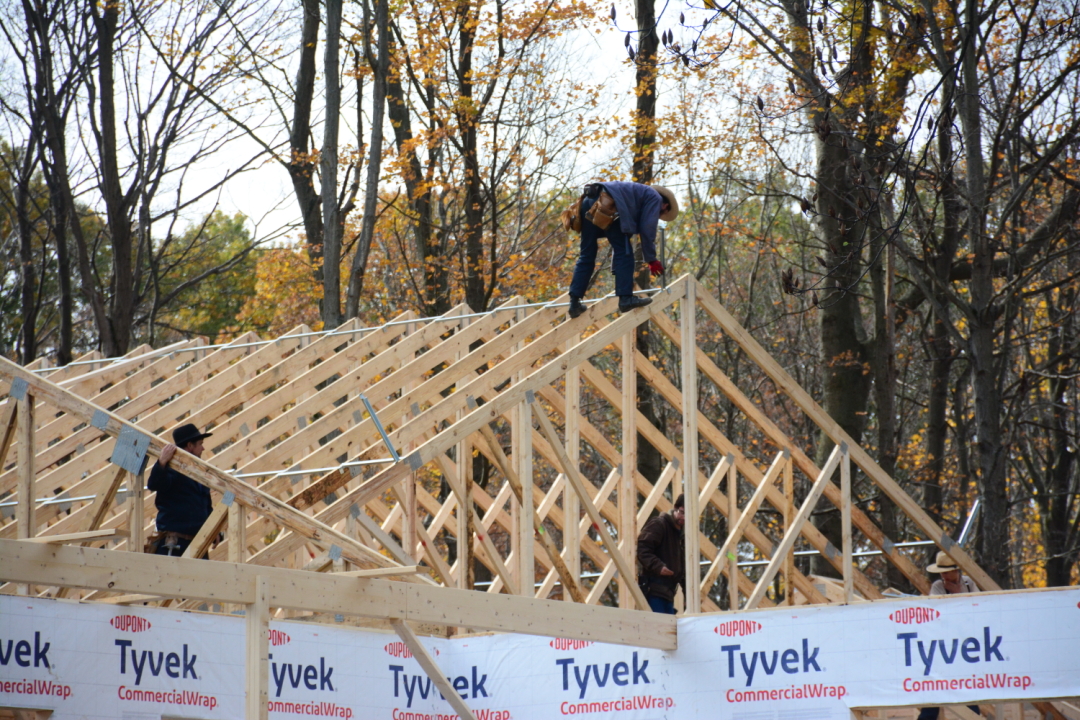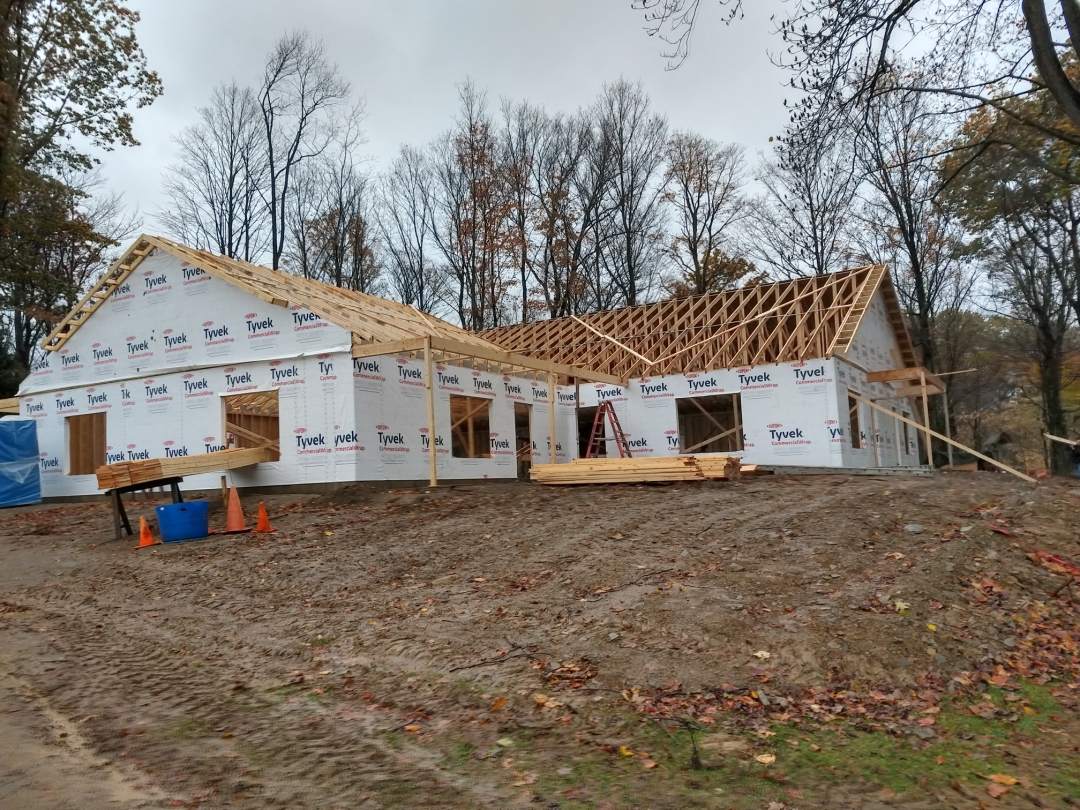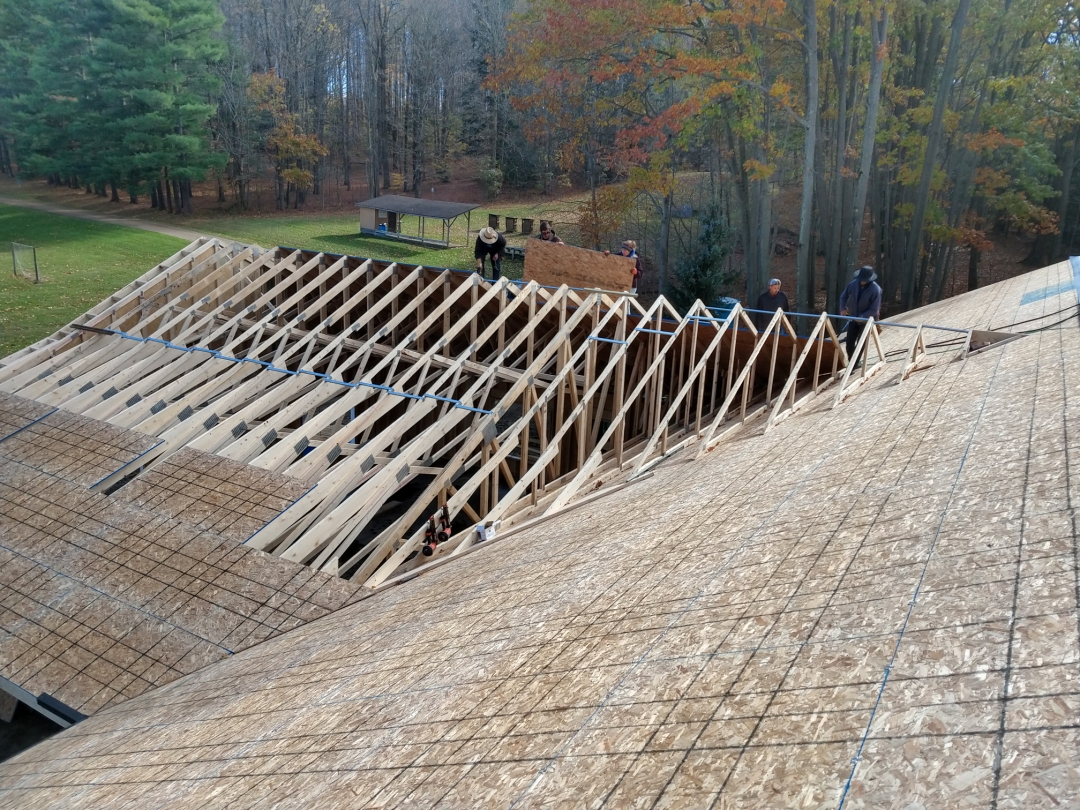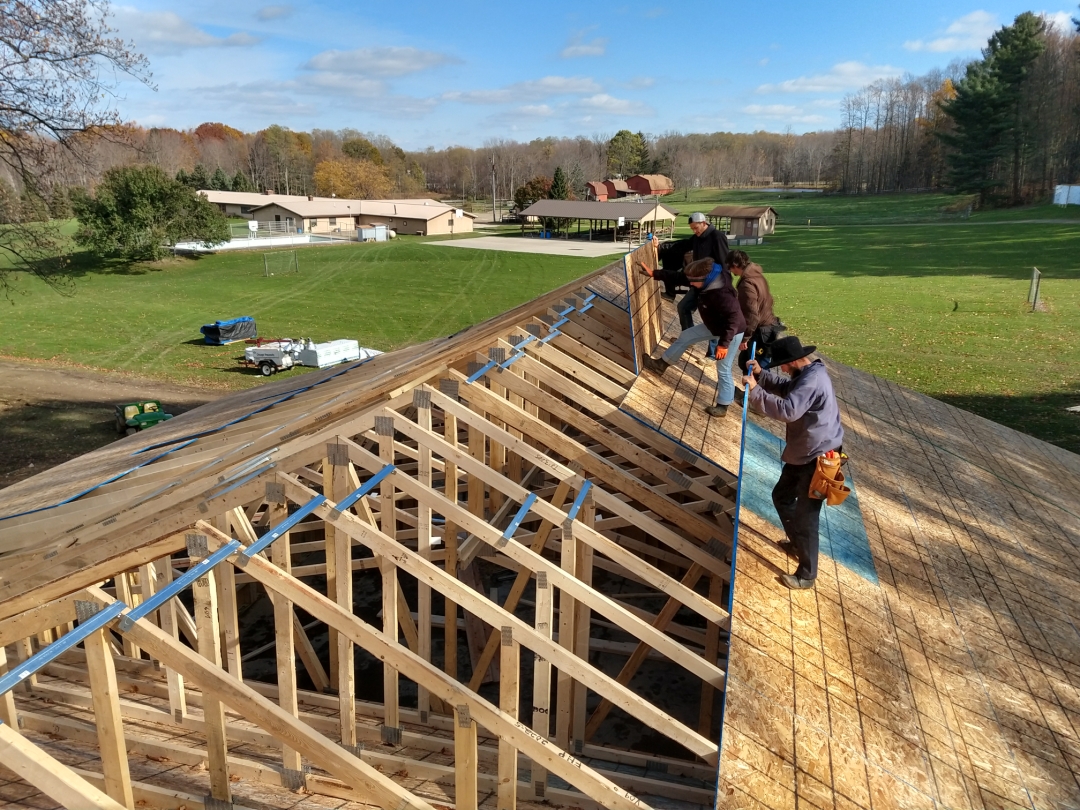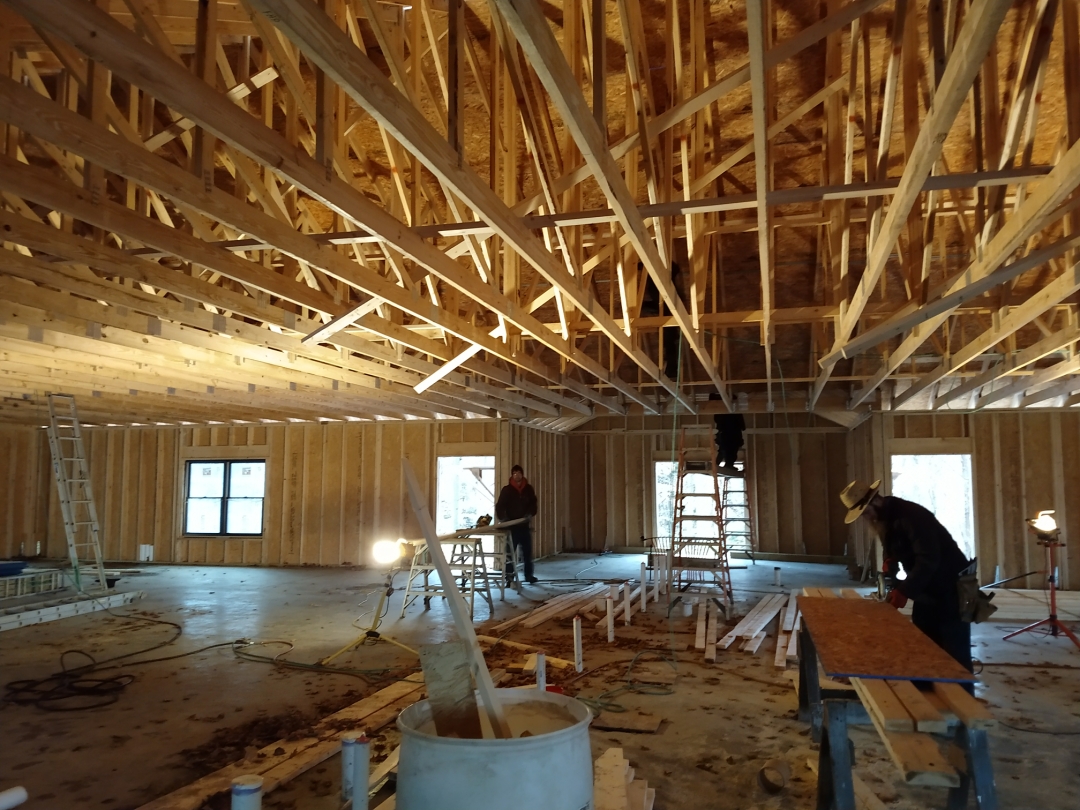 10/12/19
Like we said, it has been a whirlwind of events moving things forward with the Buckskin Bunkhouse. We are so grateful to those of you who have kept us in your prayers as we continue with this project as well as to those who continue to support us in your giving. Both the building process and our fundraising needs are progressing well, but neither is complete. We continue to pray for God's timing and God's provision as well as the safety of everyone involved in the construction process.
10/4/19
Another milestone in the building process was pouring the concrete floor.
The crew who came in had a full day at the Ranch, starting at 7:15am and leaving around 11:15pm, but it was well worth it to have everything completed from pouring to polishing in one day.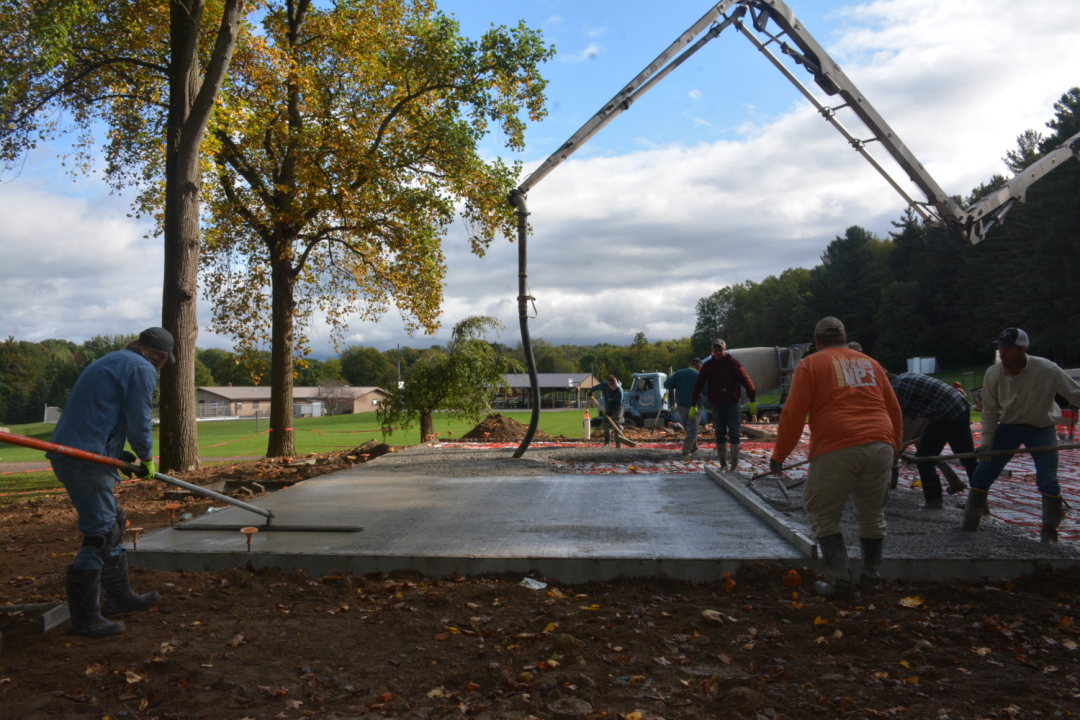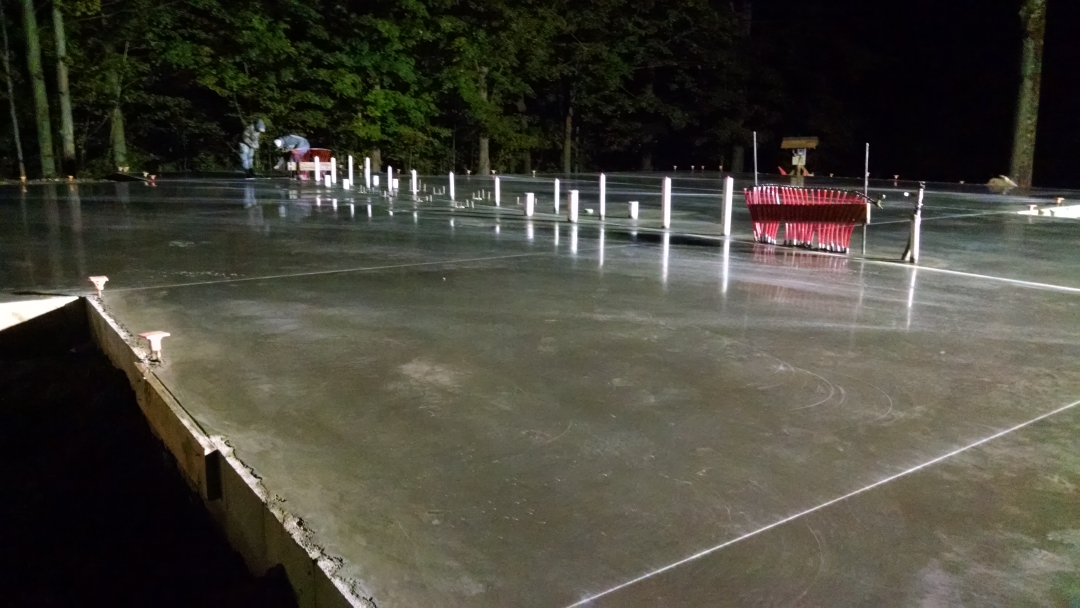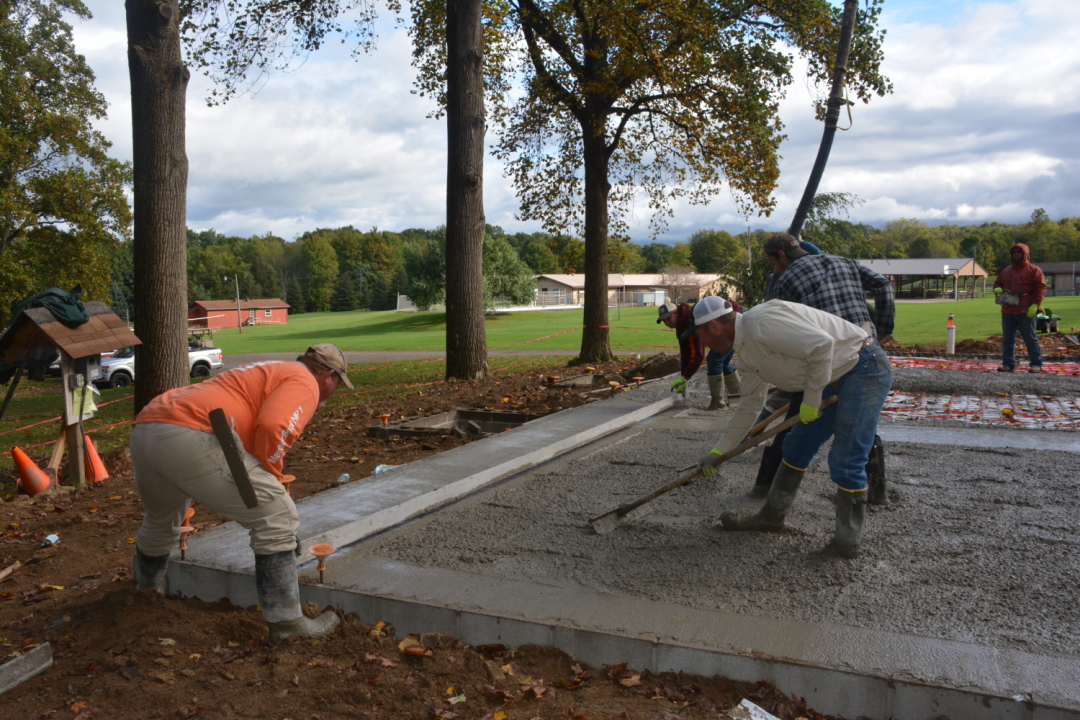 9/25/19-10/1/19
The plumbing was a very exciting step in the process for many as it helped put into place the layout of some of the elements of the bunk, namely the bathrooms.
However, this step also included laying down the tubing for the radiant heating which will be coursing throughout the bunk to ensure that our cold-weather campers do not have their toes frozen in the bunk. New septic tanks completed the below-ground plumbing needs (installed and buried 10/8-10/9).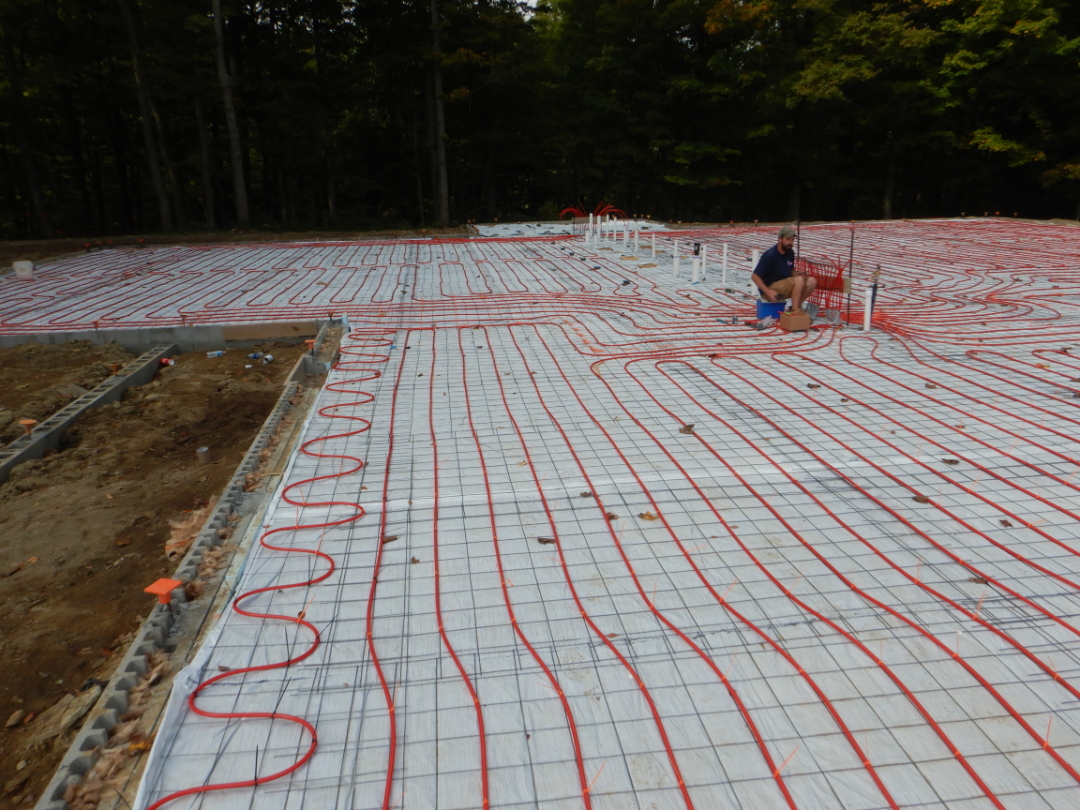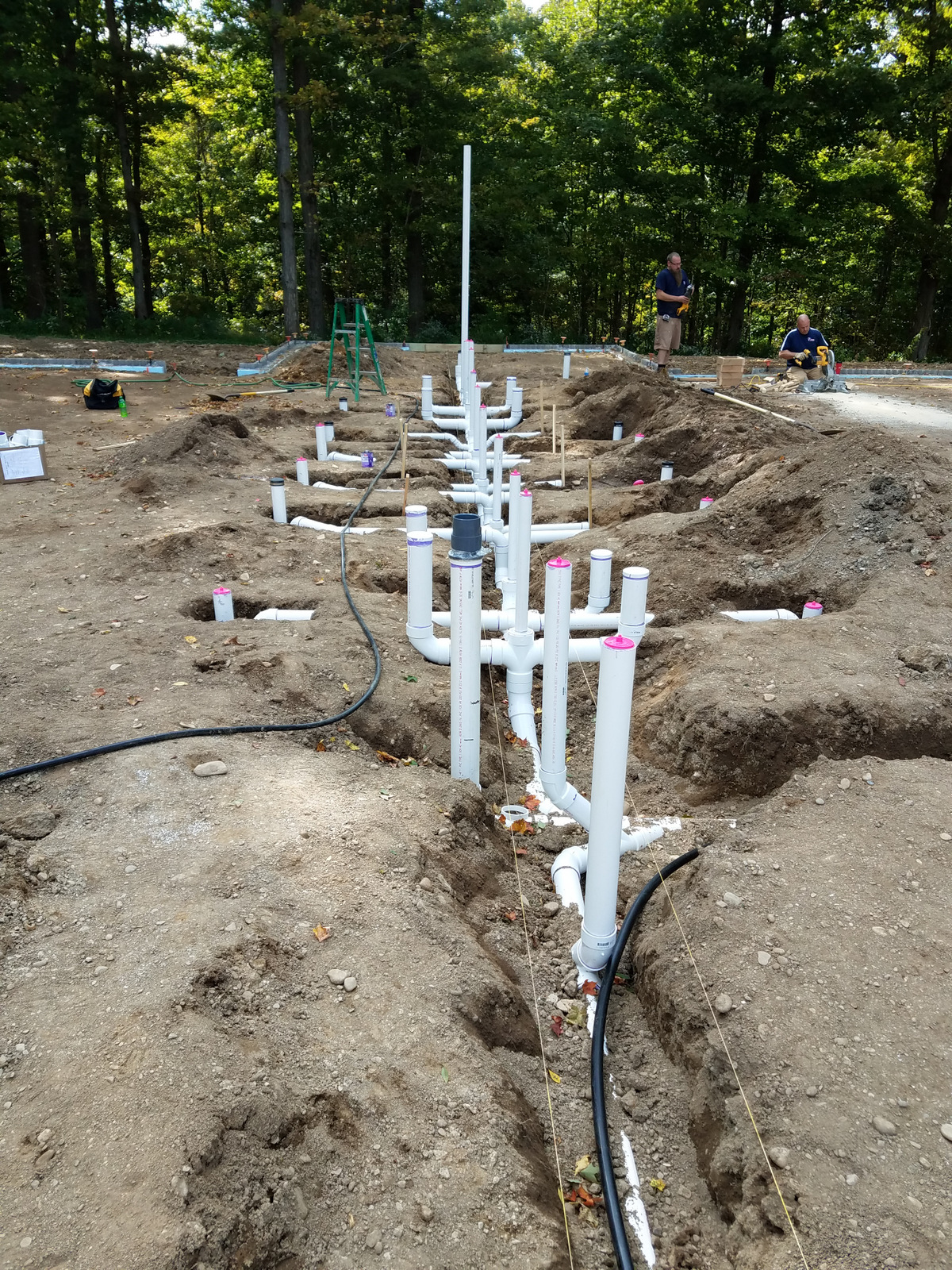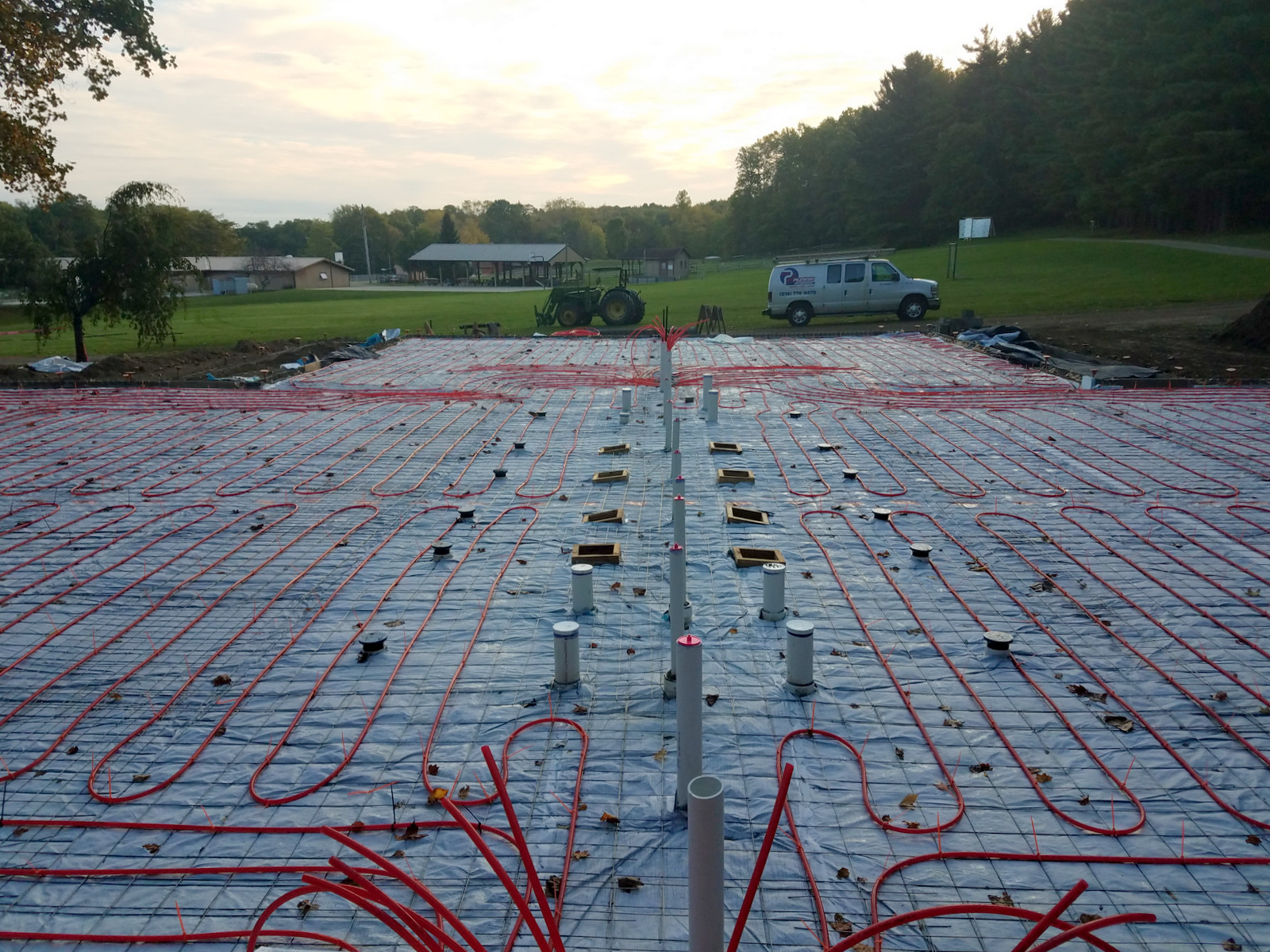 9/23/19
To some, it might look like we hadn't done much after this point but that is far from the truth. Backfilling the site covers up most of the work, but ensures that everything stays in its place while pouring concrete and putting up the structure.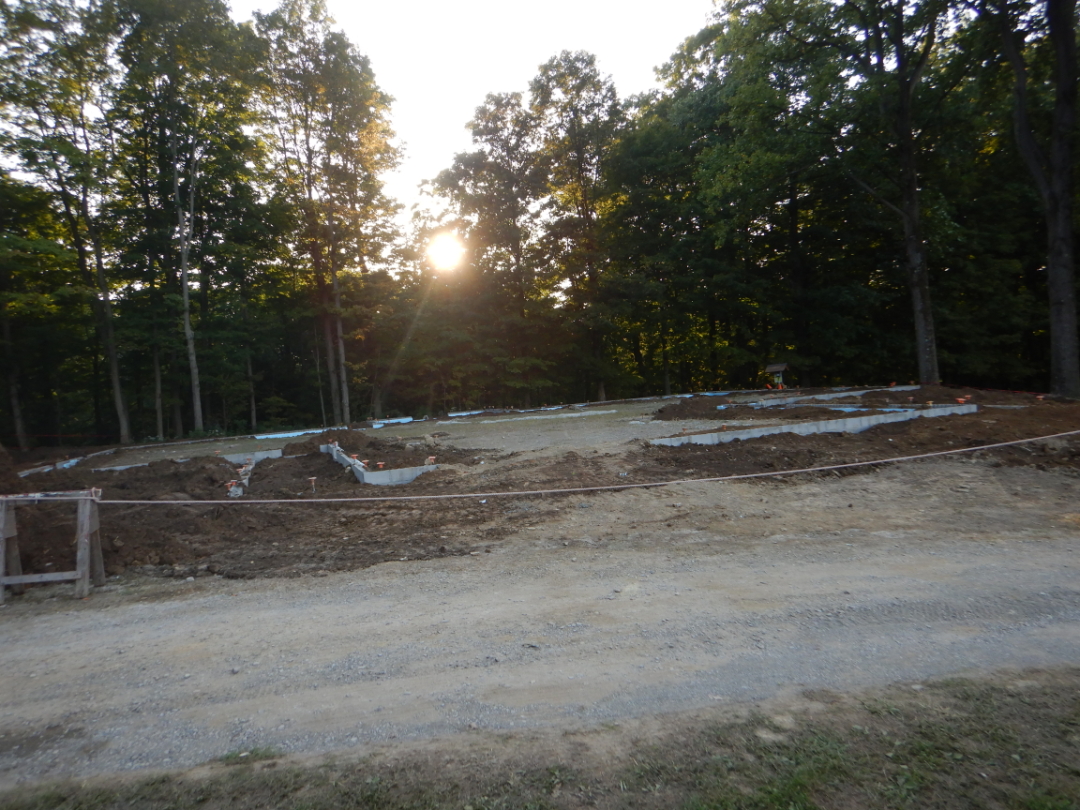 9/17/19-9/20/19
The block for the foundation took a few days longer than the other two projects and rightfully so, but it was during this process that we first began to see progress that looked like a building was being built.
It was during this process that our staff got to lend a hand to the labor. Not many are as anxious as we are to see the new bunkhouse built, so even though it was tiring work, it was refreshing to be able to contribute to the expedience of the process.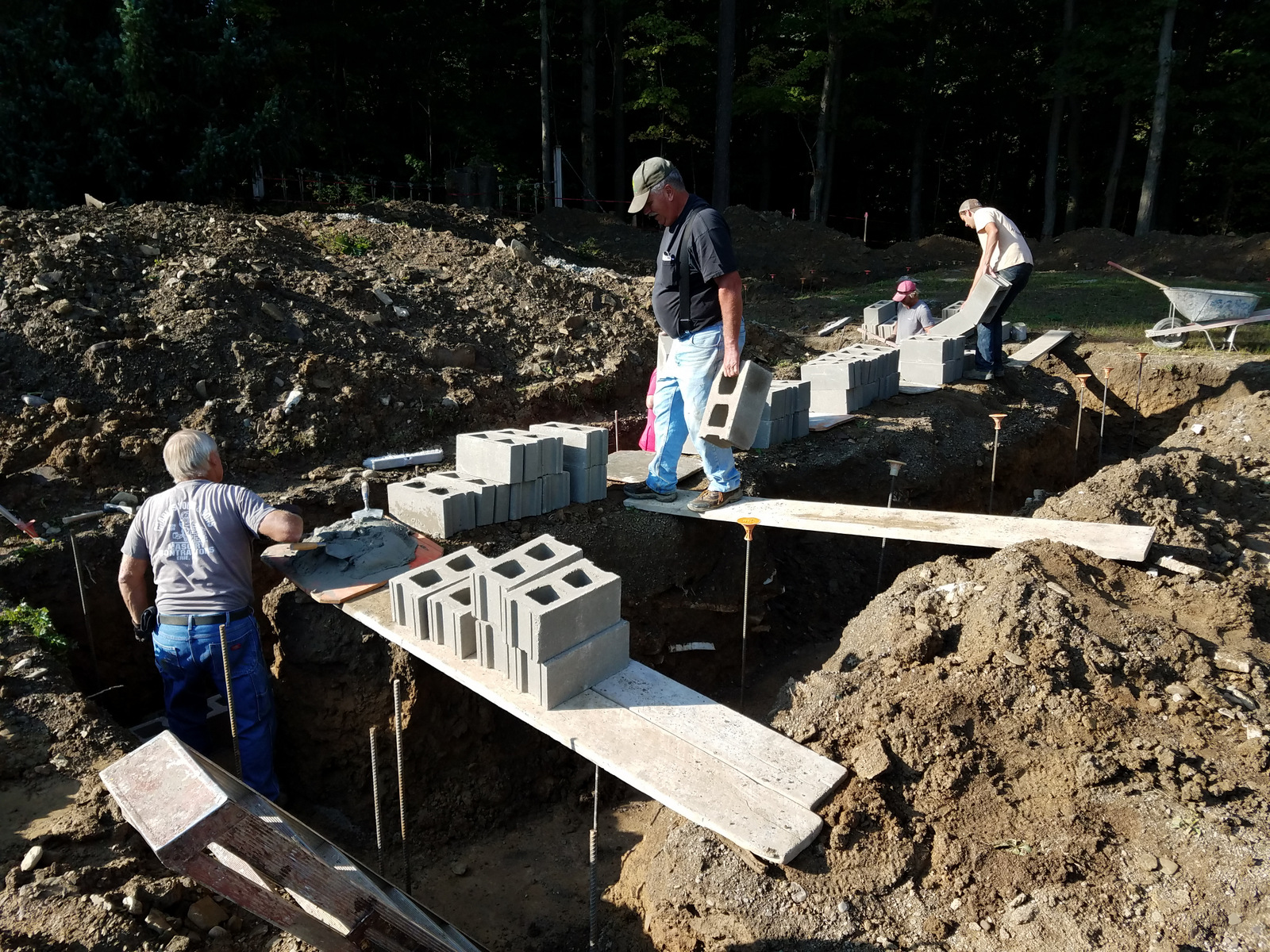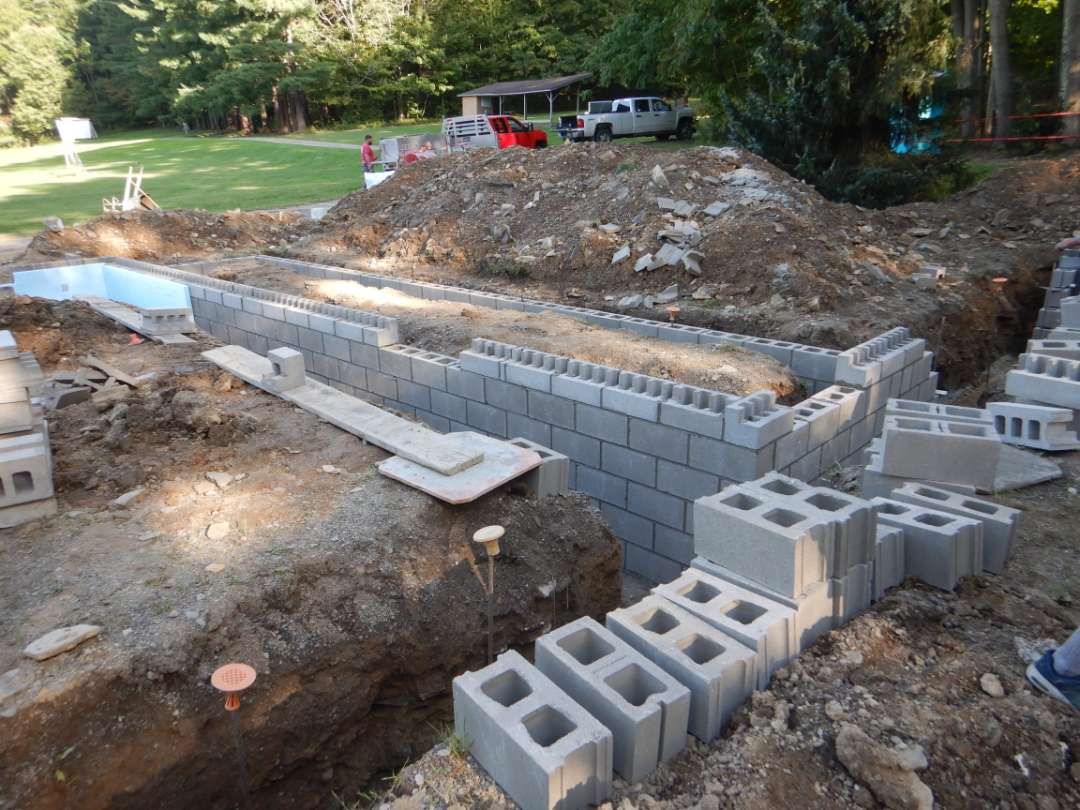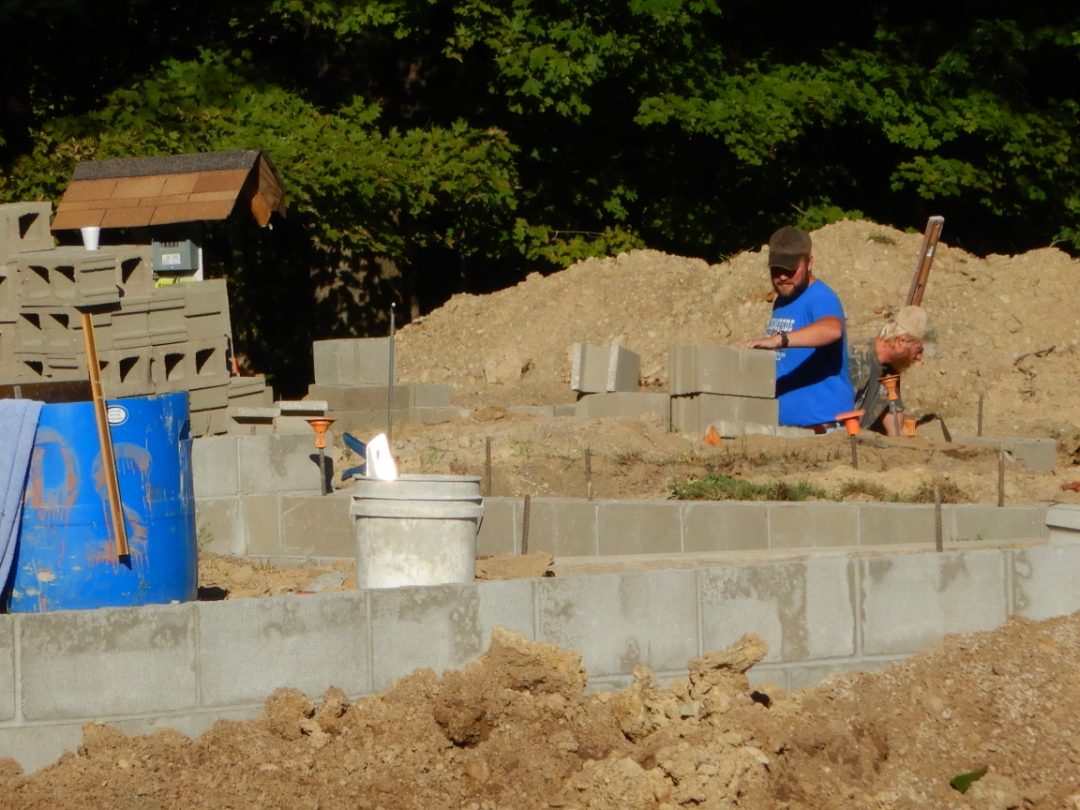 9/12/19
Two days after the trenches had been dug, they were filled with a base layer of concrete and rebar.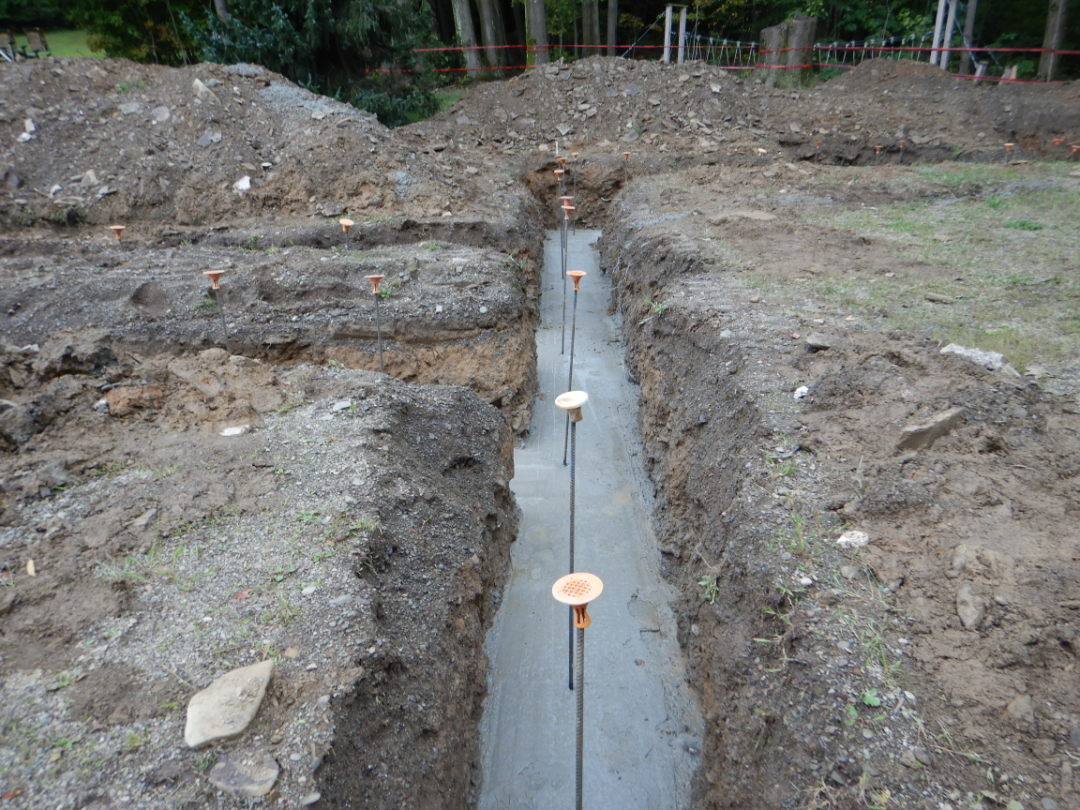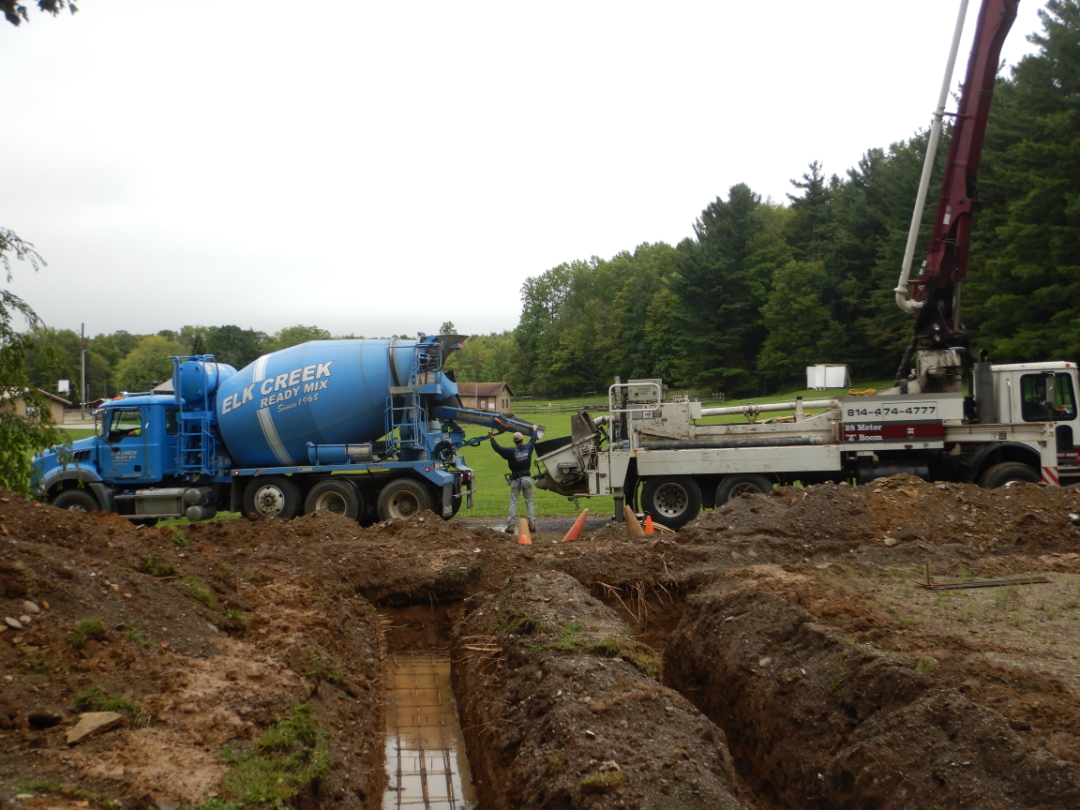 9/10/19
Though it seemed like a long time after the ground-breaking, it was only two weeks later and we had begun the serious digging.
In order to lay the block for the footer of the building, five foot deep trenches were dug around the exterior walls of the future building.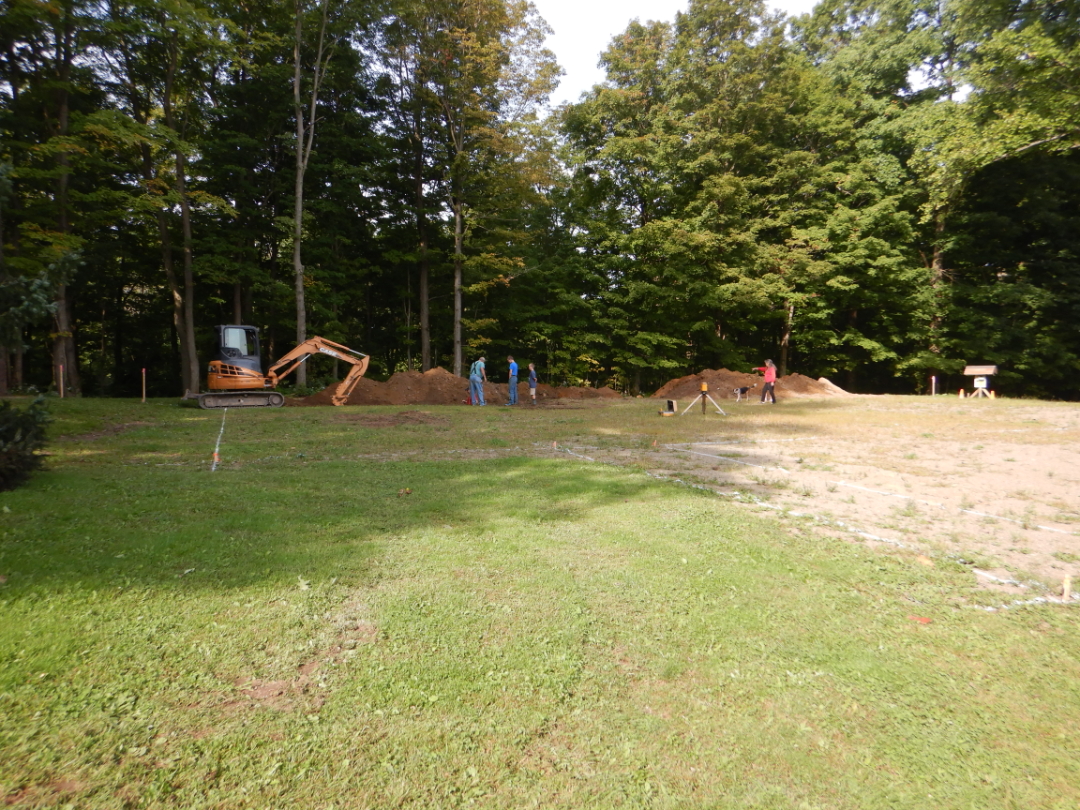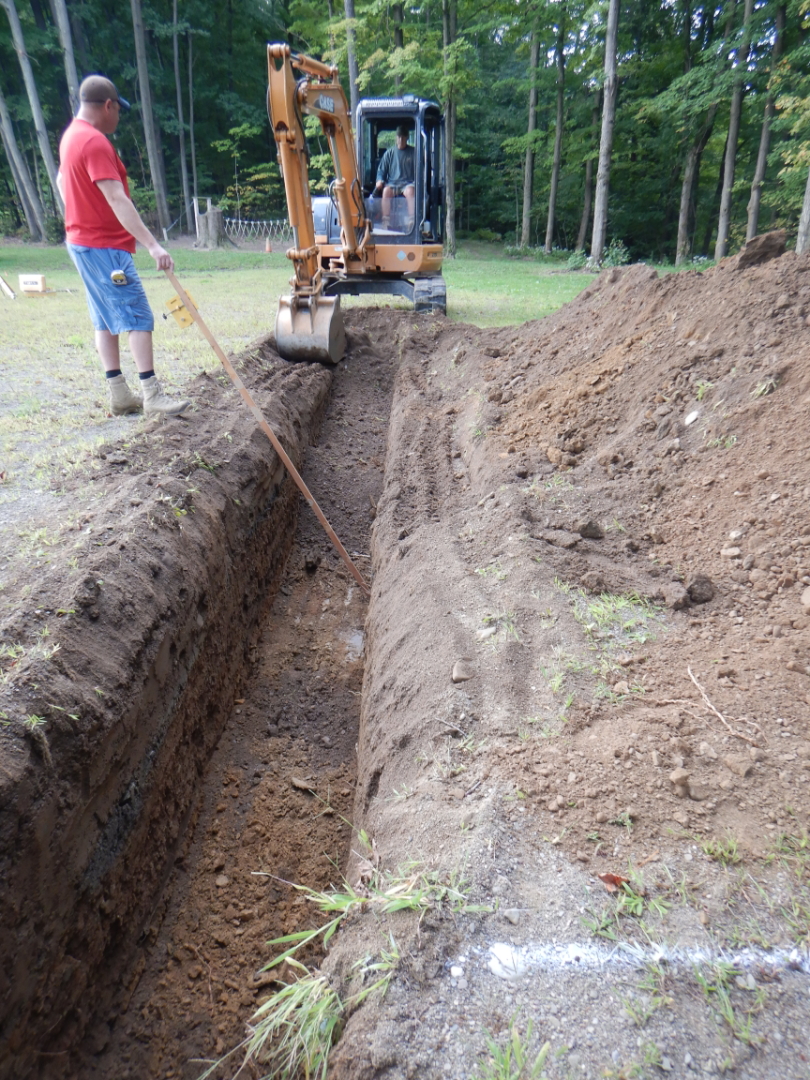 8/28/19
What a whirlwind these past six weeks have been. So much so, that it is already October and we finally have a moment to write about what has been happening. Per our last entry, the site had been surveyed and approved at the end of August.
Though we had a few final details to sort out, we decided to have an official, albeit impromptu ground-breaking ceremony with the staff, our board and close family.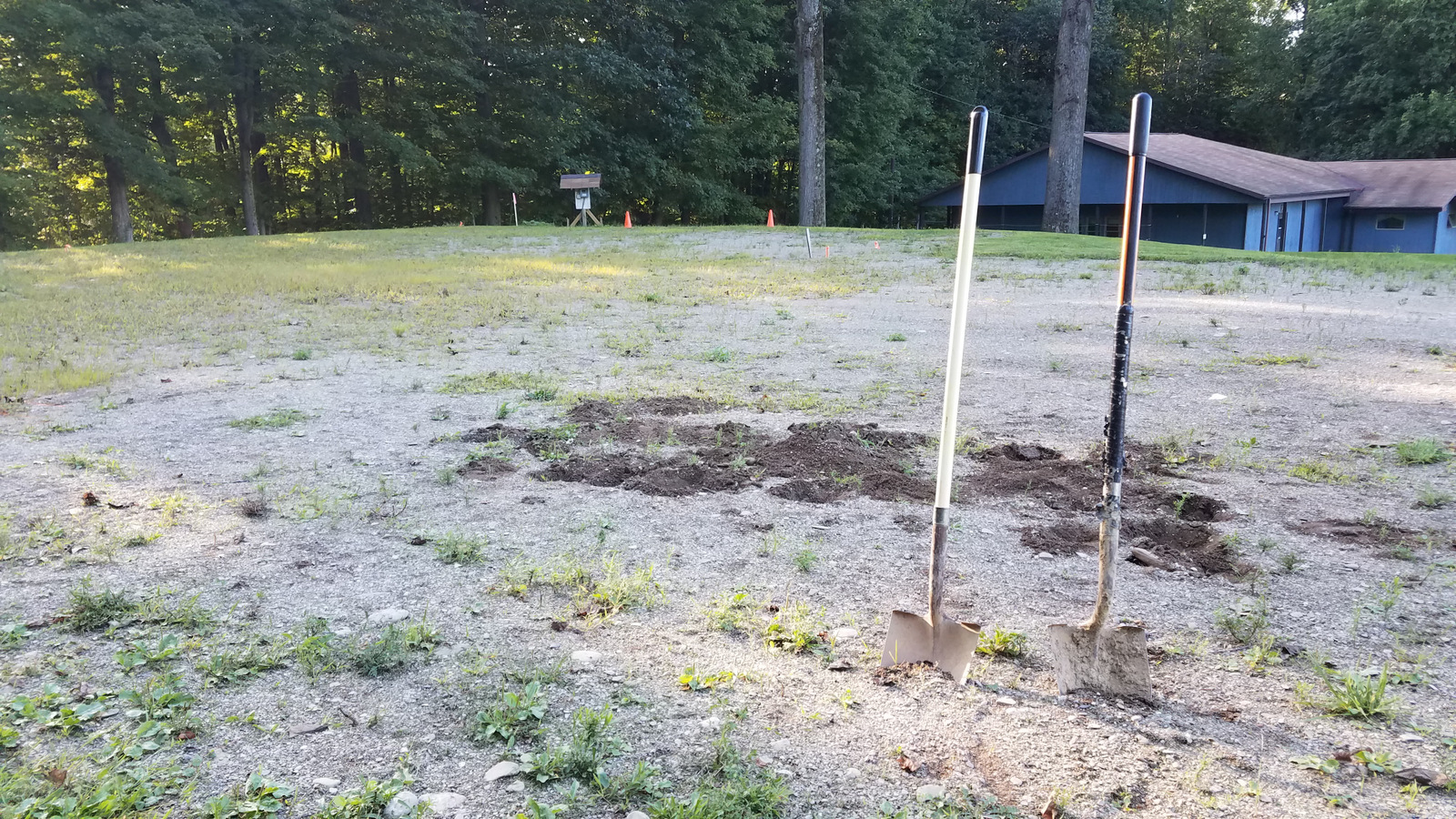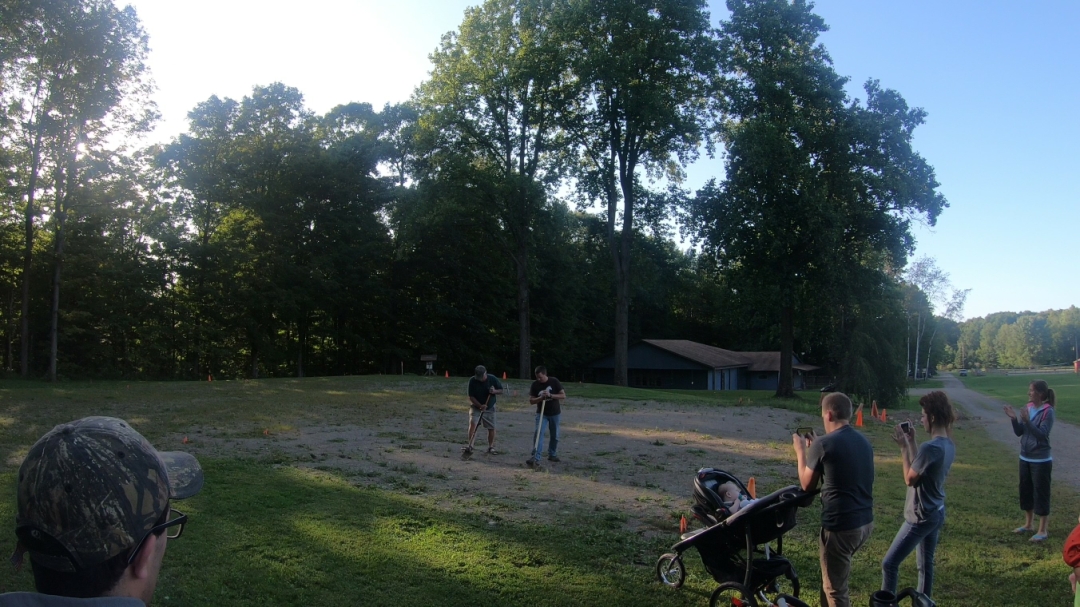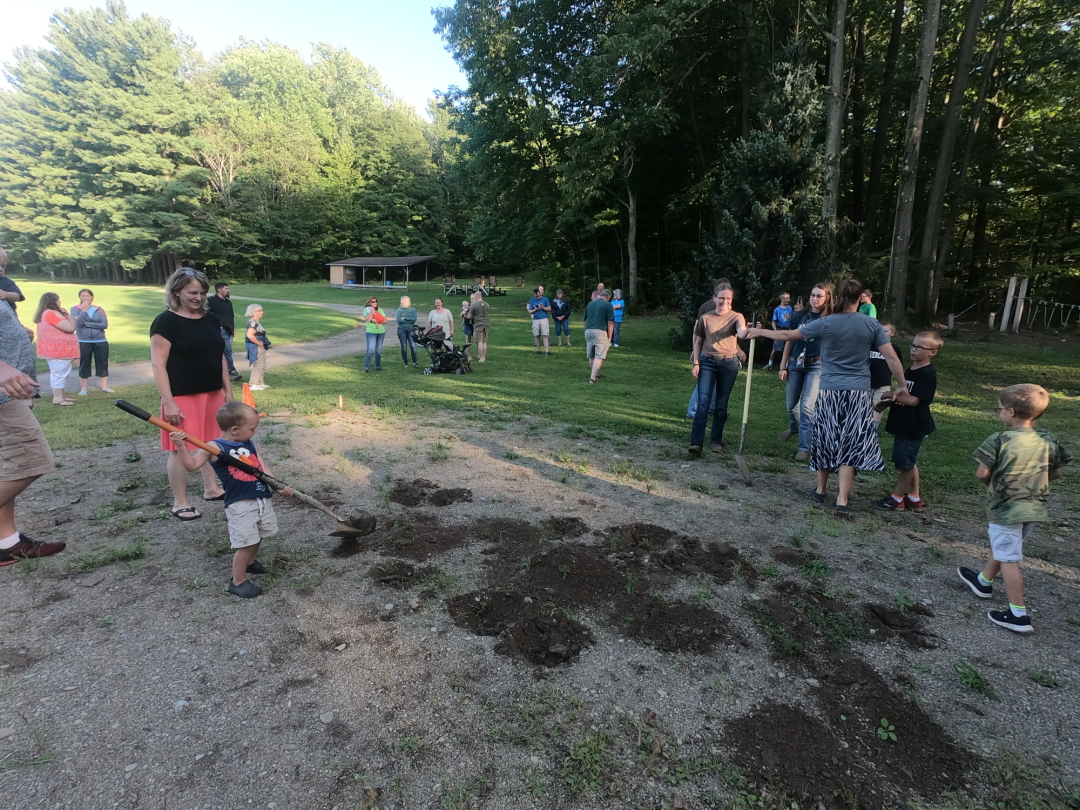 Surveyor Says! - 08/23/19
The bunkhouse site has officially been surveyed! There is still much work to be done but the completion of this step means that we are that much closer to starting the building process. We are hopeful that we will have many more pictures to share in the near future of the actual building process.
Thank you for all of your prayers and financial support over this past year and a half with this project and we trust that you will help us see it through until the end.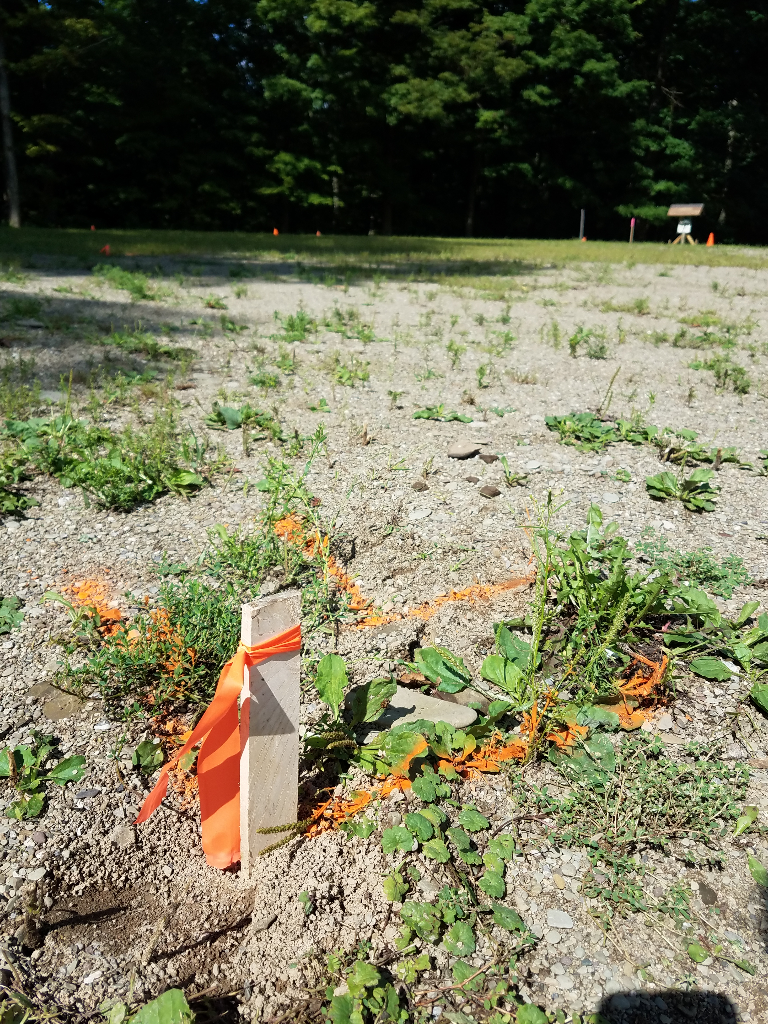 Permitted to Move Forward - 08/12/19
The building permit has been issued! Now we can begin construction on the Buckskin Bunkhouse rebuilding project. Thank you for your prayers and support to this point. This is a milestone in the project that we have long been anticipating. We had already been in contact with some contractors for various aspects of the job. Now that process can move forward and we will begin to see the puzzle of a construction project coming together. We continue to talk with contractors and make arrangements for each phase of the construction process. As the construction begins and progresses, we will share regular updates here as well as on Facebook. Pray for safety in the construction process as well as for God's provision for the financial needs for this project. As has been the case in this whole process, we praise the Lord for what He has done and we trust Him for His timing and His will to be done.
One Year After the Fire - 02/02/2019
Reflections
The Buckskin Bunkhouse fire was one year ago today. On that day, all we knew was that the loss of a bunkhouse was going to be a challenge and that we would need to trust the Lord throughout the entire process. We rejoiced that no one was injured. We reminisced about lives influenced for the Lord through overnight camps and retreats using that bunkhouse. We immediately began to think and pray about what would need to happen in the coming months in order to rebuild.
As we reflect back a year later, we do rejoice in what God has done through the ministry of WLD Ranch despite the absence of more than 40% of our normal lodging capacity. We also rejoice in the lessons we are learning through this whole process with the bunkhouse, lessons about relying on the Lord, trusting Him for His timing, seeking His guidance, seeing God's blessings in the midst of challenges, learning to adapt to and be content with the resources and opportunities that God is currently providing while also seeking wisdom in moving forward.
While we had hoped to be much further along in the rebuilding process than we are, we continue to trust the Lord, seek His wisdom and His guidance, and continue to serve Him faithfully. Much has been accomplished in preparation for rebuilding and we are looking forward to seeing the plans finalized and approved so that we can begin rebuilding. We're trusting the Lord for His timing on all that still has to be accomplished. As we move closer to rebuilding, we will keep posting updates.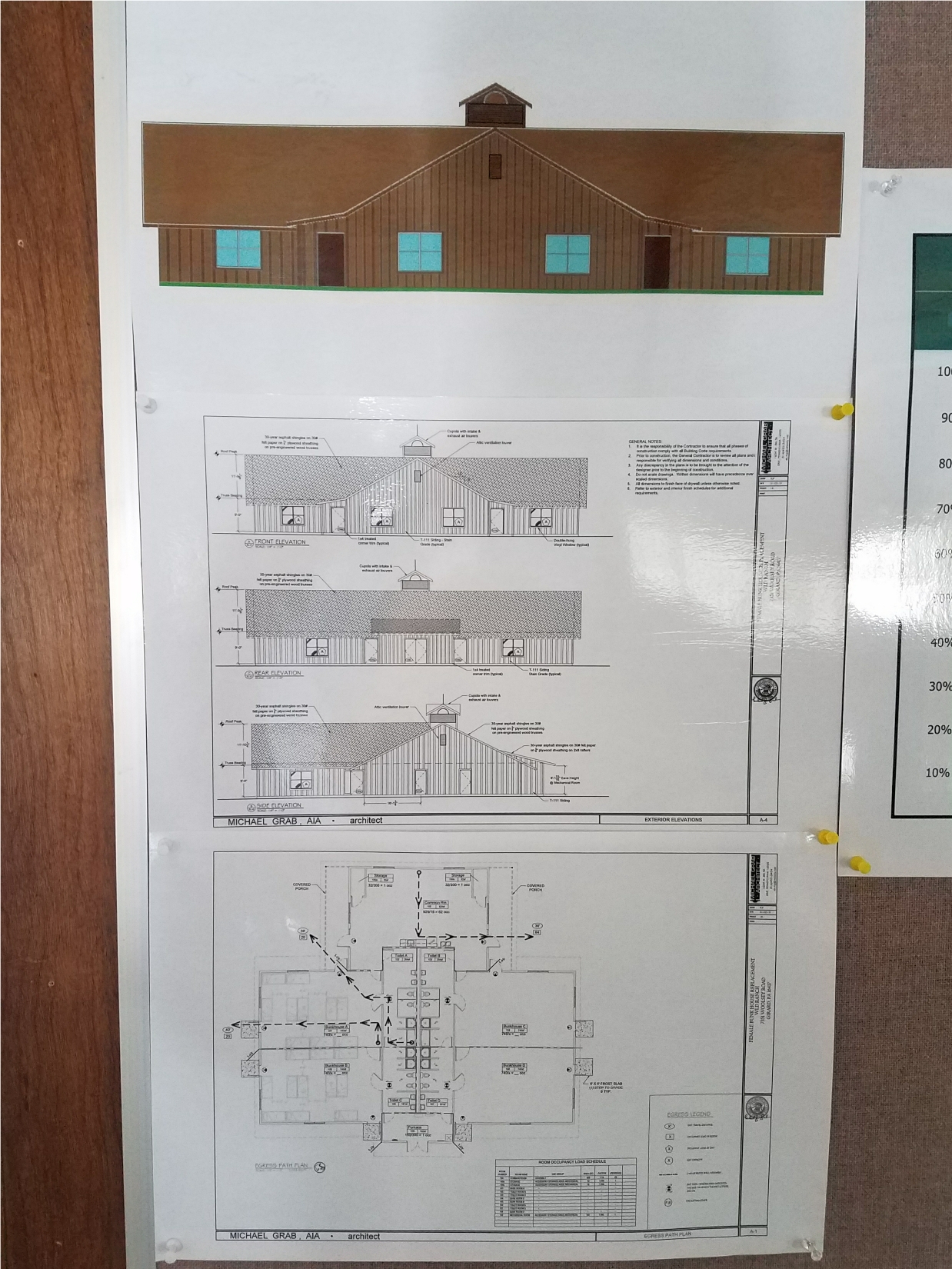 Fundraising
An important aspect of being able to rebuild the bunkhouse is acquiring the funding for the rebuilding project. While the original Buckskin Bunkhouse was insured properly, the rebuilding will cost a significant amount more than insurance is providing due to improvements we are making on the design (such as in-floor radiant heating, separate bathrooms for each bunk room, and a new meeting space). These improvements will allow for long-term usefulness and improved function of this aspect of WLD Ranch's facilities. We will probably not know the full financial cost until the bunkhouse is fully rebuilt, but our conservative (low) estimate on overall cost is $450,000. As we hire contractors and purchase supplies over the course of the building project, we will be able to gain a more specific understanding of the overall costs. For now, we have chosen $450,000 as our target amount.
Here is a brief look at our current financing for this rebuilding project. Insurance is providing $240,625. The balance of $209,375 is needed to reach our target amount. To date, we have received $100,383 in direct donations for the project as well as $8,447 through the fundraising dinner in January (meal purchases and additional donations) and other fundraising efforts. The amount we still need to raise in order to reach our target amount is $100,545. This is 22.3% of the overall target amount.
With the receipt of $108,830 through donations and fundraising events, we are grateful for all those who have helped us progress toward the fundraising goal. We've received approximately 575 distinct donations from approximately 500 distinct donors. We fed approximately 275 people at the Spaghetti Dinner fundraiser. We are grateful to each of you who see the value of WLD Ranch and desire to see this ministry flourish with a rebuilt Buckskin Bunkhouse. We appreciate your partnership and we look forward to all that God is doing and will do in the coming months.
Challenge
A donor called me yesterday and pledged to send a $5000 donation! He would like to see others step up to the challenge and contribute toward the Bunkhouse Rebuilding Project as well. Will you take the challenge and send a donation before March 1? You may mail a check or give online. Please indicate "bunkhouse project challenge" to help us track how much is given toward meeting or exceeding this $5000 challenge during the month of February!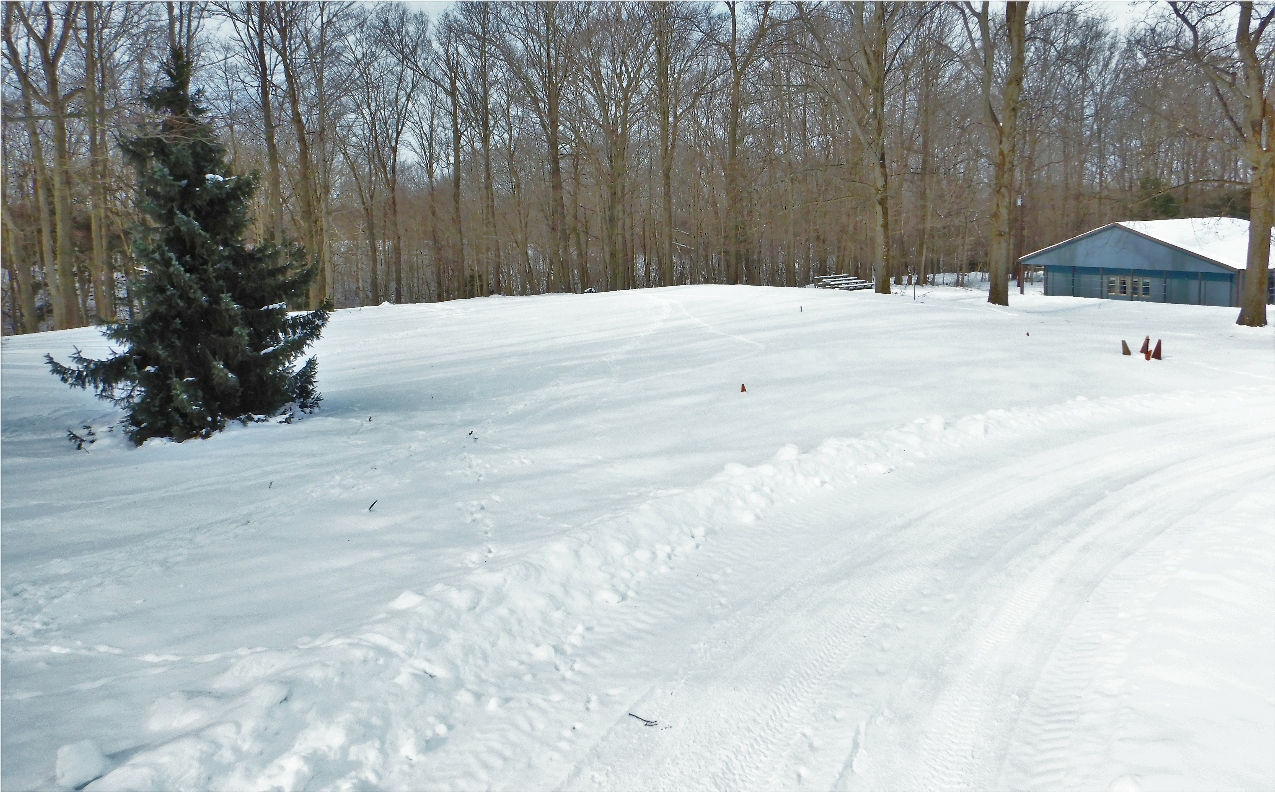 Ready or Not - 10/19/2018
Anticipating that the Buckskin Rebuilding Project will begin soon, we are holding a "groundbreaking" or Bunkhouse Dedication Ceremony on Sunday, November 11 (2:00-3:00pm). We will share about the building design and our progress (hoping to have started the foundation by that point!), pray together at the building site, and provide information on our fundraising progress. Refreshments will be served following the ceremony and an opportunity will be given for you to donate to the Buckskin Rebuilding Fund.
Please RSVP by either:
Surviving Summer - 8/15/2018

What a summer we've had! As summer began, we knew we were going to have to make some adjustments because of only having one of the two bunkhouses. We knew that staff housing for non-counseling staff would have to be different because they would all have to stay in the Wranglers' Roost (girls) and Idlewood (boys), and sometimes in other creative lodging options. We knew that there would be a different set of challenges with all the campers in the Silver Star Station (front half for the girls, back half for the boys).
Praise the Lord! We were able to adapt well to all the challenges God presented to us this summer with limited bunk space. And just for fun, even with only 60% of last year's lodging capacity, the Lord gave us more campers this year than we had for all of last summer! The staff were excellent this year, adapting to the challenges and serving the campers well. We as a staff had so many opportunities to demonstrate the love of Christ and to tell campers about following Jesus. We had many kids asking about how to grow in their walk with the Lord and we had many kids put their trust in Jesus as their Savior! In the midst of adapting to the challenges, the Lord provided and we rejoice!
Continue to pray for us as the bunkhouse rebuilding should be happening soon and we continue to have groups coming to participate in a variety of camp programs.
We still have quite a bit of money to raise for the rebuilding project as well, so consider sending a donation to partner with us in getting the Buckskin Bunkhouse rebuilt!
We are currently waiting on the building permit to be approved. We hope to have more to share soon.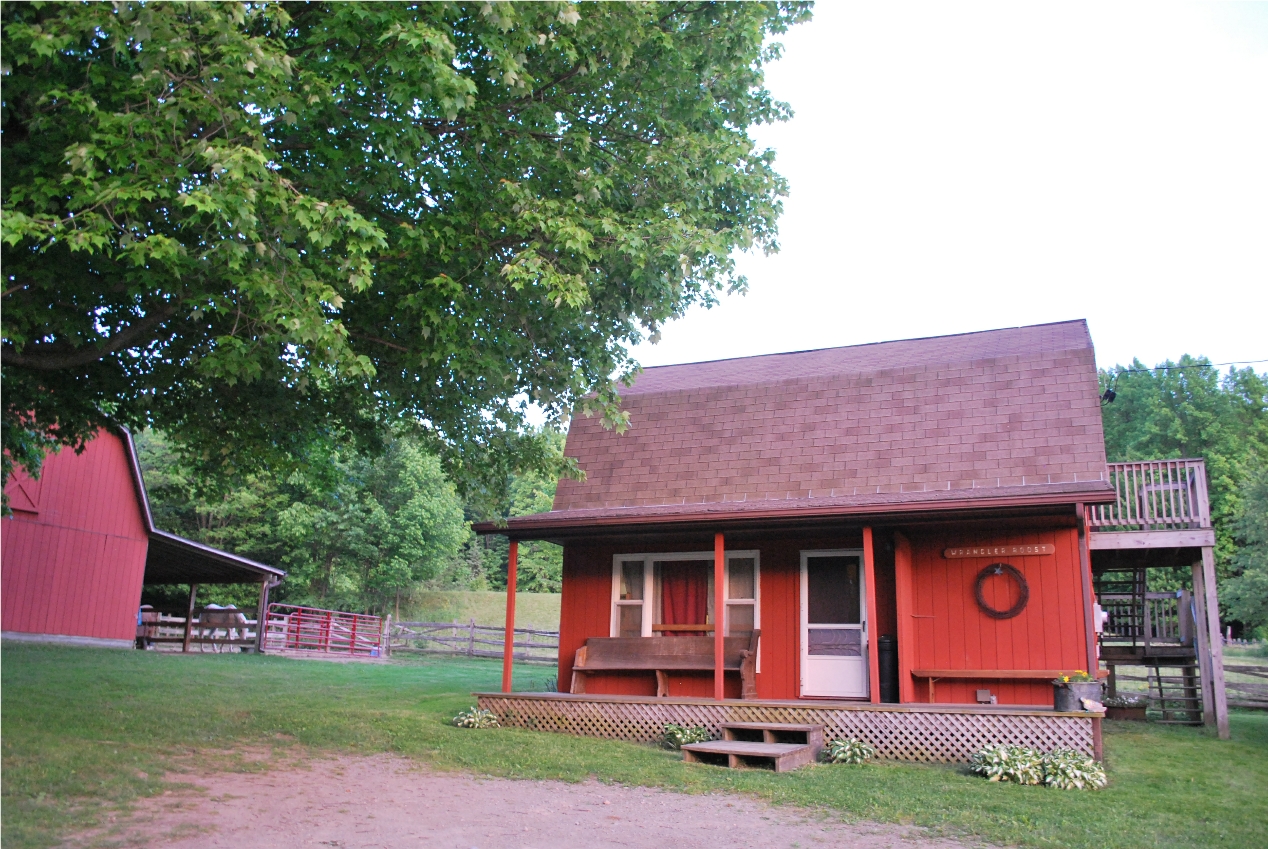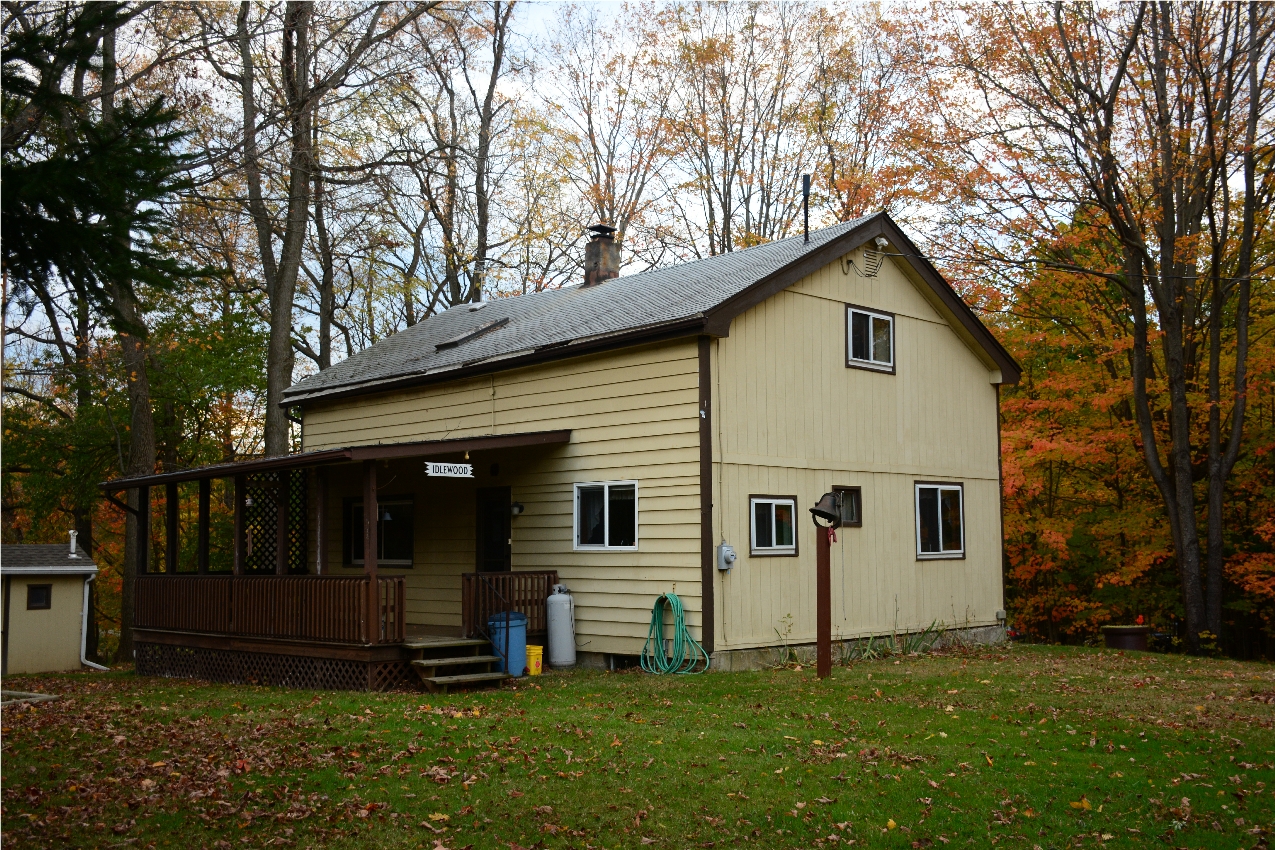 Maintaining the Pace - 5/14/2018
We had been holding off on writing a new post until we had better news to share like the completion of our bunk house or even the ground-breaking for the bunk house, but alas, we have no such news. Though we may still be without a bunk house, we are not yet without hope.
The Buckskin Bunkhouse will go up! We've heard rumors on both ends of the spectrum – that we are not rebuilding this year and that we have already rebuilt! The answer is . . . God's ways are not our ways and God's timing is not always our timing. We had hoped to move forward more quickly (no, the bunkhouse is not up yet!), but the bunk is not going to be ready for the start of summer camp (no, the bunkhouse is not waiting until next year!). However, we have alternate plans for housing everyone for summer camp, so summer camp will go on. Non-counseling staff will be moved to alternate housing locations so that all the bunkbeds that we still have (mainly in the Silver Star) will be available for campers and counseling staff. The Silver Star conveniently divides between front sections and back sections, so we can keep the boys and girls separate and well-supervised.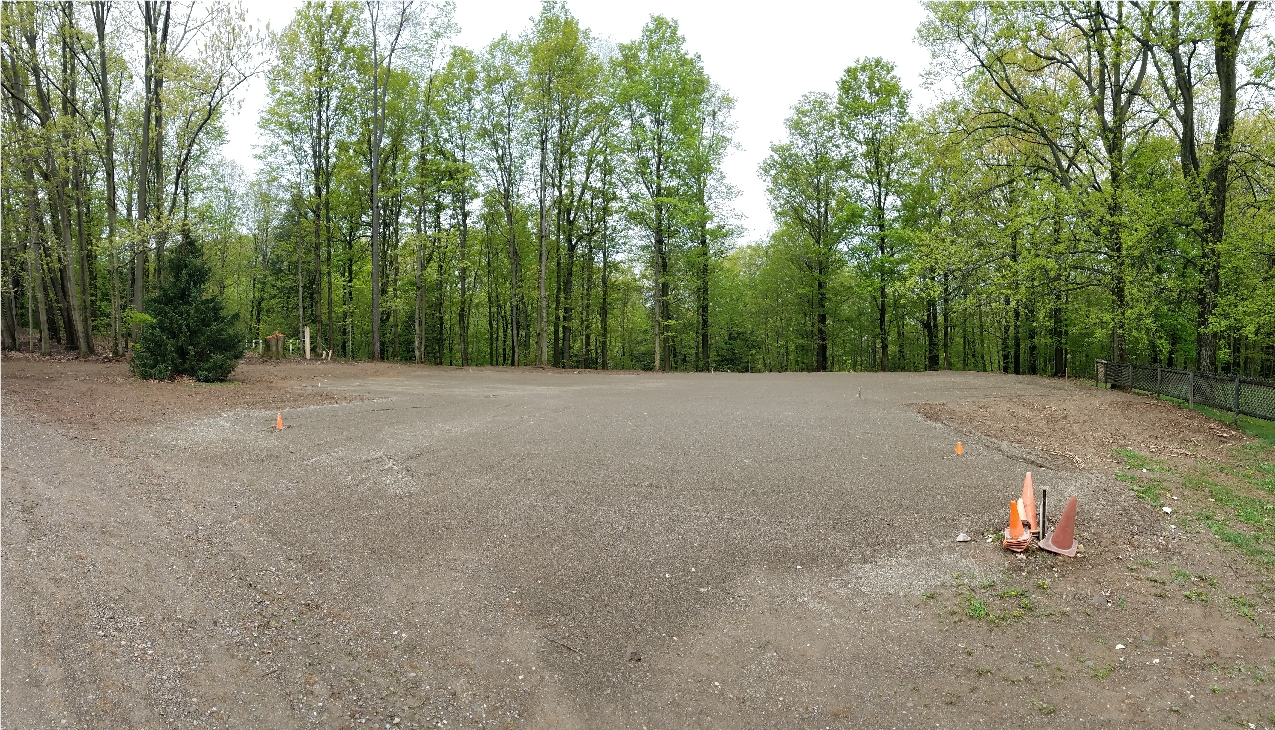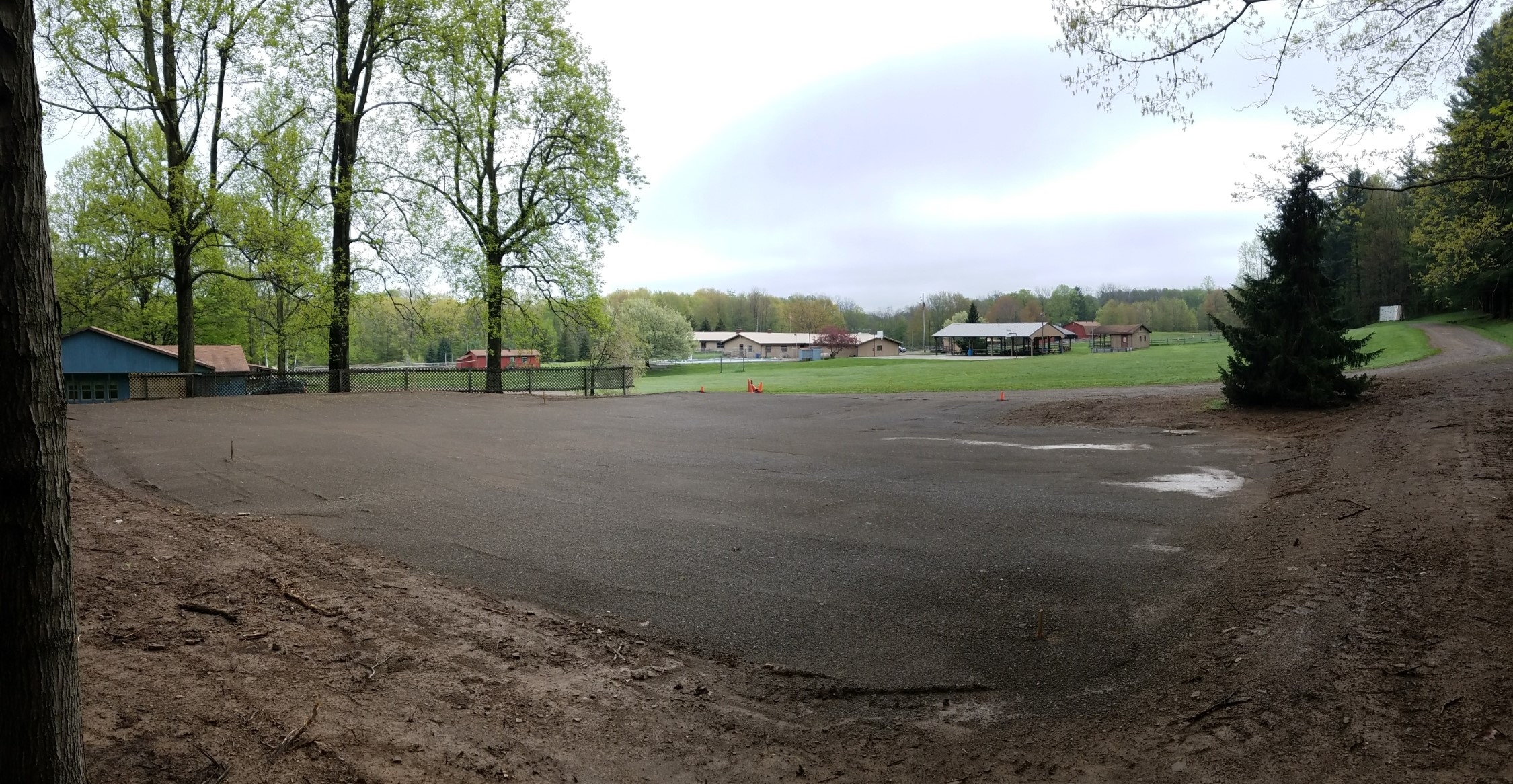 Slow but Steady - 04/05/2018
"Because of the Lord's great love we are not consumed, for his compassions never fail. They are new every morning; great is your faithfulness." (Lamentations 3:22-23)
At times, I feel like lamenting because of how slow and complicated the process for re-building a bunkhouse can be! But then I am daily reminded of God's faithfulness. The pieces continue to fall into place (even if they are not at the pace that we would like!). Donations continue to come in and amaze us with the generosity of so many friends and camp supporters. And the Lord demonstrates His love and compassion for us in many ways. While I would have preferred to have already started pouring the foundation and putting up the building, we trust the Lord to continue being faithful and it will be built in His timing.
With that said, we are making progress! We continue to meet with the design team and we're getting close to having things prepared for building code approval. Our Board will be making some final decisions in the next week or so and then we can start to build!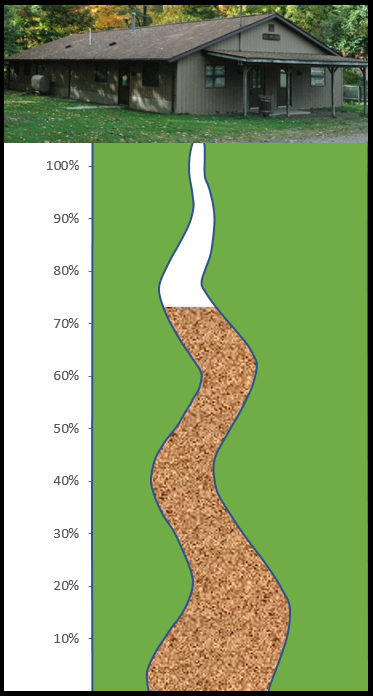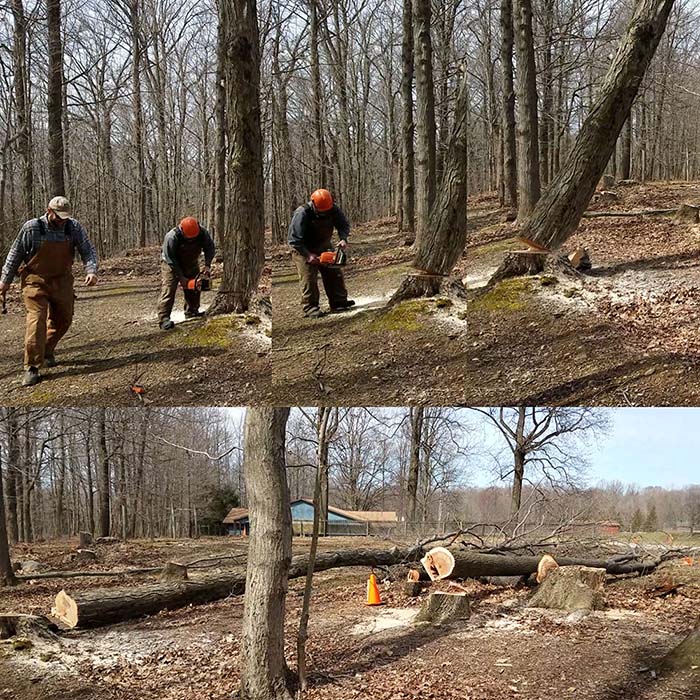 In the meantime, we have been working on site prep because if you have ever known any of us here at the Ranch you know that we cannot sit idly by while work can be done. Even though we are unable to begin the building process, due to the plans still needing to be finalized and approved, we are able to work on getting the site ready for rebuilding. This has included, most recently, taking down multiple trees and plotting out the future location of a drainage ditch. While this may not sound like the most exciting kind of work, it is exciting to us as it is a very visual demonstration of our moving forward. We will be doing as much site prep as possible in the coming days, so that when we can finally start to officially break ground, it will be as "soft" and "pliable" as can be.
Due to the nature of the work and the small area to operate with, we have recruited only a small number of volunteers. If you would be interested in volunteering your time, please let us know, as there will very likely be a time where we could use some extra hands around the Ranch.
Following the Fundraiser - 03/19/2018
With the old building torn down and hauled away, we are working on the design and plans for the new Buckskin Bunkhouse. Our Board and staff have come up with an initial estimate of the cost for the new building. Once we finalize the drawings and meet with contractors, we'll be able to provide a more definite cost, but for now the estimate is $350,000 to rebuild the bunkhouse from the ground up as well as to outfit the bunkhouse with new beds and furnishings.
This progress chart will help you see where we are in the fundraising process to be able to rebuild. (We will add another chart at the top of this page that will be updated weekly, so visit this page occasionally to watch our progress reach the top.) What we have received so far includes insurance money and donations. We were blessed with approximately $239,000 in insurance money. So far, we've received approximately $17,000 in donations, representing over 100 donors! With the anticipated cost of $350,000 we still need about $94,000, which is 27% of the overall cost.
We anticipate groundbreaking and starting to rebuild before all the money that we need is received, but our hope is to have all of the money raised by the time the building opens for use in June. Our goal is to have the Buckskin ready for use by June 17th, which is less than 13 weeks away! Be praying that everything with this rebuilding process will go smoothly so that we can open the Buckskin in time for summer camp!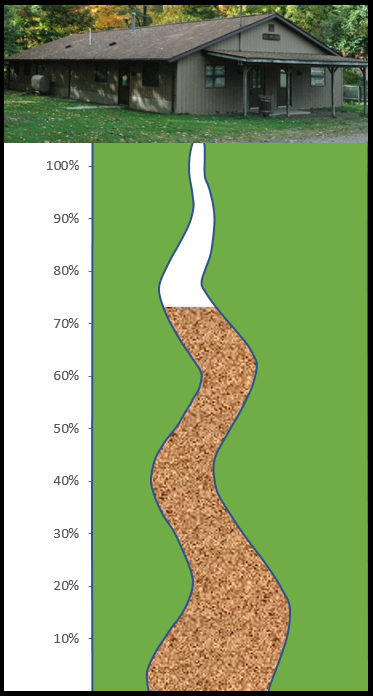 The amount of money we still need to raise sounds like a lot of money, but we trust that the Lord will provide. If you desire to partner with us in rebuilding the Buckskin Bunkhouse so that it will be ready for our summer ministry, please consider sending a donation (see above). Keep in mind, if 940 families decided to donate $100 each, we would have the $94,000. Or, if everyone following us on Facebook and Instagram gave $31, we would have more than $94,000. Or, if everyone on our mailing list gave $23, we would have the money we need. (Once we have plans in place, we'll share an updated estimate of the overall cost.)
We know that not everyone can give, so those who choose to give more are appreciated as well! But realize that even a small donation, multiplied by many who give, can make a difference. Thank you!
Bittersweet Progress - 03/14/2018
It has been a bittersweet couple of days here at WLD Ranch. Monday, we began demolition on the Buckskin Bunkhouse and yesterday and today, we have been hauling it all away. It is bitter because a piece of us is being taken apart and away, but sweet because it means that we are that much closer to having a new addition.
Bitter because no more memories can be made in that bunkhouse, sweet because we know that the bunkhouse isn't the one making the memories; it's all the campers who get to come here, and with a new bunkhouse we will have the opportunity to continue making them again.
Bitter because we are reminded again of the trial that we are currently going through (not that we have been able to forget, but that we have been focused on many other things as well), and sweet because we know that even throughout all of this God is still good.
After what has seemed like an eternity of waiting, we are finally making progress. We have received the first installment of insurance payments. We are completing the demolition by the end of the week. We are getting plans drawn up for the new building. We do not yet have a date set for ground-breaking but the Ranch Board and Staff are working persistently to accomplish all steps necessary for that day in order to be ready for Summer Camp.
In the next couple of days, we plan on posting a fundraising progress bar so that you can partner with us in this process of paying for a new bunkhouse.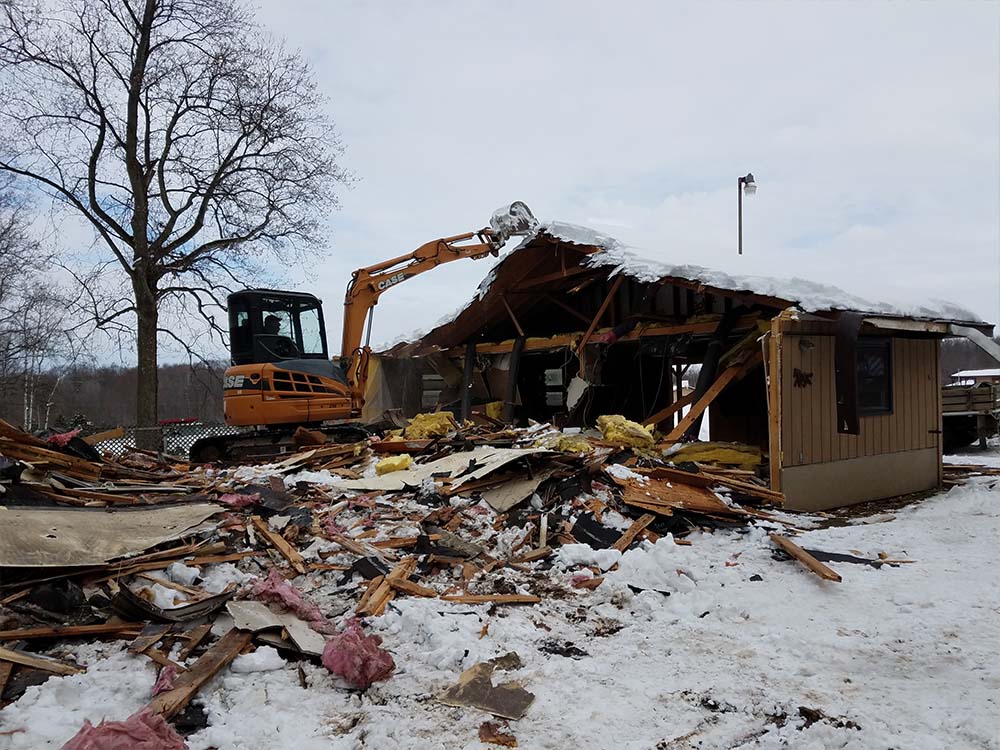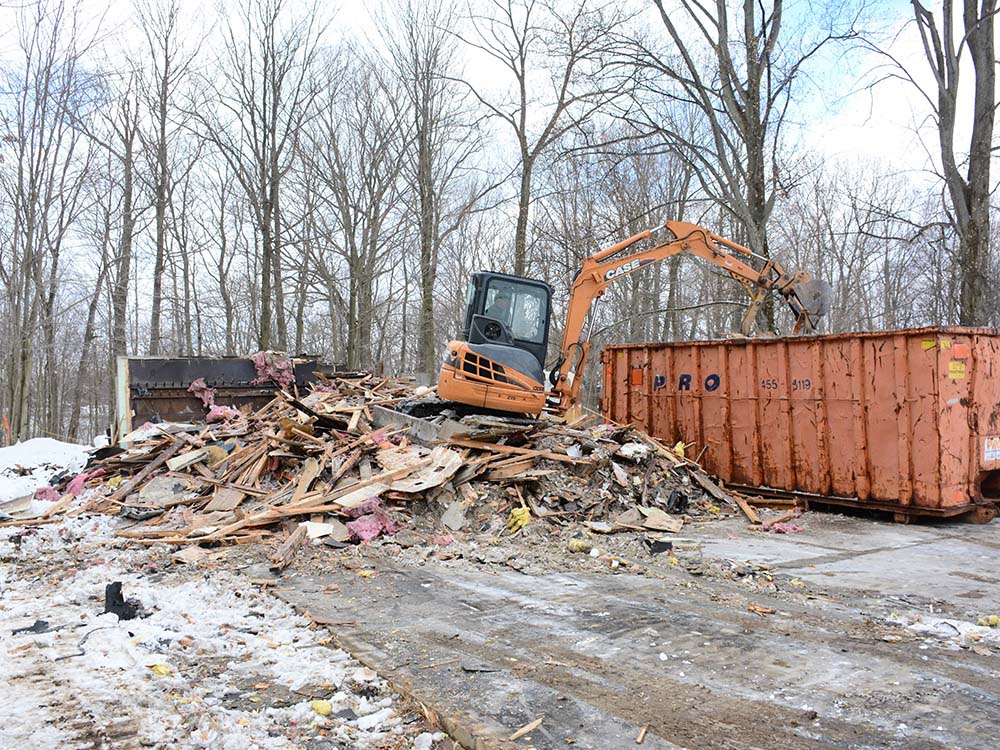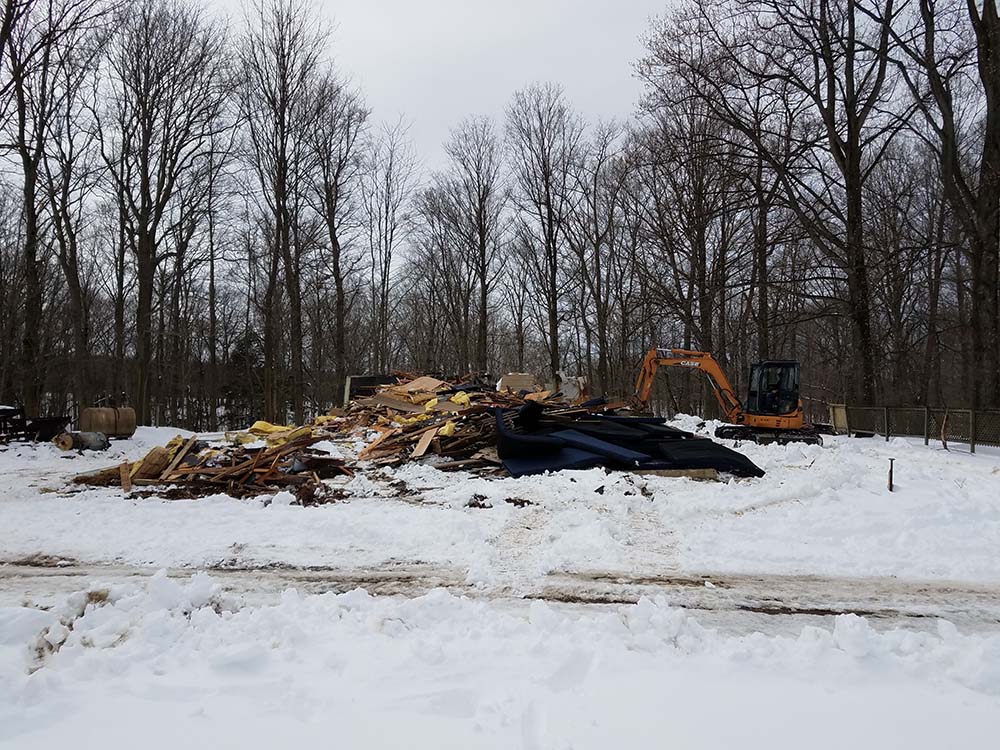 Reflections on the Fire - 02/23/2018
Groundhog Day 2018 will not be remembered for Phil's predictions about spring's arrival. The day itself was very cold and I figure spring weather will get here at some random time as it typically does. But we experienced the cold that particular afternoon as we watched the Buckskin Bunkhouse burn.
Christy and I typically park our van in front of the Longhorn Lodge, but that Friday morning we were bringing some groceries in for the weekend church retreat, so we parked by the kitchen. We spent the morning in the offices. Just before lunch, we were hanging pictures in the conference room after repainting and we decided to stay a little longer to get more done. When we went to the van, parked by the kitchen, we backed out to where we could see the Buckskin. My initial thought was that there was a big gust of snow blowing over the bunkhouse, but it was odd and I quickly realized it was smoke. We drove around the driveway and called 911, then watched as smoke billowed out of every vent in the attic space, glass broke in the back right bunk room, and we waited restlessly for the fire crews to arrive. They arrived quickly and were able to contain the fire quickly, but it was a long afternoon as we waited to learn the extent of the damage.
The damage to the bunkhouse is extensive. The back half of the building is badly burned while the front half sustained extensive heat and smoke damage. Part of the attic is burned as well. We are now in the process with the Ranch Board to determine what the best means of rebuilding will be. Soon we will be able to announce our plans and share with you how you can help us in the recovery process.
While the loss of a building is difficult, we can rebuild a building. We firmly believe that buildings are just tools that God allows us to use so that we can better serve people. The campers and guests who will use the rebuilt facility are our primary focus. We look forward to rebuilding this part of our facilities so that we can effectively continue to build relationships with campers and guests and guide them to Jesus as the Truth in life. As we rebuild, we rejoice that we have an amazing God whom we can trust even in the difficult situations that life brings our way.
- Joseph Preston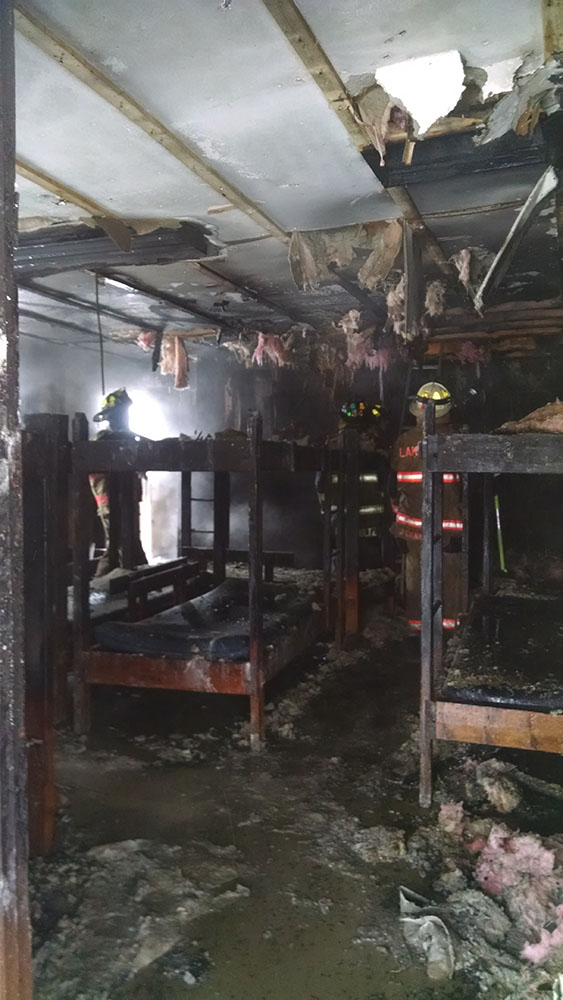 On February 2, my thoughts were definitely along the lines of, "What? This can't be happening!" As we scrambled to make phone calls and turn off the propane and gas lines to that building, I thought, "If the firetrucks get here in time, perhaps the damage won't be that bad." Once I saw flames shooting out of the back windows, I admitted to myself the damage would be significant. Thankfully, most of the time during the fire spent making coffee and hot chocolate for the firefighters and delivering what they needed to stay warm as they worked hard to help us. Those tasks kept my mind busy and gave me something to focus on other than the devastation of the Buckskin.
The time came though when my serving was finished and I had time to stand and watch the happenings, tears streaming down my face. My cries of, "Oh, God - now what? How will You work through this disaster?" soon turned to moments of worship as a worship song flowed through my mind: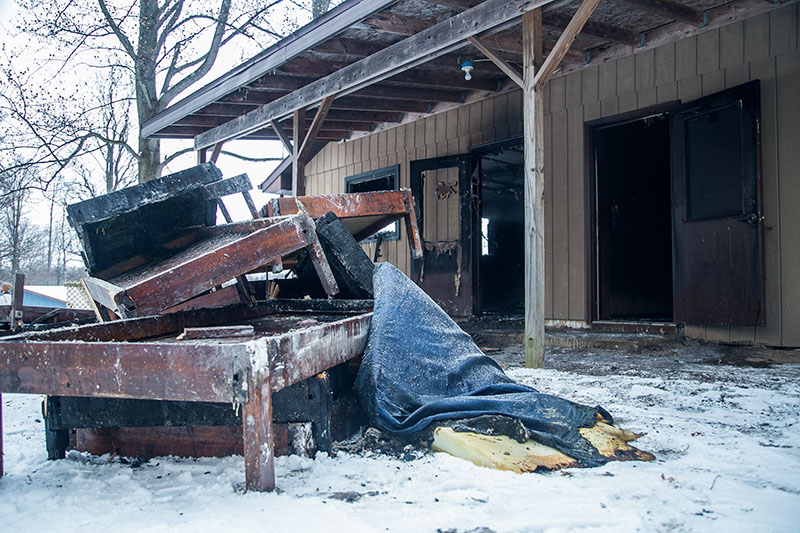 "You are not a God created by human hands.
You are not a God dependent on any mortal man.
You are not a God in need of anything we can give.
By your plan, that's just the way it is.
You are God alone.
From before time began, You were on Your throne.
You are God alone and right now
In the good times and bad,
You are on Your throne.
And you are God alone."

It didn't matter what was occurring before my eyes, God was still on His throne and He wasn't taken by surprise by any of this. He had a plan to work all things for His glory. My response? "Okay, Lord, I'm trusting You and I will praise you in this storm." My heart sang another song:
"I will praise You in this storm
And I will lift my hands
That you are who you are
No matter where I am.
And every tear I've cried,
You hold in your hand.
You never left my side,
And though my heart is torn
I will praise you in this storm."
Where are we now? We're choosing to see the fire at the Buckskin as a blessing from the Lord who will work all things out for His glory. We're clinging to the truth that God is good and that He has a plan. We choose to trust in the sovereignty of our God and find our strength for the days ahead from Him.
My heart again finds comfort in the truths in a song:
"Not one of us will get through life unscarred;
If no wounds upon our body, then our hearts.
Lord you work all things by Your plan
And nothing comes without passing through Your hand.
And You are sovereign over all that's been broken by the fall.
So give us strength, Lord, here and now
In the days between The Cross and Crown."
Yes Lord. Give us strength to continue trusting and wisdom as we rebuild. It's all for Your glory!
- Christy Preston
Upon Further Inspection – 02/08/18
Memories:
The past couple of days have been particularly long, stressful, and hectic - the fire, servicing a youth retreat over the weekend, and seemingly countless phone calls and messages for interviews. In the midst of it all, one of the most enjoyable experiences of the week has been hearing so many memories from so many of you. We have received a fair amount of comments on our various social media platforms sharing general memories of staying at the Ranch or in the Buckskin and how the news of the fire has affected them. Three memories stand out in particular.

The first is of a current teen camper who has only stayed in the back sections of the Buckskin during the Teen Specialty Camp he attends. (Another group uses the Silver Star during that week of the summer.) He shared how sad he was to have heard about our loss. And as you may know, the back half was thoroughly burned whereas the front half suffered heavy heat and smoke damage.
The second memory also comes from a current camper who has camped in the Buckskin for several years. She shared of the friendships she built and the fun she had while at camp, but her most memorable experience was the opportunity she and her friends had to show God's love to a fellow camper whose life experiences made her quiet and withdrawn. By the end of that week, God's love spoke through a group of giggly girls to reach this quiet girl, who joined in with their fun and chose to trust Jesus to save her from her sin.

The third story is from a man who was a camper in the 1980s when the Buckskin was the boys' bunk. He shared that his vivid memory of the Buckskin was devoting his life to Jesus Christ in his cabin after an evening meeting with Mr. E (for those who remember him!). This former camper now sends his own kids to camp.

Over the past couple of days, we have been reminded over and over of the impact of the Ranch, and with this bunkhouse specifically. This assures us that we cannot view the rebuild as simply putting up another building for campers to use, but rather that we are creating a place that will impact campers' relationships with Jesus Christ and will be an area they remember for years to come. One of the Ranch's goals is to help campers create memories that will last a lifetime. This rebuild will allow this goal to remain fulfilled.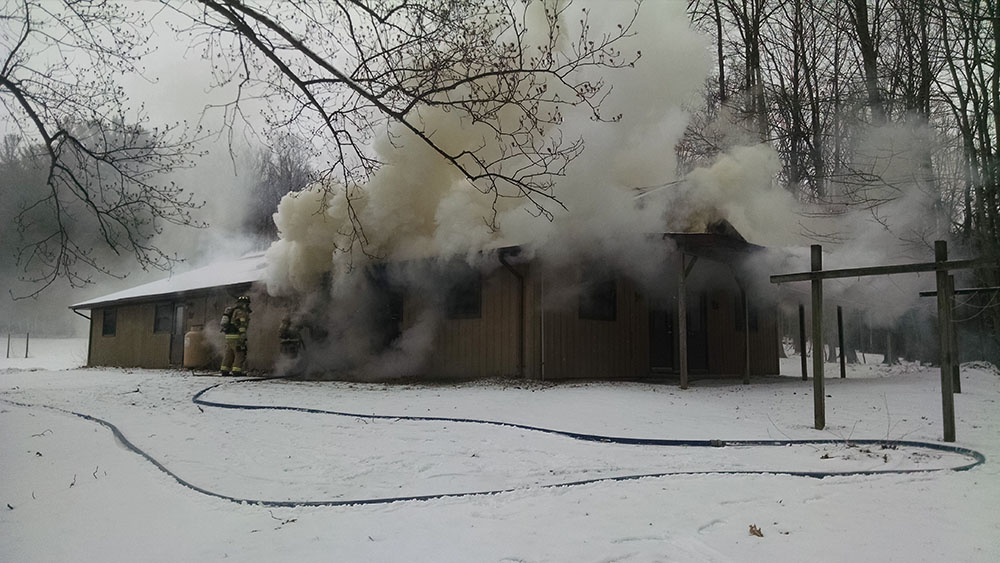 Along with the various stories that we have heard, there have been some rumors about both the cause of the fire and the extent of the damage. Regarding the extent of the damage, it was contained within the one bunkhouse and no one was injured. We are able to continue servicing the groups who are scheduled this winter and spring. Regarding the cause of the fire, inspectors have concluded that the most probable cause was the exhaust system from the furnace igniting the insulation in the attic.
We are continuing the steps necessary to bring us closer to rebuilding. We thank you for your prayers and for your memories as we rebuild the Buckskin, anticipating even more memories to be made and more lives to be impacted.
Our First Impressions - 02/03/18
We praise our great God that the fire at the Buckskin Bunkhouse was contained, that the fire crew and all our staff and families were safe, and that we are able to continue moving forward with serving the Lord here at WLD Ranch. The fire destroyed much of the back half of the bunkhouse, with a lot of smoke damage in the rest of the building. We do have insurance on the building, so we will be working with insurance adjusters in the coming days (we won't know our specific needs for rebuilding until later on). We still have a second bunkhouse, so retreats will still be able to come as they are scheduled in the coming weeks and months. We are so grateful for the excellent response and skill of the 8 fire departments that were represented, as well as the paramedic crews, who worked fervently to resolve the crisis. We are grateful for the many friends and supporters who have offered encouraging words and prayed for us. Continue to pray as we prepare for recovery efforts.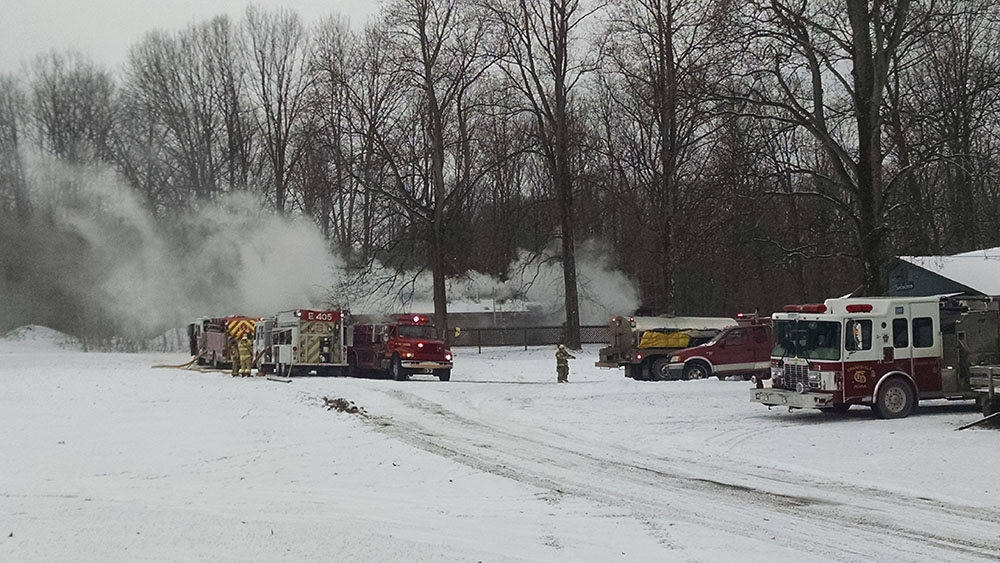 This page will be for updates on how things are progressing here. We will also be posting various updates on our Facebook and Instagram pages as well.
Rebuilding will require a lot of work and financial investment. Those that are interested in helping in any way are welcome to continue to watch our website and Facebook page for updates on needs. Some have already asked about financially assisting and you are welcome to give at http://www.wldranch.com/about/give_to_the_ranch/ or mail a check (designate your gift for the "Fire Recovery Fund").
Christy Preston, Director of Educational Programs, says: "Please continue praying for us. Through it all, we know that God is good and that He has a plan. We trust in Him."
Joseph Preston, Director of the Ranch, says: "We are blessed with an amazing staff who responded to this crisis. We are blessed with an amazing network of family and friends who are such an encouragement to us. We are blessed with an amazing God who we can trust even in the difficult situations that life brings our way."